SEC Football: Hits and Misses of CBS' Coaches Hot Seat Ratings
June 25, 2012

Wesley Hitt/Getty Images
CBSSports.com's Dennis Dodd stirred the pot with his annual ranking of the hot seat status of every head coach in Football Bowl Subdivision (FBS).
The system is simple. Dodd assigned a point value to each coach based on record, tenure and pressure. A rating of zero means that there's no chance of being fired, and 5.0 means that the seat is scorching hot.
What are the hits and misses of Dodd's rankings? Here's my take.
The Hits
Derek Dooley Tied With John L. Smith Atop the List
Tennessee head coach Derek Dooley headlines the list with a ranking of 5.0. That's no surprise at all. The Vols are 4-12 in the SEC during his first two seasons, and he lost to Kentucky last season for the first time in 26 years.
Perception is reality in college football, and the perception is that the Vols are going backwards. It's true that Dooley wasn't exactly given much to work with when he arrived in Knoxville. All seven of the Rivals250 recruits in Lane Kiffin's stellar recruiting class in 2009 are off of the current roster, according to Rivals.com—but 5-7 still won't cut it.
It is a bit unfair to put so much pressure on Dooley. He lost an All-American-caliber wide receiver when Justin Hunter went down in Week 3 last season, and Tyler Bray's broken thumb in early October didn't help matters. When you lose your best offensive weapon and starting quarterback before the leaves change colors, it's hard to recover.
Whether it's fair or not, the pressure is on Dooley in 2012. Three of Tennessee's first five games before the bye week are vs. N.C. State, vs. Florida and at Georgia. If the Vols are 2-3 heading into the bye week, Dooley may be done.
John L. Smith With a 5.0 Rating
This one is essentially a given, considering that Arkansas head coach John L. Smith signed a 10-month contract in April, when former head coach Bobby Petrino was fired. That's not necessarily a knock on Smith—it's just the fact of the matter.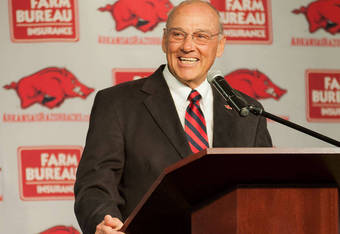 Smith will be fighting for permanent employment in 2012. The Hogs are hoping to contend for the national title in 2012, and with quarterback Tyler Wilson and running back Knile Davis back to ignite that offense, the odds of that happening are still pretty good.
If they don't contend for the BCS National Championship, Smith will be gone. Pretty cut and dry.
Joker Phillips With a 3.5 Rating
Kentucky head coach Joker Phillips chimes in with a 3.5 rating on Dodd's list, which is good enough for third place in the SEC. In two seasons in the Bluegrass state, Phillips has posted an 11-14 overall record, and his Wildcats missed a bowl game last season for the first time since 2005.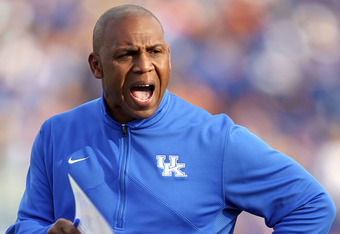 Andy Lyons/Getty Images
Former head coach Rich Brooks did a fantastic job at Kentucky and made bowl eligibility the expectation. That's not exactly a high ceiling in this day and age, but if Phillips doesn't reach that goal in 2012, he may be looking for work in 2013.
Job No. 1 for Phillips this season is to fix the passing game. The Wildcats finished last in the SEC in passing offense with 135.58 yards per game—16.09 yards behind 11th-place Ole Miss.
The Misses

Will Muschamp at 2.5
Florida head coach Will Muschamp is tied with Georgia head coach Mark Richt for fourth place in the SEC on CBS' hot seat rankings.
That's not terrible. According to CBS' scale, a rating between 2-2.5 means "safe, but you never know." A four-win season could spell disaster for Muschamp, Richt and a lot of other coaches in the SEC, but aside from a total disaster, both of these coaches are safe.
The transition away from Urban Meyer's spread is proving more difficult than people at Florida assumed, but Will Muschamp still deserves another year even if the Gators chime in at the bottom of the SEC's bowl food chain after this season.
Sporting News chronicled this spring how far Florida fell under Meyer, and that absolutely should factor into Muschamp's status on the hot seat.
Dan Mullen Is Too Low
Mississippi State head coach Dan Mullen has one good season under his belt, the 2010 campaign that saw his Bulldogs go 9-4 and beat Michigan in the Gator Bowl.
That's impressive on paper, but the Bulldogs' success in 2010 was due in large part to beating up a down SEC East. Wins over Florida and Georgia highlighted the season, but in 2010, those two teams combined for a .538 winning percentage.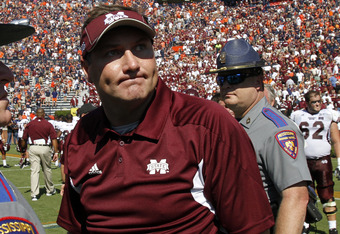 Butch Dill/Getty Images
Mississippi State is 3-12 vs. the SEC West under Dan Mullen, with all three of those wins coming against Ole Miss. That suggests that the program is stuck in neutral, not improving.
If Muschamp and Richt are in the "safe, but you never know" category, Mullen should be as well. A 6-6 record again in 2012 will land him high on this list in 2013, and a 4-8 debacle considering Mississippi State's schedule in 2012 could make "you never know" a reality sooner rather than later.