Houston Texans and the Hall of Fame: How Close Are Key Players to Canton?
June 25, 2012

Chris Graythen/Getty Images
All week, I'll be looking at players in the AFC South who have a legitimate chance to make the Hall of Fame when they retire. Up first are the Houston Texans.
For the purposes of this exercise, I'm not going to consider any player who has been in the league for fewer than five seasons.
While that excludes players like Arian Foster and J.J. Watt, the fact is that many men have a strong start to their careers but fall by the wayside as injuries and time catch up to them. It's simply too hard to predict that far down the road. It's not that they aren't potential Hall of Famers, just that it's too soon to examine their cases.
That leaves four current and one ex-Texan to evaluate. They are presented in order of their likeliness of making the Hall of Fame.
Andre Johnson
Johnson has had a spectacular career, but he plays a position where spectacular hasn't been enough for quite some time. When players like Cris Carter, Tim Brown and Andre Reed have to wait several years for induction, you know it's going to difficult for any receiver.
Johnson's career stacks up comparably to Reggie Wayne in Indianapolis. Look at the numbers of both men through nine years.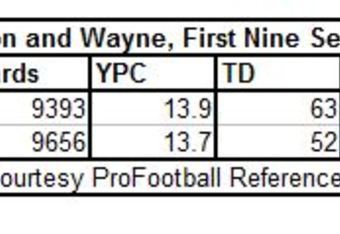 Wayne is already a longshot for Canton, and he has something Johnson doesn't have: a Super Bowl ring. Rings shouldn't even be considered when measuring wide receivers, but they are. If the matter were decided right now, Wayne would be in line ahead of Johnson.
Given Johnson's current rank on the all-time lists, I give him no more than 30 percent chance of making the Hall. I'm afraid that's being generous.
Johnson ranks 91st in career receiving touchdowns and needs 40 more to make the top 10 all-time. Only six men in history have ever accomplished this after age 30: Jerry Rice, Marvin Harrison, Cris Carter, Terrell Owens, Irving Fryar, and Tim Brown.
In yards, Johnson ranks 39th all-time. To break into the top 10, he needs roughly 4200 more yards. This is more doable, as 23 players have done it after age 30. The bad news is that of the top 10 wideouts in yardage, only two are in the Hall of Fame. Yards won't be enough to get Andre Johnson in.
Johnson is 34th all-time in receptions. Another 250 would put him in the top 10. Again, this is quite possible, as 35 other men have managed it at Johnson's age. Unfortunately, of the top 10 in receptions, only Rice has been enshrined as a Hall of Famer.
For Johnson to make Canton, at the minimum he must accomplish the following: 50 more touchdowns, 5000 more yards, 400 more catches, three more Pro Bowls and a Super Bowl ring. Even with those numbers added to his already prodigious career, he'll still be in line behind other greats waiting to get in.
Odds of Enshrinement: 30%

Matt Schaub
Quarterbacks have two paths to Canton. One is to have at least two Super Bowl rings and good numbers. The other is to have incredible numbers and make an impact historically.
Again, I don't validate rings as a standard of measuring anything. However, Hall of Fame voters do, and their opinion is all that matters.
There is almost no chance Schaub fulfills the second category. While he's had very good career numbers, no one would argue that he has altered football or had the kind of impact that Warren Moon or Dan Fouts did. Even if he posted all-time great volume stats, without a ring, he's just Drew Bledsoe.
That means Schaub must win multiple rings and/or have a similar career to Kurt Warner, who now seems like a good bet to make the Hall. With multiple rings and a strong career passer rating, Schaub would likely get voted in.
Does he have any chance of equaling Warner?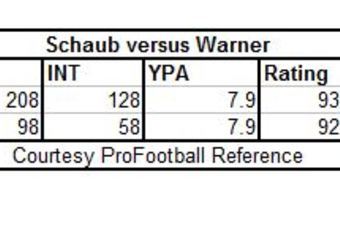 His rate stats are all strong, and 30 or so players have had the kind of volume stats after age 30 that Schaub would need to catch Warner.
All he needs to do is go to three Super Bowls, win one and pull down a couple of MVP awards. It's either that or lead the Texans to at least two Super Bowl titles.
Is it possible?
Absolutely.
Is it likely?
No.
Odds of Enshrinement: 5%

Owen Daniels
He has one Pro Bowl and is turning 30 this season. Most tight ends are past their peak at 32. He would need a career unlike any player in history to get close.
I consider Dallas Clark to have no chance at the Hall of Fame, and Clark has a significant advantage in all major categories.
Odds of Enshrinement: <1%
Johnathan Joseph
Joseph is 27 years old with one Pro Bowl and 18 career picks. He isn't considered one of the two best corners of his generation, though he is well regarded and with good reason.
Joseph would need a remarkable career both in length of tenure and performance to get close. His influence on the Texans last season is the only reason his name even merits speculation. If he played at that level for another five to seven years, he would begin to get light mention.
Odds of Enshrinement: <1%
Mario Williams
He isn't with the Texans any more, but I figured fans would be interested in his chances for Hall of Fame glory. With 53 career sacks, he needs at least another 80 to break into the top 10 all-time. For ends, that gives him an excellent chance of enshrinement.
After age 26, 14 men have piled up at least 80 sacks, and seven are in Canton. His best bet is a Richard Dent-like career. Dent had four Pro Bowls and 137.5 career sacks. He had one All-Pro and a Super Bowl ring.
Basically, Williams needs to stay healthy and productive for another decade. If he can do that, he's on a great pace for enshrinement. At this age, only 12 men have had more sacks than Williams, four are in Canton and several more are active.
Odds of Enshrinement: 40%