Raptors Rumors Round-Up: Nash to Toronto Gaining Steam, Bulls a Trade Target?
June 25, 2012

Drew Hallowell/Getty Images
Captain Canada, also known as Steve Nash, is one of Toronto's main free-agent targets as they attempt to spend some of the cap space GM Bryan Colangelo collected over the past couple of seasons.
In those deals, fans saw franchise leader Chris Bosh dealt for a very large trade exemption, and combo guard Leandro Barbosa shipped off to the Indiana Pacers for a trade exemption and a second-round pick.
According to Fox Sports Arizona's Randy Hill, several NBA personnel executives have confirmed that the Nash-to-Toronto rumors may have real traction.
He states:
"I've been hearing that from people that would know," said one Western Conference sharpie, sounding very much like the rest of us. "The Raptors may not be ready to win right away, but with (Andrea) Bargnani, (DeMar) DeRozan and maybe (Jonas) Valanciunas coming over next season, they could be pretty decent right away with Nash. And they could have enough cap space to get something done there."

Valanciunas, the 7-footer chosen fifth overall by the Raptors in the 2011 draft, was the dominant player in last summer's U-19 World Championships. According to reports earlier this month, there's a strong chance he could buy out the last year of his European contract — the Raps are able to pony up roughly a quarter of that price — and play in the NBA next season.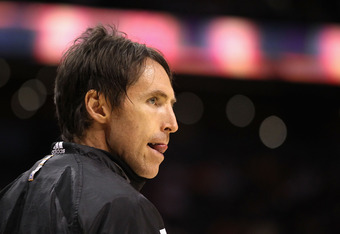 Christian Petersen/Getty Images
Nash in Toronto obviously makes sense for both sides. Jose Calderon has done an admirable job guiding the Raptors with his steady play, but it's obvious the Raptors need that extra bit of veteran leadership at the point guard position.
Nash, when teamed up with high flyers DeMar DeRozan and James Johnson along with big men Ed Davis, Jonas Valanciunas and potential All-Star Andrea Bargnani, gives the Raptors a powerful arsenal.
Toronto would obviously need to make a deal in order to open up space for Nash as a starter.
Mitch Lawrence of The New York Daily News says the Bulls may be looking to unload either small forward Luol Deng or Joakim Noah for a trade exemption and a first-round pick.
This is where I believe the Raptors may get involved.
With Derrick Rose possibly out at least until December of next year, the Bulls could be in line for a replacement point guard.
That's where the expiring Jose Calderon fits in perfectly. Calderon's large expiring contract, coupled with either the Raptors' eighth overall pick or Ed Davis, could net the club either Joakim Noah or Luol Deng.
A deal that was possibly discussed was Deng and the 29th pick for Calderon and the eighth pick. This could be expanded to include Noah and Ed Davis, with the Raptors also giving Chicago the Barbosa Trade Exemption, but I think that would be asking for too much. It's not unrealistic, but I doubt the Bulls would give up that much to get an expiring contract, a young big man and a first-round pick.
The Raptors' roster would look like this...
Steve Nash/Jerryd Bayless
DeMar DeRozan/Linas Kleiza
Luol Deng/James Johnson
Andrea Bargnani/Amir Johnson
Joakim Noah/Jonas Valanciunas
Looking at the roster, I think Toronto could easily contend for home-court advantage in the first round. A nice blend of passing, athleticism, rebounding and defense would give the Raptors quite the attack.
The NBA Draft is set to begin Thursday night, so this is just the start of what is expected to be a busy  week in the rumors department.