London 2012: World-Record Decathlete Ashton Eaton Should Be New Face of US Track
June 24, 2012

Decathlon star and Oregon native Ashton Eaton had arguably the most incredible performance in track and field history at the U.S. Trials in Eugene on Saturday, establishing himself as the "world's greatest athlete" by setting an all-time record in the sport's ultimate test of all-around athleticism.
Of course, before Eaton can truly be crowned the best in the world, he must earn it by winning a gold medal at this summer's Olympic Games in London.
That said, his world-record performance has made him an overwhelming favorite to win gold in the Olympic decathlon, which is why USA Track and Field needs to begin marketing him as the sport's biggest star.
Eaton is only 24 years old, but he already holds the world's two major multi-event records. In addition to his decathlon world record, he set the indoor heptathlon world record with a 6,645-point performance at the 2011 World Indoor Championships.
Barring injuries or some other unforeseen setback, Eaton appears set to be the world's best multi-event athlete for many years to come.
Additionally, as he is still a young decathlete who is still improving in all of his events and continuing to tap further into his potential, he should be expected to continue rewriting the record books and could potentially do so for the first time in London.
Since Michael Johnson's retirement in 2001, U.S. men's track and field has lacked a definitive superstar. As the world will have its eyes keenly set on track and field when the Olympics begin next month, now is the time for the United States to find its new track and field face, which undoubtedly should be Eaton.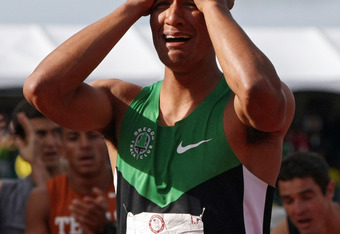 Michael Heiman/Getty Images
The decathlon remains revered as track and field's ultimate test, but its popularity among casual track and field fans has been damaged by the lack of attention it has been given in recent years, especially in relation to the attention given to sprinters.
In the past, however, world champion decathletes including Dan O'Brien and Bruce Jenner have been American superstars. Given Eaton's immense talent, youth and marketable personality, he certainly seems like the ideal choice to follow in their path of superstardom.
Thanks for reading!
Follow me on Twitter @Dan_Hope.