Returning Washington Talent Looks to Keep the Huskies Near the Top of the Pac-12
June 25, 2012

Jason Szenes/Getty Images
Although the futures of Terrence Ross and Tony Wroten are soon be determined in the 2012 NBA Draft, the future of Washington Huskies basketball, at least for next season, remains in question. 
DraftExpress.com's Jonathan Givony has Terrence Ross going to the Minnesota Timberwolves (via Utah) in his latest 2012 NBA Mock Draft:
After eight straight years of missing the playoffs, and with general manager David Kahn entering the final year of his contract, Minnesota will need to make some moves this summer to improve its roster and finally break its postseason drought. The Timberwolves are especially weak at the wing positions, where they could use some additional scoring to take the heat off Kevin Love and Ricky Rubio.

Terrence Ross has excellent size for the wing at 6-foot-7 and a picture-perfect stroke to go with it. His athleticism would make him a favorite for lob passes from the likes of both Love and Rubio, making this a no-brainer selection if he falls this far.
It is a little less certain what will happen with Wroten in the 2012 NBA Draft. Draftexpress, which ranks Wroten No. 10 in NCAA freshman, has the Pac-12 freshman of the year going in the second round of the 2012 NBA Draft. 
Washington was almost absent from the recruiting scene with regard to their incoming 2012 class. However, Huskies Coach Lonrenzo Romar may be looking to take in a recruiting class in 2013 on par with the likes of what UCLA and Arizona brought in, in 2012. Romar is recruiting several top recruits including the Rivals' No. 1 2013 recruit, Jarbari Paker. Whether the Huskies will sign any of the top 2013 recruits on their list remains to be seen.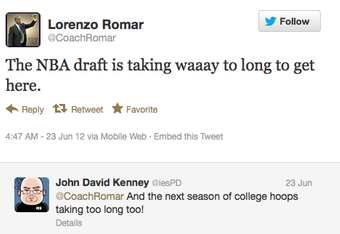 For this coming season, Washington will not be drained of talent even with the loss of its two top scorers from last season, Ross and Wroten, heading to the NBA. On that front, Romar is eagerly awaiting to see what happens with his two former players. The coach, who recently joined Twitter, recently posted the following tweet, "The NBA draft is taking waaay to long to get here."
Romar is now another in a long list of current Pac-12 basketball coaches on the social networking site (h/t Percy Allen's Husky Blog) including Arizona's Sean Miller, Oregon State's Craig Robinson, UCLA's Ben Howland, USC's Kevin O'Neill, and Washington State's Ken Bone. 
Players returning next season to the Huskies include well known names like Abdul Gaddy, Scott Suggs, Aziz N'Diaye, and C.J. Wilcox. Wilcox will be the player that would be instantly expected to take a leading role at Washington. 
Despite missing some play last season due to injury, as a sophomore Wilcox averaged 14.2 points per game, with 43.7 field goal, 40.3 three-point and 83.9 free throw percentages. In comparison Ross and Wroten averaged around 16 points per game last season. It was also Wilcox that made the game tying shot that took the Huskies into overtime in their Minnesota NIT match. 
Aside from familiar faces, there will also be a few less familiar names including Andrew Andrews, a player that redshirted for the Huskies last season. Andrews appears to be the heir apparent for Wroten's position. 
Seattle Times Huskies basketball blogger Percy Allen recently interviewed Romar, asking what each player needs to work on during the off-season. In true Romar fashion, the coach told it how he sees it with all of his players. With Andrews it was clear that the coach has full confidence in his abilities:
(Romar on Andrew Andrews) "Just time on the floor. Andrew shoots the ball well. He's strong. He handles it well. He has an edge about him. I think Andrew is going to do fine."

(Allen: "What type of game do you think you'll see from him next year? He's started virtually every game his UW career.") "I think people will be pleased with Abdul Gaddy. He had a great spring. You can just see when someone just totally understands what's going on around here. Totally understands. Totally gets it. He's had Isaiah (Thomas) and Tony Wroten with him. Andrew Andrews is a very good point guard and ball handler, but I just feel Abdul will feel maybe he's just more of an older statesman and will be a lot more comfortable."
As a high school player at Oregon's Benson Tech, Andrews was named the 5A State Co-player of the year and scored 41 points to help Benson Tech win (79-73) the 5A state title game. Needless to say big things should be expected from Andrews this coming season. 
The Huskies have been ranking around the top third or so in the preseason Pac-12 rankings, with the Seattle Times Bud Withers ranking them No. 4 behind UCLA at No. 1, Arizona at No. 2 and Stanford at No. 3.
UCLA and Arizona are projected to be the dominate leaders in the Pac-12 next season, and with their 2012 recruiting bringing in several of the top prospects in the nation it is easy to see why. Although both the Bruins and the Wildcats had solid classes last year, which for various reasons couldn't pull it together. It seems less likely to repeat itself this coming season, and as the reining regular season Pac-12 Conference champions, the Huskies will certainly have their work cut of for them.