NHL Draft 2012: Will Flyers Trade of Bobrovsky Increase Bryzgalov's Confidence?
June 24, 2012

Bruce Bennett/Getty Images
Ilya Bryzgalov was supposed to be a savior for the Philadelphia Flyers when they acquired him last year from the Phoenix Coyotes.
Bryzgalov was considered one of the better goalies in the league, and it seemed clear than he would be an upgrade for the Flyers. Philadelphia had tried to get by with ordinary goaltending prior to his arrival and had been fairly successful. They had been to the Stanley Cup Finals in 2010 against the Chicago Blackhawks and they lost to the eventual Stanley Cup champion Boston Bruins in the second round of the 2011 playoffs.
General manager Paul Holmgren and head coach Peter Laviolette liked the makeup of their team and believed that a significant upgrade in their puck-stopping ability would give them a good chance to climb the ladder further.
Like many goaltenders, Bryzgalov often appears as a bit of a loner and is somewhat quirky with a sense of humor that may rub some teammates the wrong way (via the Winnipeg Sun). He also seems to have wide swings when it comes to his performance. He will have streaks where he gives up many soft goals and then plays as if Bobby Hull in his prime could not blast a puck by him.
Bryzgalov seemed to be at a low point prior to the Flyers' appearance in the Winter Classic at Citizens Bank Park against the New York Rangers on Jan. 2. The Winter Classic is one of the primary highlights of the regular season, but Laviolette did not like the way Bryzgalov was playing at the time and benched him in favor of backup Sergei Bobrovsky (via CBC Sports).
The situation was chronicled on HBO's 24/7 look at the preparations for that game, and Bryzgalov appeared both angry and embarrassed by the decision.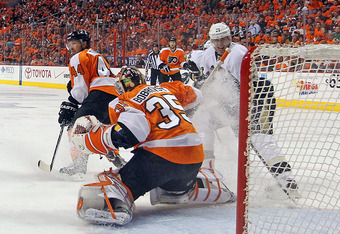 Bruce Bennett/Getty Images
Now that the Flyers have traded Bobrovsky to the Columbus Blue Jackets, will Bryzgalov feel better about himself and have more security about his position with the Flyers?
It probably won't have any impact on him at all.
Bryzgalov's loss of confidence at several points last season didn't have anything to do with pressure being put on him by his backup. It has more to do with Bryzgalov's introspective nature. He clearly marches to his own beat and puts all kinds of pressure on himself.
He doesn't pretend to feel good when he lets in a bad goal or has a disappointing game. The Russian-born Bryzgalov does not try to cover his shortcomings with false bravado, and that's where he differs from many North American athletes.
Look at Bryzgalov's season-ending numbers. He was 33-16-7 during the regular season with a .909 save percentage and a 2.48 goals against average. The year before, he was 36-20-10 with a .921 save percentage and the same 2.48 GAA.
While he may have had some big swings during the season, his numbers ended up in the same range that they usually do.
The Bobrovsky trade may help the Flyers since they acquired three draft picks, but they are not likely to have any impact on Bryzgalov, who will continue to blaze his own path and speak his own mind.