NHL Trade Rumors: Why New York Rangers Can Benefit from Flyers' and Pens' Moves
June 24, 2012

Bruce Bennett/Getty Images
When division rivals make trades, announce interest in top-name free agents or improve their rosters in any other way, it often is bad news, but in this case, New York Rangers general manager Glen Sather enters a great position by sitting and waiting.
James van Riemsdyk and Sergei Bobrovsky—two potential trade chips who could have been used to entice Scott Howson to move Rick Nash or Bob Murray to acquire Bobby Ryan in the right combination—are now gone.
Philadelphia received draft picks, cap space and a defenseman they needed in Luke Schenn when the dust finally settled, so the trades were not bad for the Flyers.  
In addition to the blockbuster trade that was announced, It was also suggested that the Flyers could make a run at Zach Parise.
If #Flyers now go out and sign Parise, this deal will work out. But JVR appeared to be one of the chips to acquire Nash or Ryan.

— Sam Carchidi (@BroadStBull) June 23, 2012
Over the draft weekend, the Pittsburgh Penguins dealt Jordan Staal, Zbynek Michalek and prospects to Carolina and Phoenix in separate trades that opened up tons of cap space that could be used to potentially sign big-name free agents, such as Zach Parise or Ryan Suter.
#Penguins are turning their attention to free agents Zach Parise and Ryan Suter, writes @RobRossi_Trib bit.ly/MNGwbh
— PittsburghTribSports (@TribSports) June 24, 2012


The Penguins are also attempting to move Paul Martin and his big cap hit to free even more space.
The above transactions could aptly describes situations that would usually spell doom for the Rangers. However, in this instance, the Rangers can benefit from sitting idly while other teams were "wheeling and dealing". 
The Rangers—who arguably were only a few pieces away from a Stanley Cup appearance—have lost potential big-name competition in a bidding war for Bobby Ryan or Rick Nash.
It was made clear that Parise wasn't coming to Broadway when he addressed the media during the New Jersey Devils' breakup day.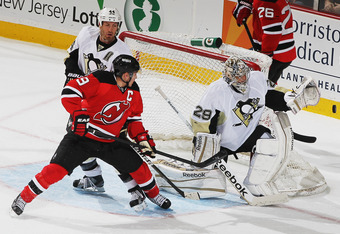 Mike Stobe/Getty Images
It was also pretty clear that the Rangers were not going to pursue Ryan Suter because they have an established defense that needs minor fine tuning on the bottom pairing.
For once, general manager Glen Sather was not going to open up James Dolan's checkbook on July 1st to rent a Brinks truck in order to transport millions upon millions of dollars in an attempt to entice a big-ticket name to join the company and the Broadway production. 
This was the case because the Rangers' interests were quite clear all along. Sather felt no need to be forced to make moves at the deadline because he was confident with his chances to improve in the offseason.
With the moves that the Flyers and Penguins made over the weekend and their next moves pretty clear, the chances of the Rangers adding Ryan or Nash have increased significantly.
When the Flyers were still in play for Ryan or Nash, Murray and Howson could drive up the asking price for their stars in a bidding war with the Rangers.
This is no longer the case, at least with Murray, because Howson's price was always high.
The Flyers may have never been completely serious, but Howson could have used the talks as a bluff in an attempt to pressure Sather or another general manager into "sweeting the pot."
In regards to Bobby Ryan, the Broad St. Bullies had the inside advantage and could have plucked Ryan out of Anaheim.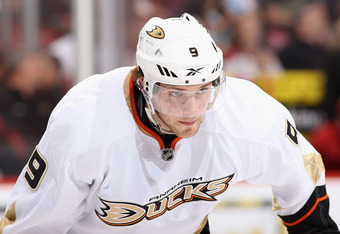 Christian Petersen/Getty Images
Philadelphia had Ryan on a silver platter when a report published by Randy Miller of the Courier-Post came out that the budding 30-goal scorer would prefer a trade to the "City of Brotherly Love."
I spoke to #Ducks Bobby Ryan today and he wants to be traded, preferably to #Flyers. Here's my story: on.cpsj.com/PKRkaE

— Randy Miller (@RandyJMiller) June 22, 2012
The cost would have been high but manageable for the Flyers in the grand scheme of things. Instead of waiting on attempting to court Bob Murray in trade negotiations, the Flyers traded a significant trade chip in Van Riemsdyk and took themselves out of the Ryan and Nash race.
At this point, it appears the Flyers won't trade Brayden Schenn or Sean Couturier in a potential blockbuster deal. Without including these players, there is no way to acquire Ryan or Nash unless Flyers' general manager Paul Holmgren is secretly an expert Jedi mind-trick practitioner.
If the #Flyers were hesitant to include B. Schenn in any trade before today, they certainly won't do it now. It's become marketing point.

— Dustin Leed (@D_LEED) June 24, 2012
Instead of trading for Nash or Ryan, Zach Parise will be the Flyers' top target just like he will be for the Penguins, Detroit Red Wings and at least 10 other teams.
Now that the Flyers' hometown connection and attractive young assets are off the table, the Rangers can swoop in and enter serious negotiations with the Ducks and Bobby Ryan. This would allow the Rangers to avoid dealing multiple assets for Nash.
Ryan will not come for free, but you can argue that it would be worth dealing a player like Artem Anisimov, Derek Stepan or Michael Del Zotto in a package for the 25-year-old who has scored 30 goals or more in consecutive seasons.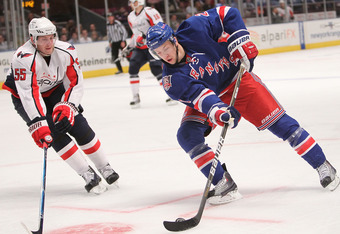 Nick Laham/Getty Images
Larry Brooks of the New York Post has mentioned that Stepan is considered an untouchable, but things could change given the circumstances.
At this point, pursuing Ryan is the best course of action the Blueshirts can take. Anaheim is looking for forward depth and could potentially want a defender to replace Lubomir Visnovsky. The Rangers have defenders like Tim Erixon, Michael Del Zotto and Dylan McIlrath who could draw interest.
By staying put and waiting, the Rangers are in a great position. With division rivals in a position to pursue top-name free agents the Blueshirts never had intentions to pursue, all the Rangers' energy and focus can be put into negotiating for Ryan or Nash.
It also doesn't hurt that there will be less teams in the running to acquire Ryan or Nash because of the widespread interest in Zach Parise and Ryan Suter.
There are certainly other teams that could show interest in Ryan because he is a very talented player, but at this point, Glen Sather and the Rangers have to love their odds.