Schenn-Van Riemsdyk Trade Fine Work by Brian Burke
June 24, 2012

Bruce Bennett/Getty Images
Toronto Maple Leafs GM Brian Burke smashed it out of the park Saturday afternoon dealing defenseman Luke Schenn to Philadelphia for forward James van Riemsdyk (via ESPN).
Here's why:
Van Riemsdyk's problems have been injury related and the fact that he plays on the Philadelpha Flyers, a team stacked with top six forwards.
Schenn's biggest problem, on the other hand, is incurable: He's slow.
In today's NHL, that is one horrible trait for a defenseman.
In today's NHL, perhaps a team can afford to have one slow defenseman, so long as he does other things well and is surrounded by a more fleet-footed defense.
That was not the Leafs.
With Dion Phaneuf, Mike Komisarek and Luke Schenn all painfully slow, the Leaf's defense was eaten alive by buzzing forechecking teams, all year long.
Two of these lead feet had to go. 
Komisarek is untradeable. He should be buried or sloughed off in some trade of horrible contracts (see Luongo, Roberto).
Phaneuf has way more offensive skill than Schenn, is the captain and has a huge contract. He wasn't going anywhere.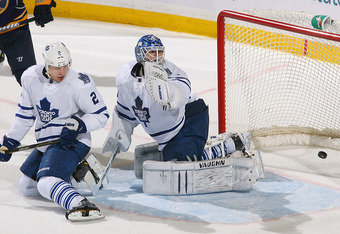 Rick Stewart/Getty Images
That left Schenn whose young age of 22, big hits and shot-blocking ability made him by far the most tradable asset of the three.  Perhaps playing with his younger brother Brayden will also give him a boost, but there should be little remorse in Hogtown.
The fact is dealing Luke Schenn actually makes the Leafs defense better. 
His spot will be taken by one of the Leaf's many good young slick defensemen, who at least will be quick every night, however unseasoned they may be.
Perhaps Burke has even planned to add UFA D Justin Schultz, thus making Schenn even more expendable.  If Burke pulls that off, moving Schenn for JVR is even more brilliant.
Adding the 23-year-old former second-overall pick van Riemsdyk to the offense obviously makes the forward corps better. The Leafs needed size badly in the top six, preferably in a package that is young and can also score.
Van Riemsdyk has the energy, size and youth. The 6'3", 215-lb left wing has not lived up to his draft ranking yet as far as the scoresheet goes, but now he's about to get as many minutes as his body can take.
There's a very good chance, even a probability, that van Riemsdyk becomes a perennial 30 scorer, and a permanent pain in the opposition's neck.
Given Luke Schenn's many faults - slowness, braincramps and a maddening lack of confidence, I do not see his future as bright.
Even though he's only 22, he's been in the league three years and has taken too many steps backwards. Schenn should have been a mainstay on a weak Toronto blueline and instead he was reluctantly put on the ice. Some blame that on former coach Ron Wilson but that is simply making excuses for Schenn.  If an NHL player can't overcome such adversity, he is not and never will be worth his salt.
This is an amazing trade for the Toronto Maple Leafs. Flyers GM Paul Holmgren is going to regret this one big time.