After Acquiring James van Riemsdyk, Are Toronto Maple Leafs Done Dealing?
June 23, 2012
Christian Petersen/Getty Images
The Toronto Maple Leafs' offseason checklist included, in no specific order, to get a No. 1 center, get some extra size up front, improve their mobility on the back end and get that No. 1 goalie that has eluded the team since the lockout eight years ago.
With the Luke Schenn-for-James van Riemsdyk deal already completed and the draft concluded, the Leafs have made strides in gaining size up front, adding to their top-six talent and adding young, high-hockey-IQ guys on their back end.
It's a start, but it certainly is not the end of the moves for the Maple Leafs.
Earlier in the day, the Leafs traded the rights to starting goaltender Jonas Gustavsson to the Winnipeg Jets in exchange for a conditional seventh-round pick in the 2013 draft, opening up a spot for either Ben Scrivens or, even better, a goalie acquired via trade.
Where the Leafs go from here is anyone's guess, but here's an updated look at the Leafs depth chart heading into next season:
Lupul / Bozak / Kessel
Kulemin (RFA) / Grabosvki / MacArthur
Van Riemsdyk / Connolly / Kadri
Brown / Steckel / Lombardi
Armstrong / Colborne / Frattin (RFA) / Komorov / D'Amigo / Ashton / Orr / McKegg / Deschamps / Mueller (RFA)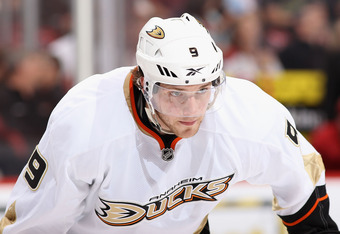 Christian Petersen/Getty Images
Phaneuf / Gunnarsson
Liles / Gardiner
Komisarek / Franson (RFA)
Holzer (RFA) / Blacker
Percy / Finn / Rielly / Granberg / Fraser (RFA)
Reimer / Scrivens / Owuya / Rynnas
As you can see, the Leafs are fairly well stocked up front and on the back end, which leads me to believe that a move for a goalie is on the horizon.
Roberto Luongo is a name that is always on the minds of all Leafs fans, but a name that will likely hit the rumor waves hard in the coming days will be Tim Thomas.
Thomas, who waived his no-trade clause about a week ago, is the perfect fit going forward for the Leafs: a goalie with a short-term contract, but that will help lead the Leafs back to the playoffs.
Unlike that of Luongo, Thomas' contract is much more cap friendly and doesn't handcuff the Leafs going forward.
Thomas is also an American, which may seem a bit weird to point out, but the Leafs just traded their prized defensive defenseman Luke Schenn for yet another American forward, this time James van Riemsdyk.
I have no objections to the deal; I for one like the deal greatly for the Leafs.
But acquiring yet another American will not do any favors for Burke when it comes to his onscreen battles with Hockey Night in Canada star Don Cherry.
There are no guarantees that the Leafs go after a goalie, anyways.
There are still Rick Nash and Bobby Ryan rumors to discuss, and signing a player like Zach Parise still remains an option.
The Leafs have still got to trade away some of their dead-weight expiring contracts, like those of Colby Armstrong, Matthew Lombardi and Tim Connolly, as well as the albatross contract of Mike Komisarek.
Free agency opens up July 1, and I'll just say this: Expect some more moves come Canada Day.