Jerry Sandusky Verdict Is Beginning, Not End, for Many Sexual Abuse Victims
June 23, 2012

Mark Wilson/Getty Images
Jerry Sandusky will die in prison.
It's what he deserves and it's been a long time coming.
For many, especially fervent college football fans, and specifically those from Penn State country, Friday night's verdict was a surprise.
A hung jury, many predicted. Before that, many journalists said the case would fall apart before it ever got to trial—that it was falling apart, had fallen apart.
They were wrong. Thank God they were wrong.
For me, I don't know that I've ever been more certain about an outcome than I was about Sandusky's conviction.
I was confident, too, that the people of Pennsylvania and PSU would put the truth and justice and the lives of those boys ahead of a children's game played by grown men.
I'm glad I was right about that, glad to see justice can be served to victims of such atrocities, glad to see this monster go where he belongs, and glad to see him led away in handcuffs.
I'm not a particularly religious man, but last night, when I heard the news, I looked up to the sky and thanked God for this one.
I'm not a lawyer, and I don't pretend to have a scholarly knowledge of the law, but about a decade ago I had a life-changing experience, one that both informed me that such horrors were possible and gave me some context when looking at the case against Sandusky that, fortunately, few people have.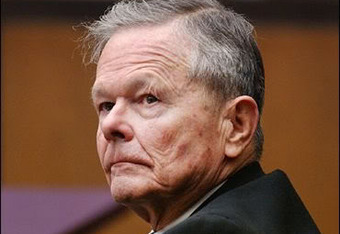 In 2002, I was one of scores of journalists thrust into covering the biggest child sexual abuse scandal in the country—the crush of allegations, lawsuits, arrests and convictions of the Catholic church priestly sexual abuse fiasco.
When the news of Boston's Father John Geoghan broke in 2002, I was working for the Times of Acadiana, a scrappy little alternative weekly in Southwest Louisiana that in 1985 broke new ground in its coverage of a serial child molester named Father Gilbert Gauthe.
Gauthe was every bit as evil as Sandusky, maybe more so given that he actually used the cloak of his faith to perpetrate his crimes.
My first report on the church scandal hit the streets the day my son was born.
You can imagine the duality of emotions that coursed through my body over those weeks leading up to my son's birth and the publication of a story I knew would infuriate tens of thousands of Catholics throughout Cajun Country.
I learned, back then, what to expect in cases like Sandusky.
You can expect people to accuse the victims of "making it up." You can expect people to say they are "in it for the money." And you can expect friends of the accused to offer a knee-jerk "we believe in him" response to reporters.
I also learned that you can expect others to come forward, not jut with this perpetrator, but with others, just like what happened with Syracuse's Bernie Fine.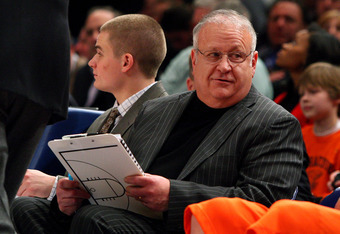 Jim McIsaac/Getty Images
Even in Southwest Louisiana, with little more than a decade separating the Gilbert Gauthe case from the Boston case, I found new victims and new perpetrators.
I probably wrote a dozen stories on the Catholic child sexual abuse scandal in 2002. Among the astonishing things I learned at the time:
A New Orleans monsignor, who helped draft the New Orleans Archdiocese's response policy for child sexual abuse allegations, was himself an accused molester. He admitted it to me when confronted with the allegation.
A priest actively serving mass in the rural town of Grand Coteau was a twice-convicted child molester.
And, in the 17 years since the Gilbert Gauthe case rocked Acadiana, more than a dozen lawsuits had been settled.
So, to be clear, this is not over.
More Sandusky victims will come forward.
More people victimized by other perpetrators will come forward. And, sadly, we will learn in some cases that institutions that have been rocked by allegations in the past—religious, educational or other—have not learned their lesson.
If there's a silver lining to what happened Friday night after barely two days of jury deliberations, it is that victims, old and new, will be encouraged to come forward to tell their story.
The Sandusky case, I believe, could have a more profound effect than even the Boston scandal.
A criminal conviction, 45 of 48 counts, to be exact, after a full trial—not a plea bargain—should encourage many to come forward, hopefully sooner rather than later.
It can because very few of the allegations that came to light in 2002 ended in convictions, and many of the alleged victims came away with more bitterness, little healing and no justice.
By any measure, in the months that have passed since the Sandusky allegations came to light, like Catholics a decade ago, PSU faithful—a religion all its own—have had to wrestle with the breach of faith between one of their own and the most vulnerable of their community.
Friday's verdict, at the very least, began the healing for some.