WWE News: And on This Day, Brock Lesnar Was Named King
June 23, 2012

Miami Heat guard LeBron James assumed the throne this past week with his monumental first NBA championship victory. 
The achievement was reminiscent of a plethora of legendary athletes such as Steve Young, Peyton Manning, John Elway and Dirk Nowitzki, all of whom went several years in their pro careers without titles, thus having to fend off a growing legion of critics, doubters and haters.  
But it was on this day, 10 years ago, that another king was crowned at the tender age of 24, in a coronation that would prove to be the impetus for the biggest tease of a legendary career in WWE history. 
Brock Lesnar literally stormed onto the scene in the WWE in 2002, when he decided he had seen enough hardcore plunder from Spike Dudley, Maven and Al Snow.  He would proceed to lay waste to all of them with the accompaniment of a screaming Paul Heyman. 
Lesnar's rise to superstardom, and eventual championship glory, was the antithesis of a seasoned veteran anxiously waiting for his chance to get the proverbial gorilla off his back. 
Brock Lesnar was that gorilla.  A gorilla who spent two years in the WWE leading a one-man stampede. 
Less than three months after an impressive debut, Lesnar would be entered in WWE's 2002 King of the Ring tournament.  The field featured six past or future world champions not including Brock Lesnar, who was by far the youngest, greenest member of the royal hopefuls. 
Lesnar's first road block came against Bubba Ray Dudley, a longtime tag team standout alongside his (storyline) half-brother, Devon, who was still trying to find his way in singles competition. 
On that night, against what was touted as the next big thing, Bubba was able to find three near falls on WWE's prodigy, making Lesnar look human. 
Lesnar won the match shortly past the three-minute mark, thanks in part to Paul Heyman. 
Booker T would prove to be a more impressive victory based on name value.  Like Bubba, Booker gained notoriety on the tag team circuit before becoming a singles star.  Unlike Bubba, Booker T's singles career was Hall of Fame worthy. 
The New World Order, attempting to recapture their 1996 WCW magic in the WWE, took a vested interest in this matchup due to their bad blood with Booker T.
With help from the Big Show, Lesnar defeated Booker T, an eventual King of the Ring winner, after his manhandling F-5 finisher. 
Test would be the next victim, but he was the only man in the entire tournament to last past the six-minute mark. 
The WWE had given Test multiple opportunities to become a main-eventer, but he always seemed to stumble at some point.  Now he was in the ring with a man who was set to hit a home run in his first at-bat. 
The match, taking place at the 2002 King of the Ring pay-per-view, was one after Vince McMahon's own heart.  Physical, lacking finesse and filled with slow, deliberate power moves. 
A Lesnar victory came after yet another distraction form Paul Heyman, leaving the former NCAA national champion wrestler one win away from the throne and a shot at the WWE Championship. 
The King of the Ring finals pit Lesnar against the incomparable Rob Van Dam.  Once again, momentary distraction provided by Paul Heyman led to a Brock Lesnar victory, as the rookie became the first WWE superstar to win the King of the Ring in his first year with the company since the legendary Harley Race.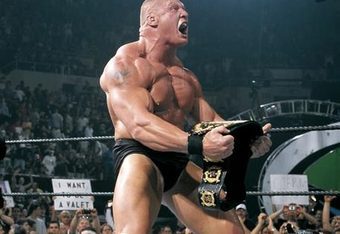 Despite serial assistance from Paul Heyman throughout the tournament, Lesnar was booked as such a despotic killing machine that it almost seemed like Heyman's involvement was simply expediting the inevitable while continuing to remind fans to boo a monster heel in the making.
Brock Lesnar would go on to win the WWE Championship, and at the height of his career he would leave, eventually landing in the UFC where he found similar immediate success before returning to the WWE. 
Lesnar's get-rich-quick career has led to momentary flashes of rampaging brilliance hindered by Brock's abhorrence of the spotlight. 
The awe-inspiring magnitude of his legend can be explained by the fact that his dominant stint with the WWE, from 2002 to 2004, was filled with rarefied accomplishments, yet it is still a story of what could have been. 
Today is Big Nasty's birthday.  Wish him a Nasty Birthday on Twitter @ThisIsNasty!