Tampa Bay Lightning: Bolts Go to Plan B in Round 1 in 2012 NHL Draft
June 23, 2012

Bruce Bennett/Getty Images
I did a mock draft (Rounds 1 and 2) for the Tampa Bay Lightning a few days before the 2012 NHL draft, and I had the Bolts selecting two defensemen (Jacob Trouba and Hampus Lindholm) in the first round.
I'm convinced the Bolts would have selected one of those defensemen at No. 10 if they were still on the board. However, both Lindholm (pick No. 6 to the Anaheim Ducks) and Trouba (pick No. 9 to the Winnipeg Jets) were off the board.
The Lightning gave subtle hints that both of these players were on their radar before the draft.
Al Murray, the Director of Amateur Scouting for the Lightning, let everyone know how interested the Bolts were in Lindholm.   
"We know we're going to get somebody good at (No.) 10, and we think somebody else is going to fall at 19, and Lindholm could be one of those players," Murray said. "He's a very good skater. He's a good puck-handler, and he plays well defensively."
The Lightning also had two visits with Trouba before the draft, at the combine and the day before the draft.
The Bolts had to change their strategy when Trouba and Lindholm were off the board at pick No. 10. They surprised some by picking defenseman Slater Koekkoek, especially because better known defensemen Codi Celi and Olli Maata still on the board.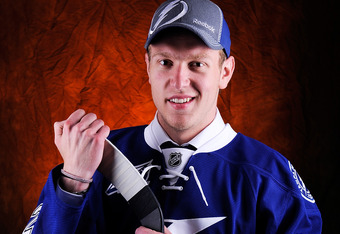 Jamie Sabau/Getty Images
But Murray said that Koekkoek was the best player on the board when they selected him.
"He was absolutely the best player available on our list,'' Murray said. "We think Slater Koekkoek, the only reason he might have fallen on some lists or some may not have been as aware of him as possible was because the injury this year. But he has a real track record.''
Koekkoek only played in 26 games for the Peterborough Petes of the OHL before suffering a a torn labrum in November, which resulted in season-ending shoulder surgery. However, before the injury, a lot of scouts saw Koekkoek as top-10 talent in the NHL draft.
The 6'2", 185 lb. Koekkoek is fast on his skates and has great agility in all directions. He has a very powerful stride and passes very well when he is distributing the puck. Koekkoek would be a great QB on the power play because of his puck-handling. He has a nice point shot as well.
Defensively, Koekkoek needs to get stronger, and he showed that he had regained his strength and then some from his shoulder injury at the combine. That being said, Koekkoek is still a work in progress defensively, but he is very smart and is getting better every shift with his positioning and angles. He also played close to 35 minutes a game before the shoulder injury.
Murray had no issues drafting Koekkoek.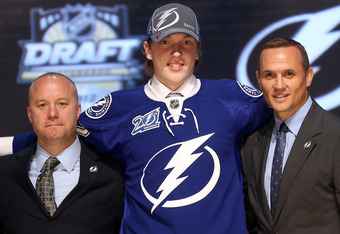 Bruce Bennett/Getty Images
"We have seen a lot of this player, we feel very comfortable about him,'' Murray said. "He's a terrific skater, he's both an offensive and defensive player so I think he'll be a point producer as well as a real solid defensive player. And my understanding there were several teams trying to trade up in the early teens to select him. I can't say that I was a surprise that he was there, but we were very happy he was there.''
With pick No. 19, the Lightning surprised some folks again by selecting a goalie when they picked Andrei Vasilevski, the No. 1-ranked European goaltender. That was somewhat surprising because the Lightning just traded for G Anders Lindback—their goalie of the future perhaps.
With the selection of Vasilevski, the Lightning are looking at a developmental prospect, who already has excellent skills at age 17 (won't be 18 until July 25). Vasilevski was fantastic for the Russian Juniors team, where he had a 2.01 goals-against-average and a .953 save percentage at this year's world junior championship.
Murray was also quite pleased that Vasilevski was also still available when the Bolts picked again at No. 19. 
"He was clearly the top goaltender on our list and we were actually a little worried some teams were going to select him ahead of us,'' Murray said. "We had him very highly rated. We are deep in goalies right now ... we are in pretty good shape, and this guy is 18 years old and will take some time just like most goaltenders. So this pick is not for immediacy but it certainly gives us great depth at the goaltending position and it was a player we felt was great value at 19. And if he was North American, I think he goes a lot higher than that.''
The Lightning hope things will go as smoothly for them in the later rounds today. I predicted the Bolts will select Brady Vail today in the second round, but only time will tell because one can never know how the board will shape up, as the Lightning know full well from last night.