College World Series 2012: Arizona Wildcats Prove They're Here to Stay
June 23, 2012

After beating Florida State 10-3 in their most recent game, there's no more that the Arizona Wildcats need to say. They're here, they're legitimate and they're for real. And after pitcher Kurt Heyer (13-2) beat Florida State, they're now only one win away from winning the College Baseball World Series.
They don't need to say anything else. After shocking the world to get where they are today, there's only so much left for the Wildcats to do. And they've already proven as much to the world: They're not going anywhere.
Of the mainstream sports, baseball is the one least funded on the collegiate level. It's hard for a Pac-12 school to financially sustain a team at the level of success that it would ideally like to. Oregon just got its team reinstated only a couple years ago, and more recently, Cal fought desperately to keep its baseball program.
Arizona faces similar issues.
"Cal showed up in our facility and they were being interviewed because of the news," head coach Andy Lopez told the Tucson Citizen. "And there was a local newscaster who asked me, 'Are you worried that this might happen to you at Arizona?'"
Fighting for a spot in the same conference as these programs, the Arizona Wildcats realize how important these games are.
This year, the Wildcats saw a 138 percent increase in attendance, a move off-campus and a chance to rival headlines with the school's softball program, which has now won eight national titles.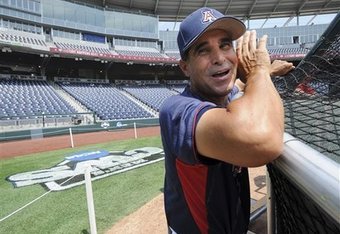 Coming into the title game, the University of Arizona has now won nine consecutive games, eight of which have come in postseason play. In the playoffs, Arizona has outscored opponents by an impressive 79-26.
In their next game, Arizona will bring Konner Wade to the mound. Wade has pitched two consecutive complete-game victories.
But Coach Lopez isn't too sure yet.
"I'm not sure we're invincible. In fact, I'm quite confident we're not,'' he said (via Sports Illustrated). "We're playing good baseball. But, honestly, we've done that for more than a weekend or so."
Still, Lopez feels confident in what he has done so far.
"I know my responsibility is to put a good product out there," Lopez explained. "If I can be really, really crazy for one moment, I don't think we've put a bad product out there."
With a victory, this would be Arizona's fourth national title in baseball. The last time that they won the title was in 1986, and the program was eliminated in regional play two years in a row.
"I'll tell you exactly how I feel," Lopez told Sports Illustrated. "It's Christmastime. You get to come to Omaha, Nebraska, and experience the week of Christmas with great people. You'll have memories that you'll cherish for the rest of your life."
Just like that, the team is beginning to take note of Lopez's brilliant advice.
"This is what you come to Arizona for: For a chance to come to Omaha and a chance to play for a national title," outfielder Robert Refsnyder explained. "Coach Lopez always says, 'Get rid of the anxiety, and fill it with excitement. And that's it. I'm excited."
Without a doubt in anyone's mind, it has become clear: The Arizona Wildcats are for real, and they're not going anywhere but the championship.
Arizona will play for the title at 7:00 PM CDT on Sunday.