NY Giants DE Justin Tuck's Facemask Sweeping NFL, Not Inspired by Chris Canty
June 23, 2012

Al Bello/Getty Images
Last week, the New York Giants tweeted a photo of Justin Tuck's facemask, and the likeness to Shredder, or some such character, struck many around the world of sports as very intimidating, if a bit over the top:
@JustinTuckNYG new facemask this year #nyg #giants twitter.com/Giants/status/…

— New York Giants (@Giants) June 12, 2012
As Dan Salamone of Giants.com wrote, the facemask was not designed just to look like a scary cartoon or comic book figure. The mask was designed by Giants equipment director Joe Skiba in union with Tuck, and the inspiration actually came from a 19th century invention by Charles Babbage. 
When Tuck was asked about it on Thursday after the last minicamp practice, he told Salamone, "You see the old school trains, the grilles on the old school trains? That's what I was going for."
Tuck is actually referring to a "cowcatcher," also known as a "pilot," which Merriam-Webster defines as "an inclined frame on the front of a railroad locomotive for throwing obstacles off the track."
Basically, if there was a cow on the tracks, the cowcatcher would send it flying off before making a significant impact with the locomotive engine. Sadly, video of this is not available.
Tuck actually came up with this design so as not to have his facemask grabbed by opposing linemen. Joe Skiba worked with Schutt, who manufactured the helmet, to make it lightweight despite the extra bars on the mask.
So they made it out of titanium, which is the same metal they made Lieutenant Dan's new legs out of. "It's what they use on the space shuttle," as Lt. Dan told Forrest Gump.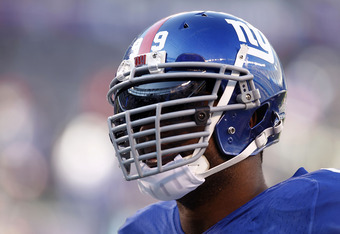 Jeff Zelevansky/Getty Images
Some have noted that design is similar to the facemask already worn by teammate Chris Canty, but Canty's design is not only different, it was a necessity for him to be able to play football at all.
As Canty told Sam Borden of the New York Times last season, just prior to the 2005 NFL combine, Canty was at an Arizona bar with some other draft hopefuls when a fight erupted across the room.
When Canty and his friends were trying to leave, he was struck in the side of the head with a flying bottle, and woke up in the hospital to find that doctors had been forced to operate on his detached retina.
The injury contributed to Canty's draft stock falling from being a potential first-rounder to getting selected in the fourth round by Dallas.
Canty's eye injury forced him to innovate a mask which would prevent him from getting poked in the eye by offensive lineman trying to block him. "I always say I should have gotten a patent on it...If I don't wear it, I don't play," he told Borden.
The facemask became so iconic, it even has its own Facebook page with over 1,400 "likes."
Canty started all 16 games at defensive tackle for the Giants in 2011, recording a career-high four sacks, including a pivotal safety when he brought down the Jets' Mark Sanchez in the end zone in Week 16.
Last season, Tuck struggled through numerous injuries, playing in only 12 games and managing just five sacks after recording 11.5 the previous season. But he comes into 2012 reinvigorated, healthy and with a brand new protective cowcatcher on his helmet.
So that makes two defensive linemen on the New York Giants who look like Shredder. And with the rest of the foot soldiers on the defense, opposing quarterbacks may need the Teenage Mutant Ninja Turtles to protect them.
Follow me. I taught LeBron to play with his back to the basket.