Will Fans, Media Ever Give Kevin Durant the LeBron James Treatment?
June 22, 2012

Ronald Martinez/Getty Images
Now that LeBron James has won a title after he and the Miami Heat decisively knocked the Oklahoma City Thunder out of the 2012 NBA Finals, it's time to find a new candidate for the dreaded title of "Best Basketball Player in the World Without a Ring."
It's not hard to find him. You don't have to look any further than the star player on the team that just lost: Kevin Durant.
Durant is still only 23 and has plenty of time before we start griping about how he hasn't won yet, though. This Oklahoma City team is still developing, and the window is wide open for them to break through and win a championship.
It's too soon for Durant to get picked on for the nakedness of his fingers. Will he ever get the LeBron James treatment, though?
Before we go any further, we must answer the underlying question of what exactly LeBron treatment entails.
The answer is pretty simple: pure, unbridled hatred that flies in the face of evidence. It is an unwillingness to accept a player for who he is, a desire to make him into someone else and an infatuation with seeing him fail.  
So, will Durant ever make NBA fans stoop to that level once more and belittle every move that he makes? Will his jersey be burned by anyone other than deranged "fans?" Will we criticize everything he does and rejoice in his failures? 
No. Absolutely not.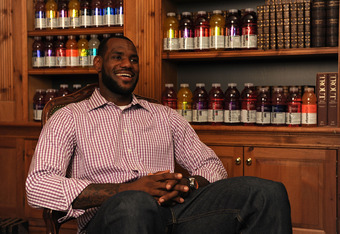 Larry Busacca/Getty Images
Durant is too likable. He is a guy who announced his contract decision over Twitter instead of holding an ESPN special. He is a guy who sobbed while embracing his mother after losing in the NBA Finals.
The LeBron treatment isn't about basketball. It never was.
It was about punishing a young man who was admittedly immature, didn't learn from his mistakes and continued to do and say the wrong things in the majority opinion.
"The Decision" was handled poorly, and his actual decision to join the Heat was criticized because it was viewed as LeBron selling out and taking the easy route to a title.
The welcoming party didn't help, and the media attention paid to the Heat just fueled the fire. Once more, it was never about basketball, even if moments where he failed in clutch situations added to the animosity.
Durant, on the other hand, doesn't need to move to a team with superstars. He's not playing with Eric Snow, Larry Hughes and Zydrunas Ilgauskas, but with Russell Westbrook, James Harden and Serge Ibaka.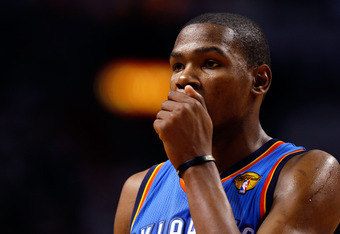 Mike Ehrmann/Getty Images
KD is surrounded by young players who are already among the league's elite at their respective positions. He goes about everything the right way and appears humble to a fault.
While we may eventually criticize him if he remains ringless in years to come, it won't be done with enough vitriol to make it a second coming of the LeBron treatment.
And thank goodness for that. Once was enough.