Fantasy Football 2012: Musts, Trusts and Busts Running Back Edition
June 23, 2012

Larry French/Getty Images
In this year's first installment of Musts, Trusts and Busts I focused solely on the field generals. Now it's time to spotlight the breadwinners.
From Arian Foster to Isaac Redman, I am going to outline each player's worth, and I'm even going to tell you when to pull the trigger.
This guideline is draft specific.
There are players that you must have, there are some that you can trust and there are some that you shouldn't. I'll highlight the sleepers and walk you through the high risk/high reward players.
Each player listed in each subcategory is done so without any particular order in mind.
Understand that the MTB formula is a proven championship caliber blueprint from which I've derived great success; draft accordingly.
This article was written with the basic league principles in mind.
10-12 Teams
Non-PPR
15 Man Roster (QB,WR,WR,WR,RB,RB,TE)
Musts:
Ray Rice - Baltimore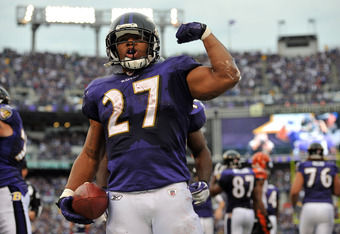 Larry French/Getty Images
Projected Draft Position: 1st Overall - 4th Overall
Rice is currently holding out for Adrian Peterson money, and honestly I believe he's worth it. His lethal dual threat abilities makes him option number one for the Baltimore Ravens. He is the model of consistency as his numbers have only gotten better over the past three seasons. It doesn't matter which scoring format you're in, take Rice number one.
Arian Foster - Houston
Projected Draft Position: 1st Overall - 4th Overall
I rode Arian Foster to a championship last season, so it's difficult for me to argue his worth. Had it not been for the rise of Ben Tate, I would say draft Foster and prepare your championship speech. Take Foster after Ray Rice.
LeSean McCoy - Philadelphia
Projected Draft Position: 1st Overall - 4th Overall
McCoy is all upside and you could make a strong point to select him number one overall. I would say that is a safe statement, if this were a league that didn't include Arian Foster and Ray Rice. Take Shady after Rice and Foster, but before everyone else, including Aaron Rodgers.
Ryan Mathews - San Diego
Projected Draft Position: Round 1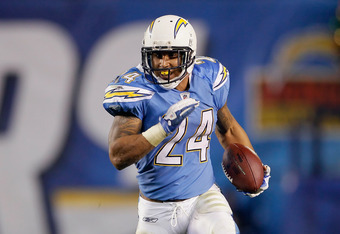 Jeff Gross/Getty Images
It seems that no matter what I write, I still get trashed by San Diego fans. I could say that Ryan Mathews is the next LaDainian Tomlinson and they would argue that he's better. I will say this, he is a legitimate top five talent at the position and his numbers will only rise after the departure of touchdown vulture Mike Tolbert. This could be the year that Mathews goes off, but I said that last year. He's a must as of right now.
Adrian Peterson - Minnesota
Projected Draft Position: Round 1 - Round 2
Peterson is already making cuts as he pleases on his surgically reconstructed left knee. That's a true testament to his exceptional work ethic. Though he's still in the process of rebuilding strength, I think it's safe to say that if cleared to play by week one of the regular season, he'll go in the first round of every draft. 
Maurice Jones-Drew - Jacksonville
Projected Draft Position: Round 1
At 27 years of age, MJD isn't showing signs of wear and tear. His drop in numbers over the last two seasons is directly correlated with an absolutely abysmal supporting cast. With that being said, Jones-Drew still racked up over 1,600 rushing yards and 374 receiving yards last season. Though I don't necessarily believe that Blaine Gabbert is the answer, Justin Blackmon is. Look for MJD to put up the same type of numbers as last season. He is still an elite option at running back.
Trusts:
Trent Richardson - Cleveland
Projected Draft Position: Round 1 - Round 2 
Browns head coach Pat Shurmer has already labeled Richardson Cleveland's starting running back even before training camp. Nate Ulrich of the Akron Beacon Journal has already gone as far as saying that Richardson is "a lock to start and become a workhorse." You'd be hard pressed to find anyone who will question Richardson's ability. Many believed him to be a better talent as a backup at Alabama than former Heisman Trophy winner Mark Ingram. Richardson is most definitely a trust with a hint of must.
Chris Johnson - Tennessee
Projected Draft Position: Round 1 - Round 2
Sure I listed CJ2K as a must prior to the 2011 season. Sure I selected him fifth overall in one of my drafts last season. That's because I believed in him only a season removed from his monster 2,000 yard campaign. He's still that same running back, and though I wouldn't consider him a must, I still consider him a trust. Don't expect the type of numbers he put up in 2010, but expect a bounce back season. Take him after Lynch but before Turner.
Marshawn Lynch - Seattle
Projected Draft Position: Round 1 - Round 2
I hesitate to list Lynch as a trust here; I truly believe he has the potential to be a top five back in the NFL. The only reason I won't list him as a must is because it's no secret that opposing defense's are going to stack the box against him in 2012. Fortunately for Lynch, Seahawks owners and fans alike, it's going to take more than that to stop "Beast Mode."
Matt Forte - Chicago
Projected Draft Position: Round 2 - Round 3
Forte is now reportedly optimistic about contract negotiations with the Bears, saying that "It's gotten better." Though the arrivals of Brandon Marshall, Alshon Jeffery and Michael Bush will obviously result in a decreased workload for Forte, I still believe he is a top ten talent at running back. At only 24 years of age, his past injuries don't concern me. The past is the past and regardless of who's on the roster, Forte is the future. If Chicago brass is smart, he will get paid. Forte has the ability to have Marshall Faulk like impact on games.
Michael Turner - Atlanta
Projected Draft Position: Round 2 - Round 3
Turner has been nothing but a dependable workhorse since Atlanta acquired him back in '08. But the problem is that he's never really been a threat in the passing game, limiting his fantasy value. Fortunately, there isn't a better duo at WR than Atlanta's Julio Jones and Roddy White, and that only improves Turner's value. He will most likely lose some third down touches to Jacquizz Rodgers, but Turner isn't in any danger of losing his job. Taking Turner in the second round is one of the safest selections there is. He's a lock to put up solid numbers. Look for a stat line in the ball park of 1,200-1,400 yards and 10-12 touchdowns. Take him after Lynch, CJ2K, McFadden, Forte and possibly even Trent Richardson.
Ahmad Bradshaw - New York Giants
Projected Draft Position: Round 4 - Round 6
Bradshaw is a threat both through the air and on the ground. In an offense led by Eli Manning there will be plenty of opportunities for him to put up points. Brandon Jacobs is now in San Francisco and rookie David Wilson will need a complete season before he's ready for a sizable piece of the workload. In Bradshaw we trust…until he gets hurt.
Shonn Greene - New York Jets
Projected Draft Position: Round 5 - Round 8 
Those of you who have referenced my work over the past couple of seasons know where I stand with Shonn Greene. Like a jilted lover, I always come back to him. Every year is supposed to be "the year," but this year I believe it will be. I wouldn't go as far as to call Greene a must, but he will be someone that I trust in 2012. In most of the mock drafts I've participated in, I used the first part of the draft to address other positions and drafted Greene as my second RB1. That draft formula should pay dividends as Greene has never been spectacular. I'm thinking more along the 10-12 points a game range.  I'll take that with the supporting cast that I'll most likely assemble in the first part of the draft.
Doug Martin - Tampa Bay
Projected Draft Position: Round 4 - Round 7
I love Doug Martin, the man can play. I really started to see his potential when studying Boise State game film in preparation for my mock drafts. Mark Dominik traded up to select Martin with a particular role in mind. LeGarrette Blount will likely steal some carries and will most assuredly shoulder the goal line load, but make no mistake; Martin is Tampa Bay's number one back. Because he is a rookie, he will most likely be overlooked come draft time. Draft with confidence if available to you somewhere between the 5th and 7th rounds. He's a better selection than Frank Gore, but not better than Ahmad Bradshaw.
Busts:
Rashard Mendenhall - Pittsburgh
Projected Draft Position: Round 12 - Undrafted
Mendenhall hit a wall last season in the midst of a ruthless slate of powerfully aggressive run defenses. After tearing his ACL in Week 17 of last season, it's hard to believe that, even if cleared to return, he'll have any impact on your fantasy season. The only reason I feel it necessary to even list Mendenhall in this article is because I'm seeing him listed in other publications as a "steal" in later rounds. 
Frank Gore - San Francisco
Projected Draft Position: Round 4 - Round 6
Gore displayed exceptional durability in starting all 16 regular season games in 2011. But that didn't stop the 49ers from taking former collegiate standout LaMichael James in the second round of last April's draft. Though James might be small by NFL standards, 49ers head coach Jim Harbaugh didn't hesitate to refer to him as a "proven multi-down back." In reference to Gore starting 16 games in 2011, that was only the second time in his seven year career he was healthy enough to do so. Gore is no stranger to missing time due to injury. As a Hurricane back in 2002, Gore suffered a torn ACL just before spring practice, an injury that would leave him the entire next season in recovering from the surgery. If his injury history isn't enough of a red flag heading into your draft, just know that the arrival of the goal line touchdown vulture Brandon Jacobs almost assuredly means Gore's RB1 days are over.
Steven Jackson - St. Louis
Projected Draft Position: Round 4 - Round 6
Like Gore, Jackson's RB1 days are most likely over. The arrival of Isaiah Pead, who is a legit dynasty league option, means that St. Louis is ready to move into phase two with their running game.
Donald Brown - Indianapolis
Projected Draft Position: Round 11 - Undrafted
I'll just say it now; I'm not high on Donald Brown. I labeled him a bust coming out of UConn. New Colts head coach Chuck Pagano has recently been quoted in saying that Brown is an "every-down back." That's just not true, and Indy's recent acquisition of third down specialist Mewelde Moore is proof to the matter. 
BenJarvus Green-Ellis - Cincinnati
Projected Draft Position: Round 8 - Round 10
The Cincinnati Bengals version of "The Law Firm" is not a sleeper, nor a steal, but a bust. In New England, Green-Ellis had the luxury of taking advantage of defenses keying on Tom Brady. The AFC North boasts some of the league's preeminent defenses in Baltimore and Pittsburgh. Green-Ellis put up 9 rushing yards last season against the Steelers .
Sleepers:
Isaac Redman - Pittsburgh
Projected Draft Position: Round 8 - Round 10
Redman is no RB1, but he is a quality replacement on the bye. Mendenhall's injury last season should force him to miss a majority of the 2012 season and Jonathan Dwyer is no third down back. There will be games that Redman will struggle and there will be games that he will excel. Though he'll likely be drafted somewhere between the 8th and 10th rounds, you may be able to find him on the waiver when looking for that bye week fill-in. Redman proved his worth in torching Denver for 142 total yards in last season's playoff affair; he'll get the majority of the workload.
C.J. Spiller - Buffalo
Projected Draft Position: Round 9 - Round 11
C.J. Spiller has RB1 potential and he was drafted for exactly that reason. Unfortunately, the rise of Fred Jackson ruined that plan. But Jackson is now 31 years old and recovering from a broken leg. Regardless of Jackson's availability, Spiller's talent has become too great to ignore. Spiller is one Jackson injury away from super stardom. Projected somewhere between the 9th and 11th rounds, he is a sure-fire steal.
Peyton Hillis - Kansas City
Projected Draft Position: Round 8 - Round 11
Chiefs offensive coordinator Brian Daboll loves Peyton Hillis and is the primary catalyst of his acquisition. If Jamaal Charles cannot fully recover from his injury, Hillis will shoulder the type of workload he saw in Cleveland with Daboll back in 2010. Those numbers were good for 1,177 yards and 11 touchdowns, not to mention 477 yards receiving and two more touchdowns through the air.
Mikel LeShoure - Detroit
Projected Draft Position: Round 9 - Round 12
A devastating torn Achilles injury coupled with multiple marijuana possession arrests and a league mandated two-game suspension won't steer me away from this inside-the-tackles animal. He doesn't put the ball on the ground, he is a receiving threat out of the backfield, he can get the tough yards, he can shed tacklers and he can break off big runs. He can literally do it all. Come game three versus the Tennessee Titans, the work that LeShoure will put in will be a sight to behold, and if you selected him in your draft you'll look like a genius.
Mark Ingram - New Orleans
Projected Draft Position: Round 11 - Round 14
Ingram will be highly underrated going into most drafts, and as a time share back in 2011, could figure to see an increase in workload in 2012. He is someone I look at as a posh RB2 with the possibility of becoming a RB1. He is already the first option to see the bulk of goal line carries in a high scoring New Orleans Saints offense. 
Ben Tate - Houston
Projected Draft Position: Round 10 - Round 15
Tate proved to be a beast when filling in for Foster last season behind one of the league's preeminent rushing o-lines. He is the ultimate hand-cuff back and is a MUST START if Foster were to go down to another injury.
High Risk/High Reward:
Projected Draft Position: Round 1 - Round 2
In four years as a pro, McFadden has never started more than 13 games. For a player that will most likely be drafted between the 1st and 2nd rounds that is an extremely dangerous risk. Last season's toe injury sidelined him for nine games, an injury that he looks to have completely overcome. He is now making cuts at full speed, and the departure of Michael Bush means an increase in workload. The late Al Davis used to say that it takes at least three years to evaluate talent; we're going into year five. Could this year be the year for Run DMC? No one knows.
Jahvid Best - Detroit
Projected Draft Position: Round 8 - Round 10
Jahvid Best is the ultimate high reward option. He has the potential to score from anywhere on the field. Though he has the ability to post a high points per game average in a potent Detroit Lions offense, he is only one hit away from his season/career being over. As long as you don't take him too early there's no risk in the selection of Jahvid Best.
Jamaal Charles - Kansas City
Projected Draft Position: Round 2 - Round 4
Charles is undoubtedly the number one running back in Kansas City. He has game changing speed and the ability to make people miss in the open field. Unfortunately, his ability to successfully recover from a torn ACL will directly affect those facets of his game. Charles is the number one option in a run first offense, losing some goal line carries to Hillis won't greatly affect his value. Take him in the second round or jump on him anywhere after that.
DeMarco Murray - Dallas
Projected Draft Position: Round 2 - Round 3 
In my mind, Murray is a legitimate RB1…when healthy. Last season he showed flashes of greatness that reminded me of another rookie running back out of Oklahoma. Felix Jones becomes an afterthought if Murray shows full recovery from the broken ankle that ended his 2011 season. This man is a load between the tackles and has top five-top ten ability.