How Far Can a Healthy Peyton Manning Lead the Denver Broncos in 2012?
June 22, 2012

Is it a cop out to simply say that "Peyton Manning can lead the Denver Broncos to a Super Bowl victory" and leave it at that?
Immediately after signing with the Denver Broncos in March, Manning made the team the sexy pick to win the Super Bowl in 2012, and why not?
This was a team going into 2012 that was fresh off a surprise playoff run that included (prior to a crushing defeat) an impressive victory against an AFC favorite in the Pittsburgh Steelers.
Not to mention they did it all without the services of a traditional NFL quarterback at the helm.
Flash forward to the day that Denver landed the most sought after free agent in NFL history, which netted them not only a "traditional NFL quarterback," but quite possibly the one by which many quarterbacks will be measured against for years to come.
It was natural to expect some very lofty expectations.
Expectations from fans still remain sky high, but the odds-makers are not quite as sold with anointing Denver as one of the NFL's elite just yet, as evidenced by their over/under for wins in Las Vegas opening at 9.5 games, a number that garnered a sizable amount of action on the under when the bet was first announced.
And so the debate rages as to what can actually be expected from the 2012 edition of the Denver Broncos?
The crux of the answer seems to always lie in the debater's belief of whether Denver will be receiving the "Hall of Fame" version of Peyton Manning or the "damaged goods" version tantamount to Joe Namath suiting up with the L.A. Rams late in his career.
It's an honest question, and one that cannot truly be answered until Peyton steps under center for the first time in over a year for a live NFL contest and shows what he can do.
It's the ultimate gamble by John Elway. A "bet in the dark" (to borrow a poker term) after Elway has pushed all of the Broncos' chips to the center of the table without blinking and hitched his teams' hopes to a player who has the ability to take down the pot time and again or bust the franchise for the foreseeable future.
There is no mathematical formula to determine exactly what Manning the Broncos are going to see in 2012, and therefore, it is very hard to predict how far the Broncos can go.
That being said, has anyone seen Peyton Manning be anything less than the most important player on the field in a majority of his games?
If the answer is "no," then why now assume that he is anything other than that?
Returning to the Namath comparison, Broadway Joe's career showed signs of slipping away long before he left New York, but the same cannot be said about Manning.
Assuming that to be true, and hopefully agreeing that this Denver squad is as good as, if not better than, many of the Colts teams that Manning led to the playoffs, why is it so hard to think that Denver can easily punch their ticket into the 2012 NFL playoffs?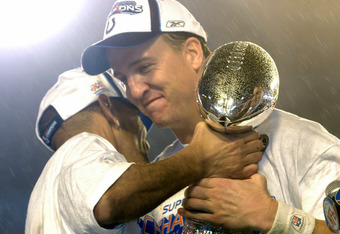 A. Messerschmidt/Getty Images
One reason is that their schedule is brutal.
And that would be true even if Denver was a defending Super Bowl champion or a team fresh off selecting first overall in the draft. There are no bones about the fact that trying to secure a Wild Card berth will be extremely tough for Denver.
Regardless of that fact, Denver is still competing in a very winnable AFC West, and nine wins could easily take the division crown and give Manning and the Broncos a home playoff game to start.
Once they reach that point, Denver has to like their chances of entering another playoff game with one of the few starting quarterbacks in the league that actually has a Super Bowl victory under his belt.
A healthy Peyton Manning means that Denver can, and should, be favored in many matchups.
If it was a foregone conclusion that any squad coming out of Indianapolis with Peyton Manning at the helm could be considered a potential Super Bowl champion simply by virtue of the fact that they had No. 18, why is it so unreal to say that Denver is in the same position now?
Until anyone sees Manning perform at a level below "Hall of Fame" caliber for an entire season, the Broncos can believe that a healthy Peyton Manning can potentially take them all the way in 2012.
That is not a guarantee or a proclamation that he will. It is simply a statement that if the Colts were perennial contenders as long as Manning was under center, so are the Broncos now with Manning as their quarterback.