Deron Williams Rumors: Why Mavericks Are Better Bet for Hot Free Agent
June 25, 2012

Chris Chambers/Getty Images
With the NBA season officially over and draft talks heating up, one of the biggest storylines still is what will become of prized free agent point guard Deron Williams. Just about every team in the league will be looking to sign Williams because he is an elite talent at arguably the most important position on the floor. A lot of teams could use a top-tier point guard but only one of them makes sense for both the team and Williams.
The Dallas Mavericks, who have been mentioned alongside the Brooklyn Nets as Williams' final two options to play next year (via Marc Stein of ESPN.com) are the team that makes the most sense for Williams for a couple of reasons. For starters, the team has the ability to sign him to a lucrative long-term contract. Yes they are over the salary cap, but to a guy like Mark Cuban, that doesn't matter much. He'll do whatever it takes to get the Mavericks back to the championship. 
Williams can make a boatload of money, which is always a pretty good incentive and a great way to lure players to your team.
Next we have the fact that he'd be playing with a much better supporting cast than in most other places. Jason Terry is unsigned for next season, but I don't see him going anywhere else considering the success he's had in Dallas. Brendan Haywood and Shawn Marion are both locked up for next season as well. Last but not least, Dirk Nowitzki is signed through the 2013-14 season.
The Mavs are getting rid of the horrendous Lamar Odom contract and Jason Kidd's $8.5 million cap hit as well. The team can also exercise a team option for Vince Carter this season to the tune of $3.12 million.
With the talent the Mavs have on their roster, not to mention the amount of cap space they'll be freeing up between Kidd and Odom and the fact that they probably won't be paying Jason Terry the $11.44 million he made last season, they'll have plenty of talent and plenty of room to make Williams a very happy camper.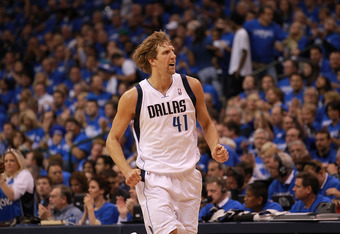 Ronald Martinez/Getty Images
The last and possibly most important reason is the fact that the Mavs have won a title in the past two seasons. Not many other teams that are seeking his services will be able to offer Williams that. Not only did they win, but they beat the Miami Heat, who are this year's champion. They have proven that they can beat the best in the NBA.
Imagine how that series would have gone with Deron Williams playing point guard for Dallas. I don't think it would have gone five games, let alone six.
Is there a better starting five out there than the possibility of Deron Williams at the point, Jason Terry at shooting guard, Shawn Marion or possibly Vince Carter at the three, Dirk Nowitzki playing power forward and Brendan Haywood at center?
That is a scary good lineup, and with the amount of money they'll have, the Mavs will be able to sign some key role players as well. 
Yes, the Los Angeles Lakers are an attractive option, but they seem to have their hands in too many cookie jars right now. I don't see any combination of moves that will bring both Dwight Howard and Williams to Los Angeles and still leave the Lakers with any semblance of a supporting cast, and out of all the teams with cap space, Dallas offers Williams the best opportunity to play for a championship right away.
Williams to the Mavericks makes the most sense for both sides.