Boston Celtics: O.J. Mayo and 3 Free Agents C's Must Sign to Bolster Bench
June 21, 2012

Christian Petersen/Getty Images
The Boston Celtics struggled at times during the compacted 2011-12 NBA regular season.
This was due in large part to an ineffective bench.
Since the second unit wasn't able to produce the way they were expected to produce, aging starters like Kevin Garnett, Paul Pierce and Ray Allen had to play more difficult minutes.
That unnecessary wear-and-tear showed when they were unable to close out the Miami Heat in the 2012 NBA playoffs.
So, bolstering the second unit needs to be a top priority for general manager Danny Ainge this offseason. Let's take a look at three free agents who would definitely improve Boston's bench.
Goran Dragic, PG 
Rajon Rondo needs a decent backup point guard. Keyon Dooling didn't cut it last season.
Dragic would be perfect for the role. He is an explosive bench player who could also play some shooting guard if needed.
In 26.5 minutes per game for the Houston Rockets last season, he averaged 11.7 points and 5.3 assists.
If the Celtics could sign Dragic, they'd have the best point guard tandem in the NBA.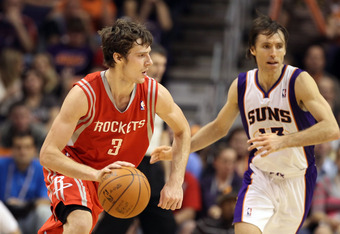 Christian Petersen/Getty Images
O.J. Mayo, SG
Mayo would be the perfect sixth man in Boston.
He's a guy that's capable of coming off the bench, scoring points in bunches and leading an offense for several minutes at a time.
Mayo averaged 12.6 points in 26.8 minutes per game last season. That sort of production would be outstanding for the Boston bench.
Plus, if Avery Bradley isn't ready to come back from his injury at the beginning of the 2012-13 season, Mayo could step in as the temporary starter for as long as needed.
Aaron Gray, C
The Celtics need to get bigger. Garnett was a great fill-in center for Jermaine O'Neal last season, but he'd like to move back to power forward if he returns to Boston.
Therefore, the Celtics need to sign a starting center like Chris Kaman, JaVale McGee or Spencer Hawes this offseason.
Then, they can address the issue of backup center with another quality free agent like Gray.
Gray would be an ideal backup. He averaged nearly six rebounds in just 16 minutes per game with the Toronto Raptors last season.
He only averaged 3.9 points per game, but the Celtics wouldn't need him to score too much, so he'd be an excellent fit in Boston.