Emeka Okafor Trade: How It Alters New Orleans Hornets' 2012 NBA Draft Plans
June 21, 2012

Harry How/Getty Images
Now that the Emeka Okafor era is over in New Orleans, the Hornets will have a lot more flexibility in the 2012 NBA draft.
The Hornets sent Okafor to the Washington Wizards along with Trevor Ariza, receiving Rashard Lewis and the 46th pick in this year's draft in return.
According to ESPN's Marc Stein, the Hornets are expected to waive Lewis prior to free agency, leaving the team with little to show for the deal but with significantly more financial flexibility moving forward.
With Okafor now gone, two things are certain.
First, the Hornets will definitely continue to rebuild around Eric Gordon. The crown jewel of last December's Chris Paul trade is a restricted free agent this offseason.
Okafor and Ariza were slated to make a combined $42 million over the next two years. That money that will now be rerouted to match any offer Gordon receives.
Second, it is a rare case when a surefire pick becomes even more certain, but Anthony Davis is going to be a Hornet.
Undisputably the best player available in a deep 2012 draft, Davis was widely expected to go to New Orleans with the first overall pick. With Gustavo Ayon and Jason Smith now the only post players under contract in New Orleans, the table is set to construct the Hornets' interior around Davis.
With Gordon and Davis in the fold, the Hornets have assembled the crux of their rebuilding plans. The question that remains is: Who does New Orleans bring in to play with them? The answer to that begins with the 10th overall pick in the draft.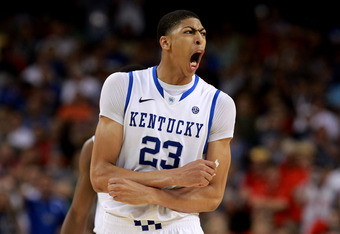 Ronald Martinez/Getty Images
With their stripped-down roster, the Hornets can go in any number of directions with their second first-rounder. The only option that can reasonably be taken off the table is a trade.
GM Dell Demps has told the Times-Picayune that New Orleans intends to keep the pick and take the best player available. For this team, "best player" can mean a number of different things.
With Okafor gone and Davis able to play either center or power forward, the only thing the Hornets don't need is another shooting guard. That takes lottery hopefuls Dion Waiters and Jeremy Lamb off the table, but it leaves a lot of other guys, all of whom might be considered "best available" in their own right.
Building Inside Out
If the Hornets are looking at the frontcourt, the best player right now to pair with Davis could be Tyler Zeller.
The North Carolina product has a low ceiling, but he has a high basketball IQ and a soft touch. A true seven-footer who can run the floor well, Zeller would allow Davis to play his mid-range game offensively and to focus on his excellent weak-side shot-blocking on defense.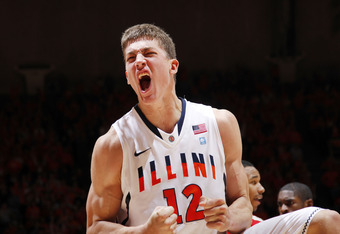 Joe Robbins/Getty Images
However, the Hornets are likely looking for more potential with the 10th pick, so they are more likely looking at Meyers Leonard at center.
Coming out of Illinois at 7'1", 250 pounds, Leonard surged past Zeller at the NBA draft combine, according to SB Nation Chicago. While not as polished as Zeller, he is stronger, quicker and two years younger. A Davis-Leonard duo has the potential to dominate in New Orleans for years to come.
Some Versatility, Some Uncertainty
If Demps is comfortable with Davis at center, another option could be to bring along his Kentucky teammate, Terrence Jones.
The sophomore last year showed an ability to play either forward position, giving Monty Williams the ability to go with a big lineup or play small ball as the situation warrants. Jones is not only a skilled scorer, but a strong passer and a solid rebounder, as well.
His athleticism is certainly valuable to the Hornets, but Jones would also have to sell Williams and Demps on his mental makeup.
At Kentucky, Jones had a tendency to mope on the court, settling for ill-advised threes and playing with an inconsistent motor. He's the most compatible forward to pair with Davis, but New Orleans must be sure Jones would make a good professional in order to pull the trigger.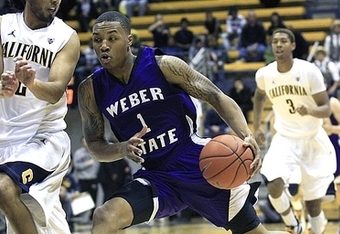 Getting to the Point
With Davis inside and Gordon at the wing, possibly the most sensible option would be to pick up a point guard to distribute the ball. While this draft lottery is lacking in true distributors, there is a combo guard who might be just what New Orleans needs.
Damian Lillard is another draft combine revelation, where SB Nation reports he wowed with his athleticism.
The 6'3" Weber State product can shoot the lights out, though he told scouts he wanted to be drafted as a point guard. With his work ethic and high basketball IQ, it would not be a shock if Lillard can improve on his court vision to run the point in the pros.
However, there are two potential holdups with Lillard.
One is that he might be taken before the Hornets pick at 10th, which is just the way things go.
The other is that, given his skill set and the way he plays the game, one of his closest NBA comparisons has to be to Eric Gordon, a smart shooter who does not fit as a point guard. Certainly this is praise for Lillard, but pairing two shooters in one backcourt might not be what Demps and Williams have in mind.
Prediction
If Lillard falls to the Hornets, they will certainly snap him up, truly trusting that the best player available will fit in. Otherwise, expect to see Leonard taking Okafor's place as he and Davis form an imposing young frontcourt.
Whether they go big or small, the Hornets would not have had this flexibility going into draft day with Okafor still in tow. Now that he is gone, New Orleans has some money to spend. When the draft kicks off on June 28, the rebuilding efforts will truly begin.