NBA Draft 2012: Why Bradley Beal Is the Perfect Pairing with John Wall
June 21, 2012

Christian Petersen/Getty Images
Pairing potential No. 3 draft pick Bradley Beal with Washington guard John Wall would give the Wizards one of the best one-two combinations in the NBA.
The Wizards' roster provides a perfect fit for Beal, as they don't currently have a scoring shooting guard.
Washington added two starters via trade yesterday, acquiring Emeka Okafor and Trevor Ariza from the New Orleans Hornets for Rashard Lewis. Wall will run the point, and Andray Blatche and Nene will compete for one of the low-post starting jobs.
That leaves a big hole at shooting guard.
Last season, Washington used a variety of shooting guards, including Jordan Crawford, Roger Mason and Maurice Evans—none of whom would start for other teams.
The Wizards finally have the opportunity to add a true shooting guard while providing Wall with a lethal asset.
John Wall is all that Washington has had since he was drafted. He needs another star to give the Wizards that push towards a potential playoff appearance. Bradley Beal will be that star.
Wall is a great all-around player. He averaged 16.3 points, eight assists and 4.5 rebounds per game last season. Washington doesn't have many other scoring options outside of Wall, which causes them to constantly lose games.
Beal plays very similarly to Wall, which would give the Wizards two dynamic scoring options on the floor. As noted on his ESPN scouting report, Beal is an amazing shooter and is a good ball handler and defender. This is exactly what Wall and the Wizards need. As a freshman at Florida, Beal averaged 14.8 points, 6.7 rebounds and 2.2 assists per game.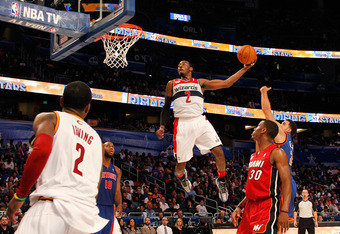 Mike Ehrmann/Getty Images
Wall can still run the offense like he has been doing, but he doesn't have to take every shot. The addition of Beal would take a lot of pressure off of Wall, which should improve his overall game. Wall would have plenty of opportunities to run with Beal on the fast break and hit him in the corner for open jump shots.
The overall defense would also be much improved with Beal on the court. He's a smart player who shouldn't get himself in foul trouble or allow easy baskets. You can count on him to hustle down the floor after a missed opportunity, something that can't be said for every player in the NBA.
Getting John Wall a weapon to work with should be on the top of Washington's priority list going into the NBA draft. They've seen that having just one superstar isn't enough to compete in this league. As we've seen in the NBA Finals, three superstars might not even be enough. But adding a second star would at least be a start.
ESPN's Chad Ford expects Washington to take Beal at No. 3, saying he's a "perfect fit for this new roster."
The tandem of Wall and Beal would definitely be an exciting one. This draft could turn the entire future of the Washington Wizards franchise around just by selecting one impact player.