Spain vs. France: Players Who Must Step Up for France to Upset Spain
June 21, 2012

Handout/Getty Images
Spain and France will meet in UEFA Euro Cup 2012 quarterfinal action on June 23 at 2:45 ET. The Spanish are No. 1 in the world but have never defeated the French in a tournament (four losses, one draw).
France, which is 14th in the FIFA/Coca-Cola World Rankings, will need to keep its streak alive from the underdog role. Will the defending EURO and World Cup champions go down, though?
If France's top players play their best soccer against their geographical neighbors, their side will have a chance.
Midfielder Franck Ribery must become more of an offensive force in this match. Ribery has zero goals in this tournament after scoring in France's three games prior to Euro 2012. Spain has allowed only one goal in this tournament, but Ribery cannot let this stingy defense faze him.
His speed and dribbling ability will need to carry him through this match. He must also control his temper enough to stay on the field for France, which cannot afford to lose players against the Spanish. Ribery has not been  carded in Euro 2012, but emotions between these rivals in an elimination match could be a factor in the final result.
In his most recent appearance for France, Ribery took four shots against Sweden in Les Bleus' last Group D match. The Swedish blanked the French 2-0, but France had done enough in the previous group matches to qualify for the quarterfinals.
Ribery needs the success he achieved with Bayern Munich to carry over to this match. Bayern Munich advanced to the 2012 UEFA Champions League final but lost to Chelsea. Ribery tied for second on the team with 12 regular-season goals and placed third with 17 goals in all Bayern Munich matches from 2011-12.
Though Ribery is a strong offensive midfielder, France needs more scoring from its forwards. This starts with Karim Benzema. Benzema has attempted 12 shots on goal through three group matches, but none of them have gone in the net.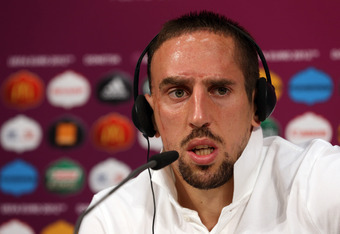 Handout/Getty Images
Prior to Euro 2012, Benzema scored two goals for France in a 4-0 rout of Estonia. Granted, Spain is a far superior opponent than Estonia, but he needs to find that touch again for France to move on to the semifinals.
At the club level for Real Madrid, Benzema placed third on the team in regular-season goals (21) and second in total goals (32). As a squad, Real Madrid won La Liga but lost to Ribery and Bayern Munich in the 2012 UEFA Champions League semifinals.
Though Benzema plays with many Spanish national teamers on Real Madrid, he must put national pride first for France to have a chance at winning.
Scoring is important in soccer, but defense matters too. France has allowed three goals in Euro 2012, but Spain has scored six. The French must be the better defensive side if they want to beat the Spanish.
French defender Philippe Mexes will not play against Spain on Saturday. He has acquired two yellow cards in this tournament. Laurent Koscielny will likely replace him.
Koscielny has not earned an international cap since June 5 against Estonia. Hopefully for France, this time away from Les Bleus will not leave him rusty.
Arsenal signed Koscielny before the 2010-11 season. Manager Arsene Wenger likes to sign players from his home country, but this acquisition had many scratching their heads. Koscielny had played only one season in French Ligue 1 before joining the famous English side.
Though he made 41 starts for Arsenal in 2011-12, lack of experience in international competition could be a problem. France's best chance at defeating Spain would require at least its regular starting lineup, but Mexes has left the side no choice but to put Koscielny in the match.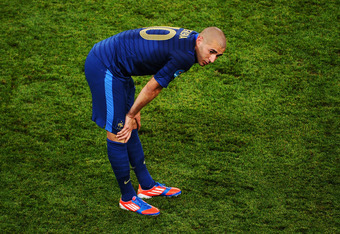 Lars Baron/Getty Images
French eyes will be on Koscielny to see how he performs against Spanish forward Fernando Torres, who scored two goals in Euro 2012 group play. Koscielny knows a bit about Torres from the English Premier League, as Torres plays for Chelsea, but Torres is one of the world's best strikers.
France manager Laurent Blanc will throw Koscielny in the fire against Spain, and he will need to come out alive and well for his side to upset the top dog in international soccer.
A player from all three areas of the field has been spotlighted here, because France will need to challenge Spain offensively, defensively and in the midfield to win the match and reach the next round. France surely has the talent.
Ribery played on the 2006 World Cup runner-up squad. He will be called on to lead this side to victory more than anyone else. After all, Zinedine Zidane has called Ribery "the jewel in French football."
France snapped its 23-match unbeaten streak against Sweden on June 19. Spain has won 36 of its last 38 matches since losing to France in the 2006 World Cup. Which side's streak will end?
Donbass Arena in Donetsk, Ukraine, will surely be rocking for this one.