Miami Heat Headband Girl and the Evolution of Fandom in the Social Media Age
June 22, 2012

As much as I hate to say this, I turned off Game 3 of the NBA Finals between the Oklahoma City Thunder and Miami Heat early. Not very early mind you, but early enough to miss LeBron James handing his sweaty headband to a female fan. Without hesitation she put it on and became an instant internet sensation.
Later that night my Facebook started blowing up about it. The fan was 21-year-old Jennifer Chaplin, a graduate of Miami Country Day School. Why is this relevant? Because I graduated from the same high school two years later. Someone I knew was in possession of LeBron's headband and had gained internet fame because of it. 
Being the hard-hitting investigative journalist that I am, I sprang into action and got in touch with her several days later. By this point she had already been featured on CBS Miami, had stories written about her by major sports media outlets and sparked a national debate on the hygienic concerns of soaking yourself in someone else's sweat.G
At first I was confused. Don't get me wrong, getting LeBron's headband must have been amazing, but why was this a story?
The answer is that we made it a story. People tweeted about it. Talking heads gave their take. What started as a routine act by a superstar ended as a real story because in the world of social media anything we find interesting or controversial has the potential to become one. 
What follows is my interview with Jennifer, who was nice enough to take the time to speak with her fellow Country Day Spartan. 
Sam Quinn: "Walk me through the moments leading up to getting the headband. Were you waiting specifically to see if someone would throw something into the stands?"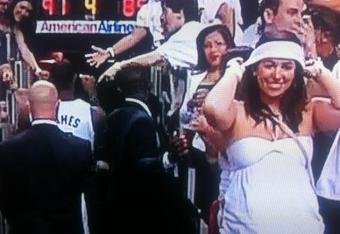 Jennifer Chaplin: "Most of the players had already left of the court, but LeBron was getting interviewed so I decided to stay and see if he'd give someone his towel or wristband or really anything. He ended up handing me the headband and without any hesitation I put it on. I was just thrilled that LeBron gave me anything, I would have taken his mouthpiece if he offered it."
SQ: "When did you find out you were on national TV?"
JC: "People started texting me right away, my friend Alex said it would be bigger than the 'good job, good effort kid'."
SQ: "Players throw stuff into the stands all of the time. Gilbert Arenas used to throw his jersey into the crowd after every game. What made your situation such a big national story?"
JC: "The headband is different from most things players give away. LeBron's headband is iconic, he wears it every game. When I put it on it sort of created a controversy because of how sweaty it was, a lot of people thought it was disgusting, and since it was so visible as an NBA Finals game tons of people saw it and wanted to give their take. I was listening to 560 AM on the radio and they were arguing about what players could give them that they'd wear and not wear. I think all of those factors played into this becoming a big deal."
SQ: "What are your plans for the headband now? Are you going to keep it? Put it on eBay? Sell it for Charity?"
JC: "I thought about selling this one for charity, but I've been wearing it so I doubt people would want it. I'm hoping to get LeBron's headband after Game 5 and have him sign it so I can auction it off and give the proceeds to his charity. I was interviewed by his official website (lebronjames.com) and I'm hoping we can do this for charity."
SQ: "You said that you were going to wear the headband until the Heat win the championship. Hypothetically, if the Thunder had come back to win the series, how long would you have worn the headband?"
JC: "I would have worn it until the Heat won a championship, no matter how long that took."
SQ: "You've been on TV. Kris Humphries tweeted about you. I think I even saw a meme about this. What has been the coolest thing about being a part of this story?"
JC: "I was interviewed by LeBron's official website and team LeBron mentioned me in a tweet. The coolest thing about this has just been the closeness to LeBron, it's just been amazing to be a part of a story with him. I was also on ESPN's SportsNation, I watch a ton of SportsCenter and ESPN in general, so being on it was amazing."
SQ: "Thanks for taking the time to talk to me, and congratulations on being a part of the biggest sports story in Spartan history". 
A decade ago none of this would have been possible. Yet Jennifer's story wasn't even the first fan-turned-celebrity during these playoffs. This sort of thing could only happen in the social media age. The internet has changed the entire landscape of sports fandom. 
Suddenly being a fan is more than just being a fan. We can actually become part of the story. We live in an age where we can talk about anything with anyone at any time. If you do something interesting, like putting on LeBron's sweaty headband, the world is going to talk about it. 
Whether intentionally or not, some savvy fans have capitalized on that to become minor celebrities. 
The internet has created an entirely new way for fans and players to interact. This story has created a permanent link between Jennifer Chaplin, a student at NYU's prestigious Tisch School of the Arts and LeBron James, a future NBA Hall of Famer. 
As we hear more and more stories like this you have to wonder whether or not players and fans will try to more actively take advantage of our new world.
Will more players start handing their jerseys to fans after games? Will we see more 'Mannywood'-esque cheering sections for specific players in the hopes that they'll notice?
I'm sure we will. Today's fan experience has been so greatly enhanced by the 24-hour news cycle, Twitter, Facebook and shows like SportsNation that we're now more than just fans. 
The best part? This is only going to get better. 
Sooner or later athletes are going to master the nuances of using Twitter to enhance their brand. They're going to realize that the voice of the fan matters. We as fans are going to be able to connect to athletes in ways we would have thought impossible just a few years ago.
We may not all become the topic of intense internet debate like Jennifer, but now fans have an actual platform. If you do something interesting at a game people will talk about it, players will tweet about it and sooner or later we're going to start seeing more stories like Jennifer's.
We are the ultimate beneficiaries of this new age. Fans finally mean something. Being a fan means being an interactive part of the sports world. I don't know about you, but that makes me really excited for the future. 
In the meantime, if you want to keep up with Jennifer's story follow her on twitter @JayraeC.