Arsenal Transfer News: Arsene Wenger Slams Potential Robin Van Persie Move
June 21, 2012

Ross Kinnaird/Getty Images
Arsene Wenger has again argued against the potential departure of Arsenal striker Robin van Persie this summer.
With no new contract being agreed at Arsenal, Manchester City and Juventus have both been rumored to be interested in the Dutch international, with a £30 million offer believed to be enough to force Arsene Wenger into letting his star frontman go.
A move to Manchester City was dismissed by many due to Van Persie's reluctance to play for another team in the English Premier League, which leaves Juventus as the front-runners for his signature.
However, according to Wenger, Van Persie will never make a move to the Serie A club (via talkSport):
I am certain that Robin [van Persie] will remain with us. If you want to know why I am so certain Robin will remain with us, it is because there is no reason in this world why a great player like Van Persie should go and play for you, in Italy and in your competition.
According to Goal.com, the Gunners manager went on to deliver a scathing assessment of Serie A and the likelihood of Juventus signing Van Persie from the Emirates.
In Italy there are big problems and your league is at a level lower than the Premier League. Serie A is at a low level now.

The Italian league was once extraordinary, and I remember well, when the league had 16 teams and each team had their own champion. Now it is not the case.
And that, well, appears to be that.
Wenger's comments raise a key question in the Van Persie saga—will the Dutchman settle for a "lesser" club than Arsenal in order to get the money he really wants?
Most likely, the answer is no.
If the inferior nature of the Italian league compared to the English Premier League rules out Juventus, and if Van Persie won't play for another Premier League club, it appears that the Dutchman remaining at the Emirates is the most likely option.
For now, it seems that Van Persie is remaining at Arsenal, and we can all breathe a collective sigh of relief about that.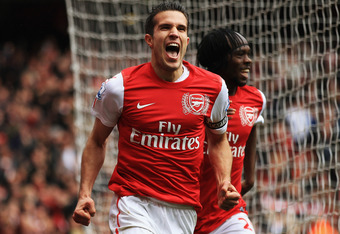 Bryn Lennon/Getty Images
The validity of Wenger's comments are an interesting topic. Many would no doubt disagree with his assessment of Serie A. In fact, it's not even out of the question to suggest that Juventus are a far superior team to Arsenal in terms of prestige, history and success.
After all, it was an Italian club that swiped Arsenal's Champions League dreams last season with a 4-0 drubbing.
Maybe the Italian league isn't so inferior to the Premier League after all?
That point could no doubt be argued back and forth for days, but what's important to note here is that Wenger is becoming more and more vocal on the Van Persie situation. First it was a chocolate-bar bet, now it's a scathing assessment of Serie A, which likely means one or two things in relation to his star striker's career at the Emirates.
Firstly, it could mean that Van Persie is nowhere near signing another contract at Arsenal and the French manager is trying to downplay all of the potential landing spots in order to present the Emirates as the only destination for success.
Secondly, and I think more realistically, Wenger is completely confident that Van Persie will sign on at Arsenal again. By diminishing the Italian league and other Premier League teams, he's resonating the aura that comes from keeping a big-name star at the club.
I mean, if Serie A is that much of a step down and other Premier League teams are not an option, a contract renewal at the Emirates is the only option for Van Persie.
At least, according to Arsene Wenger it is.
Is Wenger correct in his assessment of Serie A?
Comment below or hit me up on Twitter —  Follow @dantalintyre