Rob Zombie to Produce Film About Flyers' Legendary Broad Street Bullies
June 20, 2012

Rob Zombie is about to gamble that he can bring to life one of the most infamous teams in Philadelphia sports history. 
ESPN reports the famed musician, director and producer is set to make a movie based on the legendary Philadelphia Flyers' Broad Street Bullies, a team who ripped off two Stanley Cup championships in 1975 and 1975. 
The team featured Hall of Famers Bobby Clarke, Bill Barber, Bernie Parent and vicious enforcer Dave Schultz.
So it seems this is a match made in heaven, or hell. It really depends on how much faith you have in the creative stylings of the man who directed House of 1000 Corpses and did double duty as producer and director of 2007's Halloween and 2009's Halloween II.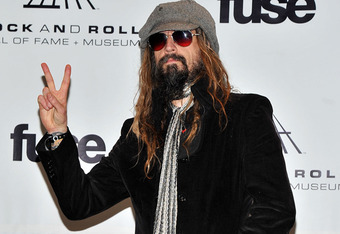 Zombie, for his part, sounds geared up to make this a special film recounting the magical line walked by a team that was beloved by their hometown but vilified elsewhere, via ESPN. 
Each character involved is more outrageous than the next. The backdrop of the turbulent year of 1974 is perfect for this 'stranger than fiction' sports tale.
While some fans may be a bit cautious with what may actually make it to the screen with Zombie at the helm Flyers' current senior vice president, Bobby Clarke, is nothing but optimistic, via ESPN.
The great Rob Zombie making a drama feature film about the Broad Street Bullies is exciting and thrilling for all of us, I look forward to seeing it.
I would love to know if Clarke stated the previous with his fingers tightly crossed. 
The team already featured in a 2010 HBO Documentary, and the one thought about this film has to be that the violence and angst of this special group of men shouldn't be spared. 
Sure, Zombie may have his legacy steeped in horror films that order heavy on the gore, but that may make him the perfect off-the-wall producer to work this film to gold. 
I could be wrong, though. I share Clarke's enthusiasm if only from sheer curiosity. Yes, I too can't wait to see what Zombie does with one of the hardest-hitting hockey crews to ever roam the ice. 
Follow me on Twitter for swagalicious updates.