2013 NFL Free Agents the Pittsburgh Steelers Should Already Be Eyeing
June 20, 2012

Jared Wickerham/Getty Images
The 2012 season hasn't even kicked off for the Pittsburgh Steelers, but that does not mean we can't look ahead to 2013. However, you shouldn't look too far beyond the roster when it comes to addressing next year's needs.
As always, Pittsburgh will not be big players in free agency next year. According to ESPN's John Clayton, the Steelers will be approximately $10 million over next year's salary cap figure.
Beyond this, the Steelers like to build from the draft and fill roster holes with low-level free agents.
The Steelers' entire offensive lineup figures to be built through the draft or by undrafted free agents, while the defense has only one major free-agent signing with Ryan Clark (unless you want to count James Harrison and Larry Foote, as well).
Since Kevin Colbert joined the Steelers in 2000, the most prominent free-agent signings have been Kimo von Oelhoffen, Jeff Hartings, James Farrior and Ryan Clark. There are no blockbuster deals on his list of signings, and 2013 will be no different.
At the top of the Steelers' priority list will be their own unrestricted free agents, starting with Mike Wallace.
Wallace has yet to sign his one-year tender, but he should be with the team this year unless he does the unthinkable and sits out.
If the Steelers and Wallace do not reach a long-term deal this year, expect him to be franchised and go through this process again next year.
Other unrestricted free agents of interest will be Keenan Lewis and Rashard Mendenhall.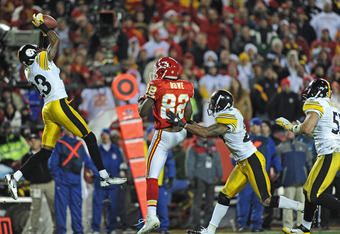 Peter Aiken/Getty Images
Lewis should rate highly on the Steelers' priority list, as he is developing into a nice option at cornerback and figures to be the favorite to start opposite of Ike Taylor this season.
Mendenhall is a more delicate situation, as he is coming off of an ACL injury and the team will have to watch his recovery process. It will be interesting to see how they handle the situation, but as I suggested earlier this week, for the right price, the Steelers should bring Mendenhall back.
A number of role players will also be given serious consideration to contracts, including Ramon Foster, Doug Legursky, Larry Foote, Ryan Mundy and Greg Warren.
This list doesn't even include a talented group of restricted free agents, headlined by Antonio Brown—who could be in line for a long-term deal after the season.
A number of other expected starters are restricted free agents and will be priorities after the season. Steve McLendon should start the season at nose tackle, and Isaac Redman will replace Mendenhall at running back.
Emmanuel Sanders should have a more prominent role with the offense this year, as will Jonathan Dwyer—and both will certainly make their push to be more productive this year.
Once the Steelers take care of their free agents, they will then sift through what is leftover in the rest of free agency and consider who can help the team.
For the most part, much of the roster will be set once the Steelers sign their own free agents—meaning, there will only be a small number of veterans from elsewhere who they will consider.
Even the potential holes on the team could easily be filled with players who are currently on the roster, or with low-mid level free agents.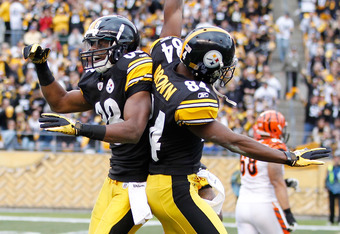 Gregory Shamus/Getty Images
One area on the team that may be in need of depth would be quarterback, as Charlie Batch may be in his last season with the team. Assuming Byron Leftwich is kept, the logical choices to join him on the depth chart are Troy Smith and Jerrod Johnson—both of whom are with the team right now.
Pittsburgh could also be in the market for a third-string tight end (or they could re-sign Leonard Pope), a backup inside linebacker (if they let both Foote and Sylvester go) and backup safety (but a draft pick is more likely).
The fact is: the Steelers are not a big player in free agency, and that will not change next year. Instead, focus your attention on how the Steelers' players progress and develop. That is the key to understanding what they will do in free agency.
Follow me on Twitter @ChrisG_FC