Toronto Maple Leafs Should Look Long and Hard at Mikhail Grigorenko This Draft
June 20, 2012

Richard Wolowicz/Getty Images
I don't know what bed Mikhail peed in or more specifically, what particular game(s) the scouts were watching, to so drastically reduce his draft ranking.
Mikhail Grigorenko has the sort of cerebral play-making skills and overall talent that could anchor a franchise for the next decade.
He has consistently produced better than a point-per-game, except for one season as a 16-year-old for Krasnaja Armija Moskva in the MHL playing with men. And he still put up 35 points in 43 games at that!
Playing for Patrick Roy's Remparts he put 85 points on the board in only 59 games. His passing skills are described as innately exceptional. His skating is smooth and effortless. He's not afraid to use his body, getting his nose dirty, and is exceptionally hard to move off the puck.
The only knock I've heard is that he has an excellent slap shot and wrist shot, but he doesn't use it enough to the point that at times he can be predicable. Oh, and that he doesn't compete.
This past season, he's played through nagging minor injuries, with the major one being an ankle injury during the worlds. And he played through that.
Towards the end of the season and into the playoffs, he had mono.  Mono is a terribly exhausting illness, and doctors highly recommend not playing as a bad hit can can actually kill you. And he played through that. He thought he had a flu that just wouldn't go away.
If he was Canadian, no one would blink. They'd probably heap him with accolades!
Then there's the "Russian Factor." Now I don't know about you, but I see a kid who uprooted his young life to come to North America to play in order to eventually get to the NHL.  He could just as easily stay in Russia, where he was playing at a high level — and he still would've been drafted.
No – he wanted to adapt to the North American way of playing the best way possible.  He wants to play in the NHL. That's his dream.
So he, and his mom — not speaking much if at all, any English — uprooted and moved to Canada.
He loves it here. Wants to be an NHL player — and actually prefers to be drafted by a Canadian team.  Yet the "Russian Factor" gets thrown into his face in almost every article about him.
His counterpart — Alex Galchenyuk — who was born in the U.S. (yet has as thick an accent as Grigorenko) missed his whole draft year with a serious ACL injury. His whole draft year! Yet he gets a "pass" from the scouts. Alex's parents have been grooming him for an NHL career since he was a toddler on skates. Not to mention he had Nail Yakupov as a line mate.
Does anyone mention the "Russian factor" with him?
Cripes! Grigorenko has even been accused of having a forged birth certificate and being 23 years old!  If anyone has seen him in interviews, you'd know that isn't a 23-year-old talking. The media and scouts have really not been too kind with Mikhail, and he's a good kid and and very good player.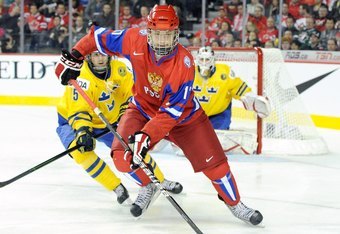 Richard Wolowicz/Getty Images
The Toronto Maple Leafs have an opportunity to grab one of the two highest ranked centres in this years draft. Both centres are described as possible franchise centres with high ceilings. If by chance Galchenyuk is there at the 5th spot, then I'd lean towards him as he has a slightly higher ceiling, and a better two-way game — however I'd take a long hard look at Grigorenko.
And let's face it — unless Burke trades assets to move up, Galchenyuk won't be there at five.
Grigorenko could even possibly make it into the lineup this coming season. I'd prefer he'd wait a year, but I believe he has the body and skills to play the NHL game right away.
I fear, though, that Burke will pick Forsberg at that spot if he's available. And that reminds me of the last time they drafted fifth overall and passed over the likes of Tyler Myers and Erik Karlsson. They missed the boat then and I hope they don't miss it again this Friday.
I have a strong feeling Grigorenko won't disappoint the team that drafts him.