2012 NBA Draft: Signs May Point Towards Harrison Barnes as No. 2 Pick
June 20, 2012

Streeter Lecka/Getty Images
If you look at various big boards and mocks for the 2012 NBA draft, Thomas Robinson seems to be the consensus selection for the ailing Charlotte Bobcats.
And Robinson, who proved his worth through the 2011-2012 season as well as his combine performance, is normally followed by talents such as Kentucky's Michael Kidd-Gilchrist, Florida's Bradley Beal and even Connecticut's Andre Drummond.
But what about North Carolina's Harrison Barnes?
Barnes may not be the second-best prospect this class has to offer. He may, however, end up as the second guy taken.
From glancing over multiple Charlotte Bobcats fan sites, the team's supporters are relatively split on Barnes. For the most part, many are rather timid of drafting the wingman who may end up as Marvin Williams 2.0.
But as the June 28th draft nears, the Barnes chatter in Charlotte has certainly elevated.
Here are five signs that may point to Barnes being the pick for Charlotte at No. 2.
(This is not a report or prediction by any means. It is, rather, an attempt to put together numerous puzzle pieces put out there by various reports.)
1. Barnes has cancelled his workout with the Sacramento Kings.
Kings beat blogger James Ham has learned, per league source, that Barnes had his Sacramento pre-draft workout cancelled. The meet-up was scheduled for this Friday.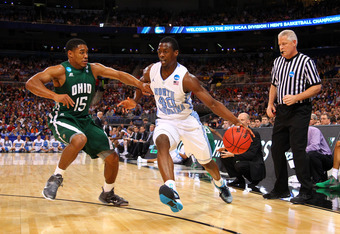 Dilip Vishwanat/Getty Images
In light of this recent move by the forward's camp, it is worth noting that Barnes has completed his workout with the Cleveland Cavaliers and will looked at by Charlotte's brass on Thursday. Charlotte and Cleveland, of course, sit ahead of Sacramento in the second and fourth spots, respectively.
So does this mean Barnes was promised a selection within the top four spots of the draft? Most likely, yes.
But did the probable promise come from Cleveland, Charlotte or maybe even Washington?
2. Cleveland may have Andre Drummond ahead of Barnes on their big board.
Many reports have linked Barnes to the Cavaliers for some time now. Some sources even claim that the team's been looking at the Tar Heel for well over a year now.
But in a new piece from WaitingForNextYear.com, the Cavs may have Barnes behind a handful of other prospects in the draft.
According to the report, a league source has indicated that Cleveland's board is headlined by Michael Kidd-Gilchrist followed by Bradley Beal, Andre Drummond and then Barnes. (Thomas Robinson ranks fifth.)
So to revisit the previous point of the article, did Cleveland promise Barnes a pick? Well after taking the above article into account, it doesn't seem like it.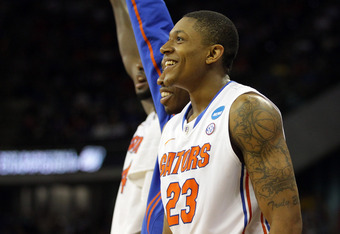 Doug Pensinger/Getty Images
By the time Cleveland's fourth pick rolls around, at least one of their top three prospects (Kidd-Gilchrist, Beal, Drummond) will definitely be there.
If this report is indeed true, why would the Cavaliers promise anything to Barnes?
Barnes, who is a good friend of Cavs' guard Kyrie Irving, would be a rather nice fit for the team. Irving could be pushing the front office to pick up his buddy and fellow scoring presence.
Regardless, we could say that this report is false. But...
3. Beal will not fall beyond the fourth overall selection.
In a recent tweet from Hoopsworld's Alex Kennedy, Beal will be drafted by Cleveland if he's still there.
The tweet, which is backed by a league source from Kennedy, seems to be very sure of the notion.
4. Charlotte's pick has been narrowed down to Barnes, Robinson and Beal.
Based on multiple reports by numerous sources, the Bobcats will make Barnes, Robinson or Beal the second pick of the draft. This coming after a rather unimpressive team workout from Kentucky's Kidd-Gilchrist.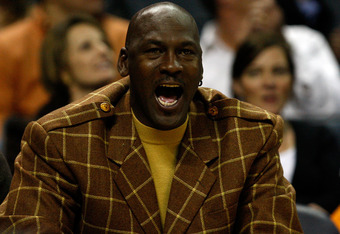 Streeter Lecka/Getty Images
Now, it does make sense for Charlotte to go with either Kansas' big man Robinson or Florida's super-freshman Beal. They could use Robinson to work down low with last year's first-rounder Bismack Biyombo or Beal to give them a much-needed scoring option.
But the fact that Barnes' name is there means a whole lot. Despite being ranked below Beal and Robinson on many online big boards, Barnes is still there.
Here's an interesting tweet from former baller Jay Williams regarding the possibility of the Tar Heel staying in North Carolina.
5. The Bobcats are having trouble filling up the Time Warner Cable Arena.
This is more of a theoretical point as it isn't backed by any reports. But what is for certain is that the Bobcats will experience some tough times when it comes to putting rear-ends in their seats.
And yes, those pathetic Internet memes concerning the franchise's 2-for-1 season ticket offer are indeed true.
So which NBA prospect will help them most with their ticket sales? The simple answer to that would have been Kentucky's Anthony Davis. Unfortunately for Charlotte, however, the New Orleans Hornets will be fitting Davis in one of their uniforms.
Now who's next? How about the Tar Heel?
For one, there's no arguing what basketball team is the most popular in North Carolina. That is, without a doubt, the Tar Heels. And who is the most popular player from the University of North Carolina Tar Heels?
Correct, Harrison Barnes.
Robinson and Beal may appear as safer picks at the moment. But neither has the superstar upside or North Carolina appeal of Barnes.
I'm sure residents of the state would be more willing to see a local talent that possesses more superstar potential than both T-Rob and Brad Beal.