8 Encouraging Signs Heading into the St. Louis Rams' 2012 Season
June 20, 2012

Dilip Vishwanat/Getty Images
In looking ahead to the rapidly approaching 2012 St. Louis Rams slate, I see at least eight things that indicate noticeable improvements from a performance perspective this year.  
After a morbid 15-65 stretch, one that constituted the single-worst five-year winning percentage in NFL history, it is nice to see some truly positive signs heading into the coming campaign. 
With that said, let us briefly look at the eight primary areas that would lead me to expect a very solid season from St. Louis, one that could end in the Rams competing for an NFC Wild Card berth. 
1. Jeff Fisher's hiring and his veteran presence, confidence and swagger
After a brief interim stint at the end of 1994, Jeff Fisher went 141-115 as an NFL head coach while coaching for a franchise that relocated twice during his tenure with the Tennessee Titans and for an owner that has often been labeled cheap (as in this example).
In spite of that, the Oilers/Titans went to the playoffs six times in a tough division and won at least eight games in 11 of 16 seasons.  They won the division four times and went to the Super Bowl in 2000 before losing to St. Louis.  
On the other hand, Steve Spagnuolo came to St. Louis with a blank sheet of a head coaching resume before going 10-38 in three seasons.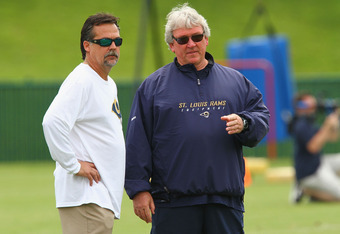 Dilip Vishwanat/Getty Images
In listening to Fisher talk, his coaches talk and his players talk, it is quite obvious a culture change has occurred at Rams Park, led by the new head honcho and new general manager Les Snead. 
Spagnuolo consistently talked about competing and, thus, so did his players. Fisher, however, is talking about winning and, thus, so is the team.  
The expectations are different. The bar has been raised.  After 15-65, it is about time.
Fisher is undoubtedly the right man in the right place at the right time for the Rams.  I would suggest that Fisher's leadership and experience could be worth up to three or four wins. 
2. Veteran coaching staff In place
For some reason, former head coach Steve Spagnuolo surrounded himself with many young assistants and first-time coordinators.  Jeff Fisher knew better. 
Fisher surrounded himself with the likes of Dave McGinnis (former head coach and defensive coordinator), Chuck Cecil (former DC and secondary coach), Paul Boudreau (well-regarded veteran offensive line coach), Mike Waufle (well regarded long-time defensive line coach) and offensive coordinator Brian Schottenheimer (who has had past success in a similar offensive system to what Fisher likes).
Under Fisher, St. Louis will have one of the most experienced coaching staffs in the NFL in contrast to one that possessed far too little experience for a coach with zero leading-man experience (Spagnuolo). 
Dilip Vishwanat/Getty Images
Fisher is good and having such a talented, stout group of assistants will only help ensure he is successful in his run with the Rams and should help enable this team to get acclimated to his system quickly and make for a fast transition to success in 2012.  
3. Youngest team in NFL has nice set of core players to build with
St. Louis currently (as of June 4) has the youngest roster in the league. 
When considering the fact that the Rams parlayed the No. 2 pick in the 2012 NFL draft into the No. 6 pick and a first-rounder in both 2013 and 2014 before turning the six pick into the No. 14 pick, two additional second round slots and a fifth-round pick, the Rams figure to continue to load up with lots of top-shelf young talent for the next two years. 
It is one thing to be youthful, but it is far better to be young and talented with some good young veterans already in the fold. 
Excluding the rookie class, the Rams will enter the season with proven players under 30 like Chris Long (27), three-time Pro Bowl back Steven Jackson (28), James Laurinaitis (25), Cortland Finnegan (28), Sam Bradford (24), Rodger Saffold (24), Kendall Langford (26), Danny Amendola (26), Robert Quinn (22) and Steve Smith (27) on the roster. 
The above represent a potentially formidable foundation, one that should grow bigger and better after the 2012 rookie class establishes itself and other players from recent classes (like Lance Kendricks, Jerome Murphy and Jason Smith, hopefully) make their marks.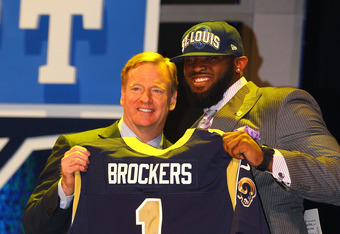 Al Bello/Getty Images
Out of the list above, all but Long, Laurinaitis and Amendola are locked up beyond this year.
Kevin Demoff, the Rams' chief operating officer and vice president of football operations, is optimistic that both Long and Laurinaitis will be in St. Louis for a long time, as shared by this column via nfl.com: "We're in the process of starting initial conversations with both players, and I'm optimistic that both will wear the horns for years to come. We have plenty of cap room in 2013 and the plan is to re-sign both of them."
Long, for his part, is represented by the father of Rams Chief Operating Officer and Vice President of Football Operations Kevin Demoff, Marvin. One would think the father-and-son combo should be able to get a deal done. 
The future looks bright, but there is enough talent to get molded and developed by a proven coaching staff to believe that St. Louis should be much improved this year, not just down the road. 
4. Interior defensive line looks to be enhanced
Last year, the Rams were once again poor against the run (No. 31 of 32 team in yards allowed per game and yards allowed per rush).
In addition, the pocket push that would have assisted defensive ends Chris Long, James Hall and Robert Quinn in attaining more sacks was almost nonexistent, one of the reasons Long led the NFL in quarterback pressures for the second straight season.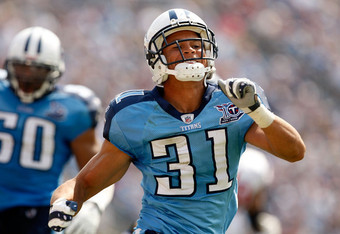 Oftentimes, quarterbacks would simply step up into a wide open pocket to elude Long off the edge.  
With Kendall Langford (Walter Football's fourth-ranked defensive tackle) and Michael Brockers (the humongous rookie DT) in the mix, the push should be better. 
Aging veterans Fred Robbins (now 35) and Justin Bannan (33) failed to meet expectations last season and have since departed.  The youthful tandem of Brockers and Langford, with an assist from the capable and eager Trevor Laws and, most likely, Darell Scott, should make for a much more formidable defensive tackle rotation, particularly against the run. 
Improving on the horrid run D mentioned above (along with more pressure up the gut) should be another reason this team should be improved.  
5. Cornerback position is loaded with the potential to become Elite
Last season, the Rams lost 10 cornerbacks to injury.  Yes, St. Louis lost 10 corners to injury and six ended up on injured reserve (including starting corner Bradley Fletcher and likely nickelback Jerome Murphy).
Fletcher is said to be ahead of schedule in terms of rehabilitation and Murphy looks like he is good to go.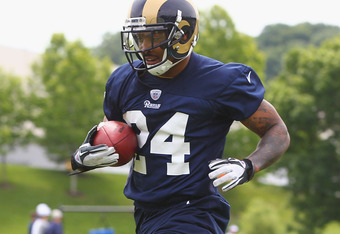 Dilip Vishwanat/Getty Images
The Rams added prized free agent Cortland Finnegan and rookies Janoris Jenkins (Round 2) and Trumaine Johnson (Round 3).  Fisher has stated he expects Jenkins to start and shares the sentiments of many in feeling that he could make an impact early. 
St. Louis also returns Josh Gordy, a sixth talented DB, one who filled in very nicely under dire circumstances following the injury onslaught of 2011. 
With Finnegan in the fold, Fletcher and Murphy returning and the potential of a Rookie of the Year-type season from Jenkins (plus Johnson and Gordy for quality depth), the Rams secondary could be one of the most improved in all of football.  
Keep in mind, better pass coverage will not only help directly in regard to pass defense but will aid the Rams pass rush (and specifically, Chris Long and Robert Quinn) by giving them, on average, more time to reach quarterbacks and to also garner some coverage sacks, something rarely seen a season ago.   
6. Legit backup/change-of-pace running back finally in the fold
Finally, after eight seasons, Steven Jackson looks to have a legitimate and reliable backup/change-of-pace back in second-round rookie Isaiah Pead.  
In fact, St. Louis feels Pead will one day be the successor to Jackson, according to a SportsCenter report by Adam Schefter as shared here by NBC Sports.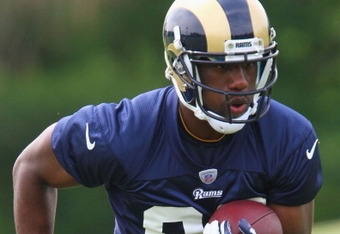 Dilip Vishwanat/Getty Images
For awhile it looked like Cadillac Williams would be that guy, but his body began to break down and he managed but 11 games. At 30 and many career injuries under his belt, the Rams decided against bringing Williams back. 
The youthful Pead should be able to aid the Rams both in running and passing situations while providing ample injury insurance if Jackson is to miss any games this year. 
The Rams also like rookie runner runner Darryl Richardson, a back loaded with speed and some explosion. All signs point to him eventually earning the third running back spot. 
All signs also point to a terrific one-two punch (in Jackson and Pead), something all too rare for the Rams in recent years. 
All in all, the Rams running game should be in good shape within a Fisher/Schottenheimer offense that will likely pound the rock behind behemoths like Harvey Dahl and Jason Smith on the right side of the line. 
A strong running game, of course, will only help set up play action passes, deep passes (to the likes of Chris Givens) and help the Rams control the clock, which in turn, of course, helps the defense, too. 
7. Best talent at wide receiver since the days of Torry Holt and Isaac Bruce
In short and put plainly, St. Louis has been a little short on talent at wideout since the end of the greatest show on turf era and the dominant days of Torry Holt and Isaac Bruce (with credible assists made by the likes of Ricky Proehl, Az-Zahir Hakim and Kevin Curtis).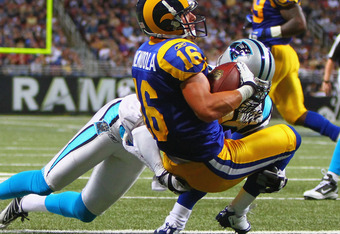 Dilip Vishwanat/Getty Images
In this offseason, the Rams have retained restricted free agent Danny Amendola (85 catches in 2010 before missing 2011 due to injury), added 2009 Pro Bowl receiver Steve Smith and selected impressive rookies Brian Quick (Round 2) and burner Chris Givens (Round 4).
Quick has been very impressive thus far and I expect Givens (who is also known as a terrific route runner to go with his elite timed speed) to be one of the biggest steals of the 2012 draft. 
The Rams also return sophomore pass-catchers Greg Salas (who looked very good in 2011) and Austin Pettis.  
Third-year man Danario Alexander also brings elite talent to the Rams, if he can stay healthy, which is always the only question regarding the DX missile. He has been impressive of late, however, and Fisher has been pleased with what he has seen from the 6'5" WR. 
Although the Rams receivers have a lot to prove and are still, admittedly, something of a collective question mark, there is no doubt in my mind, at least in regard to talent, that this is the best group the Rams have had since the aforementioned days gone by of Bruce and Holt. 
This group is not likely to reach its peak performance (with two rookies and two second-year players) this season but should certain be capable of playing well enough to be considered an enhanced group over what we saw a season ago and give Sam Bradford a much better chance to make plays.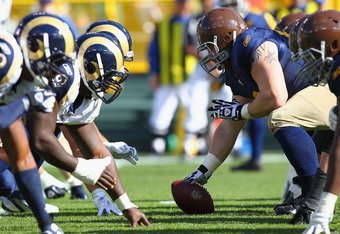 Dilip Vishwanat/Getty Images
Look for Amendola to be exceptional in the slot while serving as Bradord's security blanket and for Salas to continue to contribute solidly there.
If Smith can round back into form following his major 2010 injury and at least one of the rookies can step up, this group could be a surprisingly solid one this Fall.  Hopefully Pettis will continue to build on the late progress he displayed in 2011. 
Alexander, of course, is the wild card. He has proven to be capable of making big plays (career average of 16 yards per catch) and adds a dynamic to the offense that nobody else (with the possible exception of Quick) brings to the table. 
The Rams threw for just nine touchdowns last year and averaged a meager 12 points per game. 
The added talent at wideout should enable the Rams to improve in both regards this season. 
8. A nice free-agency period followed by what appeared to be an impactful draft
The Rams added several likely starters via the draft and free agency period: CB Cortland Finnegan, DT Kendall Langford, C Scott Wells, OLB Rocky McIntosh, OLB Jo-Lonn Dunbar, DT Michael Brockers, WR Brian Quick and CB Janoris Jenkins. 
Others (such as WR Chris Givens, WR Steve Smith, RB Isaiah Pead, OLB Mario Haggan and G/T Quinn Ojinnaka) have a chance to start and/or make heavy contributions this year. 
St. Louis has done a good job shoring up at secondary (Finnegan, Jenkins and Johnson) OLB (McIntosh, Dunbar, Haggan and several rookies), WR (Amendola, Smith, Quick and Givens), DT (Brockers, Langford and Laws) and C (2011 Pro Bowl selection Wells).
Although nothing is certain, the added veterans are very likely to contribute significantly and positively just as they have done in the past.
When considering that St. Louis had five picks by the top of Round 3, even luck would suggest that, with that many early picks, at least a couple of these guys make a nice impact this year. 
Expect the combination of a very solid free-agent group and a terrific draft class to aid the Rams in having a surprisingly competitive campaign. 
Shane Gray covers the St. Louis Rams daily as a featured columnist for Bleacher Report. You are encouraged to check out the rest of his work here. Gray also owns and operates STLRamsCentral.com.