Tennessee Football: What You Need to Know About the Vols' Offensive Line Depth
June 20, 2012

The main thing you need to know about the Tennessee Volunteers' depth at offensive line is that it exists and it is talented.
The Vols can gain a huge advantage over their opponents this fall if they can find a way to leverage this asset.
From the lone senior, Dallas Thomas, to the slew of redshirt and true freshmen, all you'll find is a highly recruited player out of high school who has either wowed in practice, on the field or both.
Here's all you need to know about Tennessee offensive line's depth.
James Stone and Marcus Jackson on the bench
If you're a regular on the Tennessee page here at Bleacher Report, you're probably tired of reading this, but it can't be said enough: James Stone should be the starting center.
He's the most talented center on the team when not forced to snap the ball in his weak hand and with a different grip. He refused to come to Knoxville until Lane Kiffin left, so he was a VFL before there was such a thing.
That's not to take anything away from Alex Bullard, though. Bullard is a huge, strong lineman who saw significant playing time during the 2011 season—his first with the Vols since transferring from Notre Dame.
The fact that Stone, an SEC-caliber center, can come off the bench at guard is an incredible sign of the depth along the line. Redshirt freshman Mack Crowder is actually the back-up.
Marcus Jackson is just a sophomore this fall, so he has plenty of time to ease his way into the starting lineup in the next year or two.
When the team struggled with run blocking and clean snaps, Derek Dooley looked to the freshman Jackson to help shake things up on the offensive line.
He played in each of the Volunteers' 12 games last year, starting in five. Between Stone and Jackson, the Big Orange has 40 percent of your typical SEC starting offensive line coming off the bench.
Antonio Richardson Moves to Starter
Antonio "Tiny" Richardson is going to make some mistakes during the 2012 season. He's going to blow an assignment here or there and get his feet tangled up when his technique gets sloppy.
But Richardson is also going to bulldoze a dozen defensive ends over the course of the season. He's going to have a couple highlight reel combinations where he shoves a lineman to the side, then pancakes a linebacker for a big run.
The word is used far too much in sports, but it applies to Richardson. He is raw.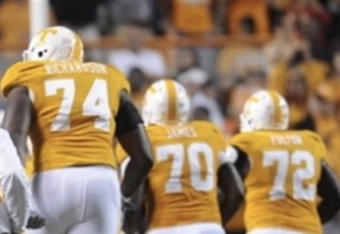 At 6'6" and 325 pounds, Dooley simply couldn't let him sit on the bench for another season. Even though he's just a sophomore, he showed such athleticism in practice that he earned the coveted left tackle position, pushing senior Dallas Thomas over to left guard.
Being beside the stalwart Thomas will help Richardson learn his new position. After all, it's Thomas who has started 25 consecutive games on the blindside.
With the trio of receivers that Tennessee will field, the extra couple seconds that an Albert Haynesworth-sized offensive lineman can give Tyler Bray will be invaluable. Richardson's promotion to starter also beefs up the experience on the bench.
The Offensive Line of Tomorrow Is Waiting
As young as the current group of starters seems, they'll be gone in two years. Their replacements are already on the roster and providing more depth for the unit.
Kyler Kerbyson will probably see a few reps this year whenever Ja'Wuan James needs a breather, or if the game is in garbage time.
With James and Antonio Richardson at the bookends of the line, the former Offensive Lineman Mr. Football won't be starting much, but is always in the conversation as a bright spot in Tennessee's future.
Alan Posey's 6'6", 330-pound frame matches him up in size with Antonio Richardson, but he's a bit slower. That's okay, since he's likely to man one of the two guard spots. He'll be one of those guys you just can't get around--he's too big!
I remember giving a tour of the Haslam Business Building to Mack Crowder and his family back in my days as an Ambassador for the college.
His size wasn't overwhelming, and it never has been, but he continues to impress coaches with his knowledge of the game and ability to use the size he has. He'll be the center by 2014, at the latest.
By my count, there are only two spots left for the 2014 season. The offensive line is going to be deep for a long time.