2011-12 NHL All-Fantasy Teams (Goals, Rookies, Goons, Special Teams and More)
June 19, 2012

Paul Bereswill/Getty Images
The 2011-12 NHL season is over, so let's look at who makes the cut for the FHC All-Star Fantasy Teams.  Positions are taken from NHL.com.
All-Rookie Team
G – Braden Holtby was great in the playoffs and won four of six starts in the regular season.
D – Justin Faulk led all rookie D-men with five PP goals and 12 PP points.
D – Slava Voynov took advantage of the Jack Johnson deal to get 20 points in 54 games.
L – Gabriel Landeskog was second in rookie goals and tied for first in rookie points.
C – Ryan Nugent-Hopkins scored 18 goals and 52 points in just 62 games.
R – Matt Read led all rookies with 24 goals and was a stud in peripheral stats.
All-Goons Team
G – Mike Smith recorded 10 more PIMs than any other goalie, with 16 .
D – Stu Bickel led all defensemen by dropping the gloves 12 times.
D – PK Subban was top PIM defenseman, not the stat fantasy players wanted.
L – Brandon Prust was a spark plug for the Rangers with 156 PIMs and 20 fights.
C – Zac Rinaldo put up the same PIMs as the leader in 11 fewer games.
R – Derek Dorsett was the PIMs leader with 235, and fought 19 times.
All-Shootout Team
G – Semyon Varlamov never lost in a shootout and stopped 24 of 26 shots.
D – Alexander Edler went four for eight and scored two game-deciders.
D – Kris Letang had the most attempts by a defenseman, with nine.
L – Ilya Kovalchuk scored the most shootout goals, with 11.
C – Evgeni Malkin went perfect at home, scoring on all five attempts.
R – Claude Giroux got it done on the road, going four for four.
Justin K. Aller/Getty Images
All-Peripheral Stats Team
G – Brian Elliott posted a .940 SV%, 1.56 GAA and nine shutouts.
D – Josh Gorges had 51 more blocked shots than the second-place player, 250 total.
D – Brooks Orpik blocked 139 shots and threw 259 hits.
L – Matt Martin threw 374 hits, blocked 41 shots and had 36 steals.
C – Ryan O'Reilly was the takeaway king, with 101.
R – Dustin Brown had 293 bone-crushing hits and put 214 shots on net.
All-Shorthanded Team
G – Cam Ward faced 72 shorthanded shots and stopped all but two.
D – Shea Weber proved to be a threat SH as well, with two goals.
D – Michael Del Zotto put up three SH points as top defenseman.
L – Zach Parise tied for SH points lead and put in three SH goals.
C – Adam Henrique led all players with four SH goals and seven SH points.
R – Cal Clutterbuck tied for first with four SH goals.
All-Power Play Team
G – Jonathan Quick denied many teams on the PP by stopping 315 of 347 shots.
D – Shea Weber unleashed his cannon for 10 PP goals.
D – Brian Campbell helped the Florida PP by chipping in 31 PP points.
L – James Neal was PP goals-leader with 18 and had 30 PP points.
C – Evgeni Malkin had great chemistry with Neal to put up 34 PP points.
R – Claude Giroux used the man advantage to get 38 PP points.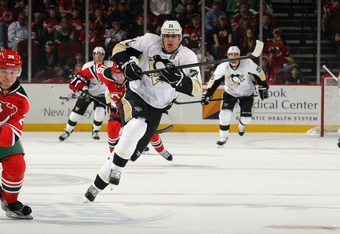 Bruce Bennett/Getty Images
All-Points/PIM Team
G – Mike Smith had two assists and 16 PIMs.
D – PK Subban recorded his second-straight season with 30-plus points and 100-plus PIMS.
D – Kevin Bieksa scored his career-high in points and was just under 100 PIMs.
L – Scott Hartnell scored career-highs in goals and points, plus 136 PIMs.
C – David Backes proving to be a consistent 20-plus goal and 100-plus PIMs guy.
R – Corey Perry's stats dropped, but he was still a top power forward in the NHL.
All-Goals Team
G – Cam Ward was the only goalie to record a goal this season.
D – Erik Karlsson finished with 19 goals and five game-winning goals.
D – She Weber tied for first with 19 goals; 10 came on power play.
L – James Neal smashed career-high goals by 13, finishing with 40.
C – Steven Stamkos was the only 60-goal scorer and has had 156 goals over last three years.
R – Marian Gaborik recorded his third 40-plus goals season.
All-Fantasy Team
G – Henrik Lundqvist put up 39 wins, eight shutouts and a GAA under two.
D – Erik Karlsson out-scored all defenses by 25 points, putting up 78 points.
D – Dustin Byfuglien scored 12 goals, 53 points and 72 PIMs in 66 games.
L – Ilya Kovalchuk showed he could be an elite player with solid playoff stats.
C – Evgeni Malkin put up 100-plus points for the third time in his career.
R – Claude Giroux had a career-high 97 points and scored 72 even strength points.
-------------------------------------------------------------------------------------------------------------
Aaron Brouwer is the co-creator of www.fantasyhockeycoach.com.  FHC is a free fantasy hockey service that developed a ranking system combining post-lockout statistics, current factors and hockey knowledge. Email: brouwer@fantasyhockeycoach.com.