Fact or Fiction: New Orleans Saints Offseason Edition
June 19, 2012

Sean Gardner/Getty Images
The New Orleans Saints have been the epitome of a great football team since 2008. With 37 wins over the last three seasons, it's difficult to imagine the Saints in any position other than perennial playoff contender.
But the offseason has been brutal to the Saints.
For their alleged role in a bounty program, two coaches, general manager Mickey Loomis and two current players will all be suspended for portions of the 2012 season. Head coach Sean Payton and linebacker Jonathan Vilma received full-season suspensions.
As if that wasn't enough, Loomis is also being investigated for an eavesdropping scandal, and the team's All-Pro quarterback, Drew Brees, is unhappy with the franchise tag and is holding out.
This checkered offseason leads to a number of burning questions, so let's play a little early fact-or-fiction around the Saints' 2012 season.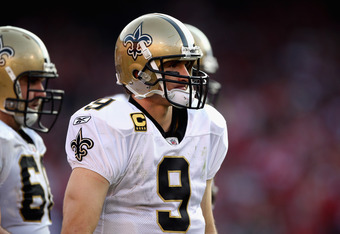 Jed Jacobsohn/Getty Images
Drew Brees will be the quarterback in New Orleans in 2012.
Drew Brees led the NFL last year with 5,476 passing yards and a 71.2 percent completion percentage. Over the past three seasons, Brees has thrown for 14,484 yards and 123 touchdowns.
Instead of letting Brees write his own contract and complete his career in New Orleans, the Saints slapped him with the franchise tag.
Needless to say, Brees was unhappy.
Brees and the Saints have until July 17 to come up with a long-term deal, or Brees will either have to play under the franchise tag or sit out the 2012 season. Brees has already sat out OTAs and minicamp, but sitting out a full season is something entirely different.
The upcoming season is going to be Brees' 12th in the NFL, and at 33, he's not looking at too many more seasons of playing at his peak. It's because of this that Brees will not sit out the 2012 season.
However, if a deal doesn't get completed, Saints fans may have to watch their beloved quarterback finish his career in another NFL city. But that won't be an issue until 2013.
VERDICT: Fact.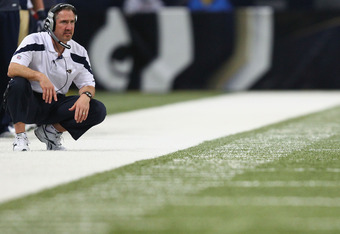 Dilip Vishwanat/Getty Images
Steve Spagnuolo will find better ways to get pressure on opposing quarterbacks.
Only 10 teams notched fewer sacks last year than the New Orleans Saints, and it was the lack of a predictable pass-rush that cost the team a chance to move ahead to play in the Super Bowl.
It's easy to look at the secondary—a unit that was ranked 30th  in the league last year—and point fingers. But that wouldn't tell an accurate story.
Pressure from the front-four, or lack thereof, was the real problem in New Orleans. The team registered just 33 sacks last year and was led with 7.5 sacks from Roman Harper, the team's safety.
New defensive coordinator Steve Spagnuolo is well-known for being able to get pressure on a quarterback from his defense's front-four. As defensive coordinator for New York, his 2007 Giants team ranked first in the NFL in sacks. The next season, his Giants finished sixth.
Spagnuolo has a great defensive mind, and success has followed him on defense like a loyal mutt.
VERDICT: Fact.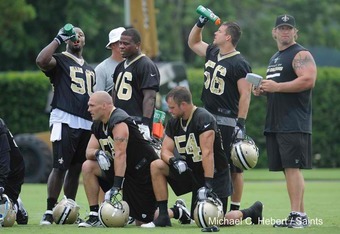 The linebacker corps will be the strongest in years.
The Achilles heel for the Saints in recent years has frequently been inadequate and/or uninspired play from the linebacker corps. But with Jonathan Vilma suspended for the entire season, the Saints have to shuffle the middle of the defense.
In preparations for the worst, New Orleans went on a free-agent signing spree and grabbed three new linebackers in the offseason: Curtis Lofton, Chris Chamberlain and David Hawthorne.
Lofton and Hawthorne both had over 100 tackles last season, and Chamberlain had 81, but was in Steve Spagnulolo's defense in St. Louis and has intimate knowledge of the way Spagnuolo works.
With the new blood and new scheme from Spagnuolo, the Saints defense could shine bright in 2012, especially in the middle.
VERDICT: Fact.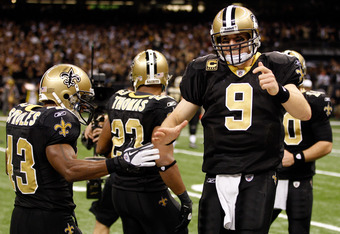 Chris Graythen/Getty Images
The Saints will continue to operate under a four-headed running back monster.
Last season, the Saints gained 2,013 yards and scored 13 rushing touchdowns by using a four-headed monster of Pierre Thomas, Chris Ivory, Darren Sproles and Mark Ingram at running back.
Using four running backs definitely kept opposing defenses guessing and forced coordinators to spend extra time game-planning for every possible contingency, but will the Saints come back in 2012 with the same plan?
Ivory has all the talent and upside in the world, but only managed to play six games last year because of health issues, in particular a hamstring.
If his injury issues continue in 2012, the Saints may find a better way to spend Ivory's $540,000 salary.
Ivory is already on the roster bubble, according to a Sports NOLA report, and it could take a close-to-perfect camp to solidify his spot.
VERDICT: Fiction.