UFC Stars Nick Diaz, Erick Silva and the Growth of Twitter-Based MMA Journalism
June 19, 2012

In early February, the MMA world was shocked to learn that UFC star Nick Diaz had failed a drug test. The Nevada Athletic Commission found marijuana metabolites in his system after his fight with Carlos Condit. One of the UFC's most popular fighters was going to be missing in action for some time.
It's not this revelation, necessarily, that was so shocking—it was the source of the information. It didn't come from mainstream stalwarts like Yahoo! or USA Today. Fans didn't hear it first at MMA Junkie, MMA Fighting or here at Bleacher Report.
No, this major news was broken on Twitter, by an anonymous provocateur going by the name "FrontRowBrian."
*BREAKING NEWS* Carlos Condit vs. Nick Diaz II will NOT happen. An issue arose from Nick's camp last night. Nick will NOT be able to compete

— FrontRowBrian, Ph.D. (@FrontRowBrian) February 8, 2012
Welcome to Twitter. MMA fans have embraced the social media platform in huge numbers and the result has been a huge shift in how news is disseminated. Not just what kind of news, but who is bringing it to you.
Brian sees himself as the sport's last bastion of truth. And he makes it clear he couldn't do what he does without the MMA media allowing him such an open playing field and room to run with the kind of news they are too intimidated to report.
"The MMA media is a misnomer. It doesn't exist. Much like Santa Claus, the Easter Bunny, and the American dream," Brian told Bleacher Report in an exclusive interview. "What does exist is media promotional partners of the various organizations. Pay to to play. Mean Gene Okerlund asked tougher questions to the Iron Sheik and Nikolai Volkoff in 1987 than the UFC's handpicked mouthpiece (MMA Fighting reporter) Ariel Helwani will ask Uncle Dana. That's fine but at least admit it. Don't hide behind this ridiculous notion you're an actual journalist. You're a pawn in the game and when you're no longer useful, the next patsy will be ready to take your place."
UFC is sending Press Releases to UK journalists imploring them to push ticket sales for 9/29 Nottingham. This is said to be a first.

— FrontRowBrian, Ph.D. (@FrontRowBrian) June 18, 2012
The Lighter Side
Brian might be the most famous of this new breed of MMA journalist, but he's far from alone. While he tends to break news and provoke fighters like Jason "Mayhem" Miller, others aim for levity.
Amy Crawford, who tweets as "Jiggle Biscuits," pokes fun at the the sport and its fighters with her #MMARumorMill. A fan since day one, watching UFC 1 at a rowdy bar with her then boyfriend, she says fighters enjoy her outlandish "rumors."
I heard @JoshLBarnett only wears rainbow knee socks while he makes love to the sensual sounds of Merle Haggard. #MMARumorMill

— Jiggle Biscuits(@MMAmy120) June 18, 2012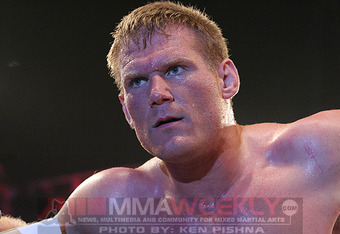 "I have a very, shall we say colorful, sense of humor. It can be acidic and biting and is definitely not for everyone. The MMA community can be way too serious and sensitive as a whole. I just try to use my wit to bring a few giggles here and there. So between my creative vernacular, and love for the sport....the MMA Rumor Mill was born," Crawford told B/R. "The reception from fighters as a whole has been fantastic. Their sense of humor is refreshing. There have been a few exceptions, where a couple of fighters have been offended. This is a tad bit puzzling to me. I truly can't comprehend how peanut butter sheets and jazzercise can be taken seriously."
@MMAmy120: I heard @forrestgriffin wears Shrinky Dink necklaces...But only at the gay, lesbian and transgender truck rallies. #MMARumorMill

— Jiggle Biscuits(@MMAmy120) June 11, 2012
The Dark Side of Twitter
Sometimes the lawlessness of the Internet gets the best of these Twitter stars. They don't have the fact-checking obligations of their professional peers. Their relative lack of financial resources essentially frees them from worrying about a defamation suit. These two things combined open the door for some truly reckless reporting.
Take, for example, Robert Joyner. Posting as "robnashville," Joyner is the former editor of MMA Payout, one of the industry's few business-oriented electronic publications. While there, Joyner obeyed the protocols expected of him as a professional writer. When he left Payout and took his talents to Twitter, the gloves came off.
Joyner is one of many Twitter-based cognoscenti who exist in the grey space between the official sport and the fan. He has some connections and hears plenty of gossip. And, with no editorial filter, loosens much of it on his readers.
Mario Yamasaki giveth & taketh away to Erick Silva... screwed him out of win in Rio, but then after lined him up with huge Bad Boy spnsrshp

— Robert Joyner (@robnashville) June 11, 2012
Mario directs Bad Boy spnsrships for the Brazilian guys...bit incestuous if u ask me, officiating & doling out sponsor money. but that's MMA

— Robert Joyner (@robnashville) June 11, 2012
Above, you see typical Joyner. It's quite an explosive accusation. In these tweets he suggests that UFC referee Mario Yamasaki botched a call in fighter Erick Silva's bout against Carlo Prater at UFC 142 in Rio and made it up to him with a big sponsorship offer from the clothing company Bad Boy.
It's a startling claim, one that calls into question the integrity of the whole sport. Can a referee properly officiate a contest if he has a financial interest in one of the fighters? It was the kind of juicy nugget Joyner specializes in. The only problem? It wasn't true.
"Bad Boy has been talking with Wallid Ismail about Erick Silva since late 2011," Bad Boy's Assistant Athletic Coordinator told Bleacher Report. " Mario Yamasaki was not involved."
@robnashville Your source is incorrect, FYI. Mario is a good friend of ours, but he certainly doesn't direct sponsorships.

— Bad Boy MMA (@BadBoyMMA) June 11, 2012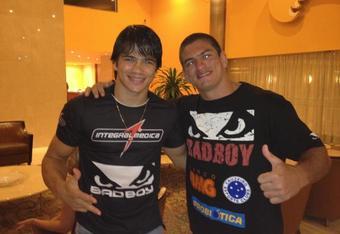 In fact, Bad Boy had already signed Silva before the controversial fight. You see him here in the days before the Prater fight in Bad Boy gear. Soon they would sign him to a multi-fight deal. Not because Yamasaki, who was once sponsored by the company, gave the okay, but because Silva clearly has potential to be a breakout star in his native Brazil.
"Erick is a bright young guy. He's an incredibly talented fighter, but his character and intelligence stood out to me," Bad Boy CEO Robin Offner said. "He's going to be an absolute superstar."
As usual, there is no grand conspiracy in place that led to Silva signing with Bad Boy. The most logical course of events was true—Silva is a talented young fighter with star potential. Occam's Razor in its purest form.
But Joyner unleashed a monster, the kind of rumor that is hard to bottle up once it is released into the world. And that's the danger that lurks in the unregulated world of the Internet. With no institutional control, the patently ridiculous can become the new truth overnight. Buyer beware.