NBA Finals: Swing Game 4 Will Go Long Way in Deciding Tight Heat-Thunder Series
June 19, 2012

Mike Ehrmann/Getty Images
NBA Finals. Game 4. Oklahoma City at Miami. Will the series be 3-1 or 2-2?
Those scenarios could not be more different.
For the Thunder, it's the difference between restoring home-court advantage and teetering on the brink of elimination.
For the Heat, it comes down to protecting their home court and proving to themselves that they've learned from last season when they found themselves in this same position, even holding a nine-point lead with 10 minutes to go in Game 4 against Dallas.
No team has come back from down 3-1 in the NBA Finals. In fact, just nine teams have recovered to win in the first three rounds in NBA playoff history.
That makes this a Game 7 for Oklahoma City.
Last year's 2-1 advantage was largely due in part to Dwyane Wade's three-game start to the Finals: 29 points, 8.7 rebounds, five assists, 1.3 steals and 1.3 blocks per game on 57 percent shooting.
This year, it's LeBron James averaging 30 points per game and leading the way.
No doubt, he's been the catalyst behind Miami's 2-1 series edge, but perhaps no player has made 30 and 10 look so easy on basketball's biggest stage.
He is on cruise control right now.
At what point does James will the Heat to a victory like he did in Game 6 against Boston? Game 4 against Indiana? Game 3 at the Garden?
Similarly, does Wade have his own monolithic performance left in his quiver of big game arrows?
Finally, was Kevin Durant's Game 1 performance, when his 17-point fourth quarter blew open the game, his high-water mark for the series?
Games 1-3 all could have gone either way making the Heat's 2-1 lead equal parts impressive, fortunate and fickle.
In fact, through 144 minutes of action, just a single point separates the two teams.
The teams' free throw shooting numbers have reversed in terms of percentages entering the finals which, thus far, is the biggest difference in a series in which every game has been decided in the final few possessions.
Durant is shooting at a torrid clip from the field, but has largely been held in check in the third quarters of the last two games, both Heat victories, due to foul troubles and just 19 free throw attempts through three games.
Russell Westbrook's numbers are All-Star caliber on the surface, but his timing and efficiency, or lack there of, has oftentimes left the Thunder at a disadvantage.
Good Westbrook and bad Westbrook might be the finest line in the NBA right now.
One only has to look back to last season's Game 7 against Memphis to see that Westbrook can defer and still dominate the game. In fact, he recorded the first triple-double in a Game 7 since Scottie Pippen in 1992, one of the greatest Robins in NBA history.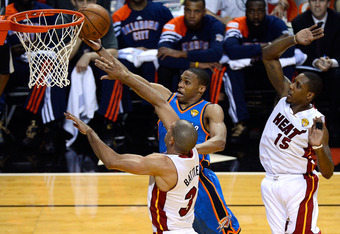 Ronald Martinez/Getty Images
Miami can win anywhere. Game 2 proved that. 
More importantly, it seems as though James has turned a corner, and when a great player figures it out, it is over.
And with Serge Ibaka calling him out on defense (perhaps in an attempt to induce him into foul trouble), his radar could be even more in-tuned.
A Thunder win knots the series and restores their home-court advantage. However, with Game 5 in Miami, that would not take great effect until a possible Game 7.
This series is too close to call. I suggest fans sit back and enjoy it.