Roger Clemens Verdict: Still Guilty of Being a Jerk
June 19, 2012

Chip Somodevilla/Getty Images
Yesterday, after a prolonged process that cost taxpayers millions of dollars, Roger Clemens was acquitted of all six counts of perjury he was accused of after allegedly lying under oath to congress in February 2008.
We can now look forward to the debate over whether Clemens is a Hall of Famer, whether he really didn't use performance enhancing drugs and his general place in history.
While this shift in conversation is unsurprising, it glosses over an irrefutable fact that should color how we look at Roger Clemens: although he may not be guilty of perjury, he's still guilty of being a selfish, unlikable jerk.
Red Sox fans, especially, can speak to just how loathsome a person Clemens can be. This is the man who, after the supposed "twilight of his career," shamelessly bolted for a division rival and rededicated himself to getting in shape. Because, you know, it's not as if that was his job when he was in Boston.
For the pitcher's entire 13-year tenure with the Sox, fans made excuses upon excuses for the volatile thrower. Even in his last season—when Clemens lagged to a 10-13 record—the fans gave him their undying support.
In return, Clemens couldn't even muster a "thank you" before bolting for the big money in Toronto.
There have been plenty of incidents since then to support this idea that Clemens is an explosive, selfish individual. Remember when he threw the bat at Mike Piazza in the 2000 World Series? Is that something a stable individual would do?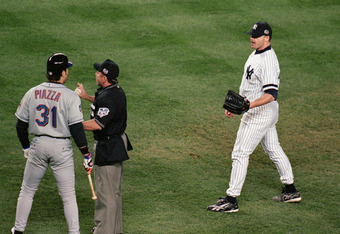 Al Bello/Getty Images
Obviously, Clemens' accomplishments in and of themselves would be enough to gain him entry to the Hall of Fame. Over his 24 MLB seasons, he amassed 354 wins, a 3.12 ERA and 4,672 strikeouts. He had some of his finest years while pitching against hitters who had quite a bit of chemical help, making his numbers even more impressive.
While it's not the point of this piece to argue the semantics of "not guilty" and "innocent," it must be mentioned that Clemens himself will never escape the suspicion of PED use that shrouds the later stages of his career.
When a pitcher makes 134 starts, wins 61 games and posts a 2.99 ERA after the age of 40 in an era where seemingly everyone was taking something, it's going to invite a lot of questions no matter who the player is.
Yesterday's verdict should really have no bearing on how Clemens is perceived, nor should it impact his Hall of Fame chances.
Anyone who thinks the Hall of Fame is a sacrosanct place devoid of any cheaters is simply lying to themselves—just as anyone who thinks Clemens being found not guilty makes him a sympathetic character is equally delusional.
The right-hander is certainly a convenient target, especially given his fiery defiance throughout both his playing career and retirement. He invites upon himself much of the criticism he receives, then relishes playing the victim when the public condemnation mounts.
The Roger Clemens Publicity Machine wants you to care about what happens to him. It wants you to think that maybe he really was the victim of a setup, that he did nothing wrong but work too hard and care too much.
The best thing we can all do is just ignore everything. This farce of a trial, which has cost entirely too much taxpayer time and money, does not deserve the attention of baseball fans.
A "me-first" person like Clemens is the antithesis of what team sports are supposed to be about, and we should not waste any more time indulging this arrogant man's selfish attitude.