NBA Finals 2012: Why Lack of Experience Will Doom OKC Thunder
June 19, 2012

Mike Ehrmann/Getty Images
The Oklahoma City Thunder's youth and talent has propelled them to the 2012 NBA finals. However, it will be that same lack of experience that will cost them the title.
This is OKC's first-ever finals run, and their core—Kevin Durant, Russell Westbrook, James Harden and Serge Ibaka—are all 23 years old or younger. Thus far, all four of these players have played with poise and skill well beyond their age, but as this series hits crunch time that lack of experience will do them in.
This inexperience was evident in their Game 3 loss, because little mistakes cost them throughout the contest.
The most prominent example came from the three-time NBA scoring champ, Durant.  
Admirably, he took the challenge of guarding LeBron James from the opening tip of this series, but that challenge is the Thunder on the offensive end, where they need him most.
James has been relentless at attacking the basket this series and has managed to get Durant in early foul trouble in every matchup thus far. This has taken Durant out of the game during key stretches of Games 1 and 3, which has limited the Thunder's ability to score and allowed the Heat to take sizable leads.
It will be up to head coach Scott Brooks to take his star off the league MVP, so he's able throughout the game to do what he's best at—putting the ball in the basket.
The Thunder's young point guard, Westbrook, is another great example of a lack of experience.
Ronald Martinez/Getty Images
There is no question that Westbrook is one of the most talented players in the NBA and one of the top 20 players in the league. However, there are times when his attack-the-basket aggressive style has gone from sparking the team to being the cancer of it.
OKC needs Westbrook to score. He is the team's No. 2 option and few players can slice through the lane like he can. But sometimes it seems as if he has a pair of blinders on and all he can see is the clogged lane and the bucket.
Often he will dribble the ball at the top of the key for 10-12 seconds and then either make a reckless charge through the lane or pull up for an ill-advised, contested jumper.
The Thunder needs him to be a playmaker. That doesn't necessarily mean being a passive-aggressive point guard, but he has got to make smart basketball plays—meaning, knowing when to attack and when to pass off.
Westbrook is young and will eventually learn this skill, but it's too much to ask him to pick up the nuances of the position on the fly, in the middle of the finals.
The Thunder's pair of superstars aren't the only members of OKC that have looked inexperienced during this series.
Brooks has made some ill-advised decisions during games, including pulling Westbrook and Durant off the floor for a large chunk of the third quarter in Game 3. This decision took all of the scorers off the floor and put them in a large hole heading into the fourth quarter.
Harden has also looked inexperienced and intimidated by the spotlight in this series.
Normally, the Sixth Man of the Year comes into the game and allows Durant and Westbrook a moment of respite, as he takes over games with his combination of floor vision, craftiness and a beautiful left-handed stroke.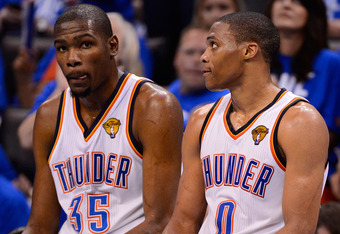 Ronald Martinez/Getty Images
But in this series he has struggled. In Game 1 Harden put up a paltry five points. In Game 2 he rebounded with 21. But when the series was tied up 1-1 and the Thunder needed him most, he played terribly, putting up nine points on 2-10 shooting.
However, it might be the Heat's experience more than the Thunder's inexperience that will cost OKC the finals.
The Heat come into this series hungry after their loss in last year's NBA finals to the Dallas Mavericks.
They are desperate to win this season and you can see it in their tenacity on both ends of the floor. It is especially evident in James, who just has a look on his face saying he will not lose this series, and his play has backed that up.
The Heat players have claimed that their finals experience from last season has helped them thus far, because they understand the pressure and the challenge of playing for a title. Dwyane Wade had this to say after game three, to the Washington Post.
"It's not saying that we want it more, I just feel like we understand situations more. We can deal with it better," Wade said. "We come from the Finals last year to this year; experience is not overrated at all. That helped us win the ballgame. We kept grinding and kept grinding."
The Thunder will find that the Heat's experience will be the difference between these two very closely matched teams this series.
But it's not all bad. There is a pretty impressive list of players who didn't win a title in their first crack at the NBA finals.  Wilt Chamberlain didn't get it done on his first try; neither did Jerry West, Elgin Baylor, Julius Erving, Isiah Thomas, Shaquille O'Neal and Dirk Nowitzki. 
Pretty soon you will be able to add LeBron James' name to that list. But it won't be long after that till you see the names Durant and Westbrook on there as well.