Washington Redskins: Why 2012 May Not Be the Season Fans Expect
June 19, 2012

Patrick McDermott/Getty Images
Expectations for the Washington Redskins are all over the place. Some people believe that the team is going to have fewer wins than they did last year. Others feel that the Redskins are going to have 10 wins and win the division.
With opinions and ideas so varied, it is hard to write an article saying that the season might not be how fans expect it to go, since everyone feels differently. However, this article is written toward the fans who expect the Redskins to have a lot of wins and make the playoffs.
For those fans, this season may not go as expected.
The big reason for all of the excitement in Washington is of course because of the arrival of Robert Griffin III. The Heisman Trophy winner enters the league with high expectations, including those of the Redskins organization.
There is a good chance that Griffin is the franchise quarterback that Washington has been looking for since Joe Theismann. He has all of the tools, a good arm, good touch, quick feet, great speed and good leadership qualities. But all of these things do not necessarily mean that he will be great this year.
Griffin had just one great year in college. Going into last season, many people believed that he would end up being drafted as a wide receiver. He did have a standout year, and the tools are there, but if the tools were there this year, why was he just a one-year wonder? I don't have an answer to that, but it is something to think about when you are trying to project how good he will be in the NFL.
Griffin is going to have his bumps and bruises. There is going to be a learning curve, and it is going to take time for him to be the best that he can be. And there is nothing wrong with that. Players have said that the biggest difference in the transition from college to the pros is the athleticism and the speed of the players. Griffin is going to have to adjust to that.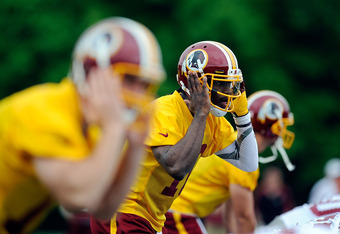 Patrick McDermott/Getty Images
Even if Griffin does have a fantastic year, there is no guarantee that that translates to wins. Look at Cam Newton last year. Newton set several rookie records on his way to passing for 4,051 yards and 21 touchdowns. Yet his team was just 6-10, which shows that just having a rookie franchise quarterback doesn't necessarily translate to wins.
Another example of this is Peyton Manning. In his rookie year, Manning also set records at the time, passing for 3,739 yards and 26 touchdowns. But Manning also had 28 interceptions, the most in the league, and the Colts were a measly 3-13.
Manning has gone on to be one of the greatest quarterbacks in NFL history, but that didn't mean that he had a lot of wins his rookie year.
Griffin is not the only young player on the Redskins roster. Running backs Roy Helu and Evan Royster are going to be expected to carry a lot of the workload in the backfield in just their second year. There is going to be an extremely young backfield in D.C.
The Redskins also appear to expect the emergence from second-year players Niles Paul and Leonard Hankerson. Hankerson is the tallest receiver on the roster, and his play, especially in the red zone, is going to be important to the team's offense.
Paul is making the switch from wide receiver, which he played in college and last year, to tight end. Chris Cooley and Fred Davis are the top two tight ends on the team, but both missed significant time last year, and there was really no one there to fill the void. That is what the Redskins are expecting Paul to do. He is going to see a decent amount of playing time this year.
Hankerson struggled his rookie year, especially with dropped passes. And switching positions at this point in Paul's career is not going to be easy. Because of these things, expect there to still be a learning curve in their second year.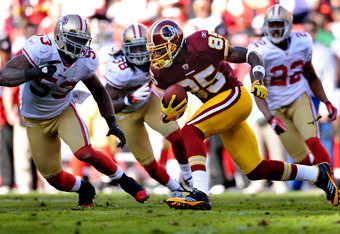 Patrick Smith/Getty Images
It would seem that Josh Leribeus is going to start at offensive guard in his rookie season. He'll being going against three of the toughest defensive lines in football twice in the division. That is not going to be easy. Look for a learning curve with Leribeus. Also look for the Eagles, Cowboys and Giants to try to pick on him. It might not be Leribeus' best year.
Speaking of the division and their defensive lines, they are going to pick on all the young players on the Redskins offense. The NFC East is one of the toughest divisions to come into as a rookie. Look for all the players previously listed to have their struggles against such a defensive division.
Lastly, you have to look at the defense, and the secondary in particular. The hiring of Raheem Morris as the new defensive backs coach was a great pickup, but a coach can only do so much.
The secondary is a huge question mark. The starting corners are going to be DeAngelo Hall and Josh Wilson. Hall has shown that although he is a playmaker, he can be beat by the deep ball. Also, there is only young help behind them on the depth chart.
The safety position is completely up in the air. The loss of LaRon Landry and Oshiomogho Atogwe leaves a gaping hole that must be filled. It will be interesting to see how the secondary will perform, but expect some struggles.
The Redskins have a lot of good, young talent, but it is going to take some time for them to reach their potential. The Skins might not have the best season as far as wins go, but it will definitely be exciting to watch. There will be a learning curve, but the Redskins are on the right track.