Michael Jordan Makes Unsafe Hire Again: Mike Dunlap Is New Charlotte Coach
June 19, 2012

Chris Chambers/Getty Images
If anyone else was running the Charlotte Bobcats and had the record as an executive that Michael Jordan has, this next coaching hire would have been the safest candidate they could find. So many business decisions are made with the thought of covering one's…well, you know what.
So what did Michael do? Never mind the safe hire, apparently he has hired the next Bobcats coach, and it's Mike Dunlap. Don't bother getting your Google machine out, I'll introduce him to you.
Dunlap comes to Charlotte after two seasons as Steve Lavin's top assistant at St. John's. Assistant? Yes, assistant. Well, he must have a long record as a college head coach previously. Well, kind of. He was the head coach of Division II Metropolitan State for nine years. What did I tell you about that Google machine? It's in Denver. He won national championships and Coach of the Year awards in both 2000 and 2002.
Well he must have spent a lot of years on NBA benches as an assistant. I don't think anyone's definition of "a lot" would be two seasons. Dunlap spent 2006-2008 on George Karl's staff in Denver.
Michael has spent his life showing us that he's different than the rest of us. He played basketball not only better than anyone on the planet at the time, but better than anyone who had previously inhabited that planet. I'm not betting on someone coming along who plays it better than he did.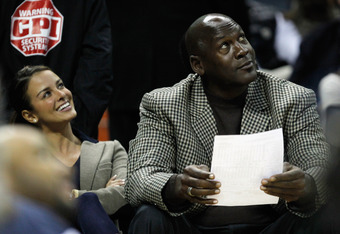 Streeter Lecka/Getty Images
He famously said on a commercial that he had taken 26 game-winning shots and missed.  Those misses are why he succeeds.
In order to truly succeed you have to think you will always succeed. You need a very short memory when it comes to failures. That's what determines who can be a closer in baseball. The ability to come out and pitch the ninth inning with a one-run lead the night after you blew the game in the same situation.
It's a skill required of cornerbacks. Getting back on that island with confidence after being burned on the play before.
That confidence—some would call it arrogance—can come back to bite you when your playing days are over and now the "plays" you make are decisions. Jordan missing those 26 game-winning shots was accepted because he had made so many in the same situation. He had the track record to back up his confidence.
He doesn't have that track record as an executive. Leonard Hamilton is doing a great job bringing back the Florida State Seminoles but not so much as Jordan's first coaching hire in Washington. Again, an unsafe decision.
Jordan reportedly considered Jerry Sloan for the Bobcats job. Sloan is a proven winner with over 2000 wins and a .603 winning percentage in Utah.
Brian Shaw was a solid candidate with eight years as a respected NBA assistant.
But Michael showed us again that he doesn't care what anyone else thinks. He's Michael Jordan.
This isn't about Dunlap's coaching ability. He may very well be terrific and turn the Bobcats around. But if not, Jordan has left himself open to once again failing as an executive. Had he hired Sloan or Shaw and they failed, we would have said they were solid hires.
Michael's supreme confidence in the face of public opinion made him the great player he was. It might doom him as an executive.
Follow me on Twitter@sprtsramblngman