San Francisco 49ers: 3 Under-the-Radar Concerns Heading into Training Camp
June 19, 2012

Thearon W. Henderson/Getty Images
There are really only a couple well-documented concerns for the San Francisco 49ers heading into training camp on July 26.
Some lingering questions include: Who will win the starting right guard spot? How much can Randy Moss really contribute at wide receiver? Who'll earn the backup quarterback job, Colin Kaepernick of Josh Johnson?
Or, what will Frank Gore's role be with so many running backs on the roster? What are the ramifications of Dashon Goldson's absence on the 49ers secondary?
Other ancillary, or under-the-radar issues exist as well.
Let's review three of those potential concerns as they pertain to the 49ers at this point in the offseason.
A.J. Jenkins' Transition
Jenkins' poor performances (for the most part) thus far in offseason practices might not qualify as an under-the-radar concern. The first-round pick of 2011 has been in the relative 49er spotlight since his selection at the end of April.
Then again, the mass public isn't always so privy to what goes on in these programs.
What has occurred is Jenkins' slow transition into the intensity of NFL, Jim Habaugh-led workouts. Despite showing some fine catches and generally consistent hands, his conditioning and footwork have left much to be desired. He was admittedly out of shape during rookie minicamps.
While not in any danger of losing a roster spot, it should be pointed out that the former Illinois product has a long way to go before being ready for the rigors of an NFL season. Expect him to treat training camp practices like actual regular-season games.
LaMichael James' Absence
The former Duck has missed the majority of practices due to his continued enrollment at Oregon (he's slated to officially graduate later this week).
Niners' 2011 rookie class may not have shown any ill effects from a lockout-shortened offseason, but there still exists a steep learning curve for any first-year player. It is incumbent on them to get as many reps as possible.
James must come into camp fully in shape and with a good handle of the playbook to solidify his spot in the running back pecking order. His time playing in Chip Kelly's extremely up-tempo offense should aid this process, but this concern exists nonetheless.
The 49ers rookie minicamp scheduled for next week will be a big test for LMJ.
Situation at Center
Center Jonathan Goodwin was a stable component of the 49ers offensive line for the majority of 2011.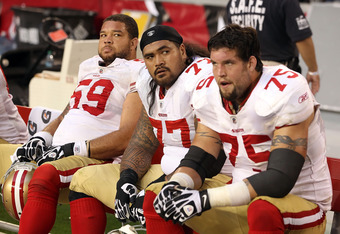 Christian Petersen/Getty Images
However, his injury history, age and lack of an established veteran behind him are issues in need of more exposure. The loss of Adam Snyder in free agency puts more pressure on Goodwin to remain healthy to anchor the O-line.
Second-year man Daniel Kilgore is the player in line for the backup job. He needs to prove that he can fulfill those essential responsibilities.
Remember, as consistent as Goodwin was, he still gave up the most sacks (five) in the league at center in 2011.
It's time for Kilgore to showcase his future with the 49ers.