New York Giants: How Does Prince Amukamara Avoid Gaining a Bust Label in 2012?
June 18, 2012

Chris Trotman/Getty Images
Because he was passed on 18 times in the 2011 NFL Draft, New York Giants' cornerback Prince Amukamara isn't in danger of becoming a mega-bust, regardless of how bad his NFL career ends up being. 
But at the same time, Amukamara wasn't your ordinary No. 19 overall pick. At the time, he was considered to be a steal for the Giants—a guy who, in the lead-up to the draft, was considered to be one of the best defensive players in the nation and a potential top-10 pick. 
His stocks dropped a tad and he landed with the Giants, but Amukara's rookie season was a mess.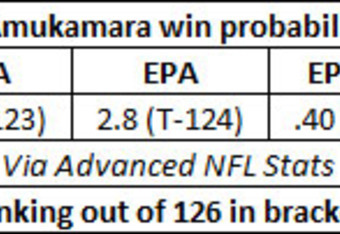 Now, in order to prove scouts and general managers from 18 teams wrong, and also to avoid being labelled at least a minor bust, the pressure's on him to emerge as a key contributor in the Giants' secondary in 2012.
In his defense, Amukamara appears to have all the tools to be a great corner in this league, and he does have some excuses for his poor performance as a rookie. First-year cornerbacks have enough trouble in this league, and after the lockout cost him his offseason, a broken foot cost Amukamara his first nine games of his career.
Even with that in mind, though, he was terrible. 
If it wasn't for the pick he had on a terrible Vince Young pass on his first series as a Giant, it would have been a rookie season completely void of anything positive. 
It's not time to panic yet; Amukamara should be fully recovered from offseason foot surgery in time for a full training camp in July and August. If that's the case, he'll have a chance to push for the No. 3 cornerback job, which, considering how good Terrell Thomas is in the slot, could mean he'd be an every-down player.
He clearly didn't look like someone the Giants could trust last year, but with Aaron Ross gone and Thomas not guaranteed to hold up as he comes back from a torn ACL, they'll have little choice but to trust their sophomore corner. There simply isn't a lot of talent beyond those three, and rookie third-round pick Jayron Hosley probably needs some time to get acclimated before he can be considered an option to face passing offenses in the deadly NFC East.
Amukamara is big, strong and instinctual, and he has just enough speed to become a shutdown corner in this league. It's hard to set calculable marks for what will help him avoid the bust label in 2012 because he has never been an interception guy. But no one dared throw his way at Nebraska, and so the key will be for him to reach the point at which he can lock down on opposing receivers without needing too much help or becoming a liability. 
But because it's always nice to have some tangible benchmarks to shoot for, a successful sophomore season for Amukamara would likely require him to play in at least 14 games, start at least two games, intercept at least three passes, improve that opponent passer rating to 85.0 and earn a positive PFF coverage rating.