San Francisco 49ers: Why Frank Gore Is Horrible Fantasy Football Option in 2012
June 18, 2012

Thearon W. Henderson/Getty Images
The crowded backfield for the San Francisco 49ers will produce a dominant rushing attack in 2012, and no running back in the NFL will see a bigger dip in their fantasy points than Frank Gore.
Since becoming a starter in 2006, Gore has been a fantasy stud. He has enjoyed plenty of success as the team's workhorse by getting at least 200 attempts in six straight seasons. In that time he has been a key piece for many fantasy owners.
However, Gore's touches will be cut down thanks to new additions LaMichael James, Brandon Jacobs and last year's impressive rookie Kendall Hunter. There's no way he can carry out the same amount of production that owners have gotten used to given these circumstances.
Not since the "Million Dollar Backfield" has there been this much depth at running back for the 49ers. This is going to bring the team's running game great success; however, Gore's individual numbers will suffer since there are only so many carries that can be shared between these four backs.
Obviously, the franchise's leading rusher is going to get his touches, but not enough to make him the No. 1 option on fantasy teams.  
ESPN's Christopher Harris has placed Gore as the 13th-best running back for the 2012 fantasy football rankings.
He used to be one of the first running backs taken in the first round, but now that would be a horrible selection since plenty of running backs like Maurice Jones-Drew, Ray Rice, Marshawn Lynch and Michael Turner can get 300 rushing attempts, easy.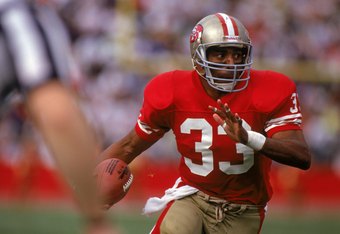 George Rose/Getty Images
Jamey Eisenberg from CBSSports.com also has low expectations. He has placed Gore as the 21st-best running back in fantasy rankings.
With all that said, Gore is far from a bad player—he's just not a viable fantasy option anymore because he won't be getting the same amount of carries.
In an article by The Sacramento Bee's Matt Barrows, Tom Rathman, the team's running backs coach said, "I don't know if everyone's going to be happy with the time that they get."
This new fearsome foursome won't have individual eye-popping numbers, so fantasy owners beware.
It took them a few years, but the Niners have finally conformed. The team has switched from having one excellent rusher to having several good options at running back.
This is a big difference considering the 49ers have had a long lineage of stat-stacking running backs with Joe Perry, Roger Craig, Ricky Watters, Garrison Hearst and, more recently, Gore. Each of these backs found his own success by being the undisputed top dog in the backfield. 
Having four options seems like too much since most teams use a two-running back scheme. In recent years, the closest thing to this new 49ers backfield has been "Earth, Wind and Fire" from the New York Giants.
In 2008, Ahmad Bradshaw, Derrick Ward and Jacobs combined for 2,469 rushing yards and 18 touchdowns. As a whole they were spectacular, but aside from Jacob's 15 touchdowns, they were nothing special individually.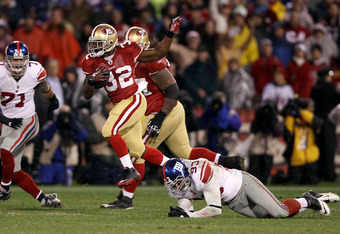 Ezra Shaw/Getty Images
The 2012 Niners should, at the very least, come close to those numbers, but it's not far-fetched to believe that they will eclipse those stats.  
They will post great numbers as a whole, but don't expect any individual 49ers running back to amp up any fantasy rosters week in and out.
Gore, the unselfish player that he is, will not make a fuss about the extra company, on the contrary, he enjoys the new competition.
In an article on FOX Sports by Janie McCauley , Gore said, "It's real different, but change is good for everybody at times... We've got a great thing going out here. We know what type of team we've got and hopefully we get back to that."
With so many possibilities, it would seem that Jacobs would take on short-yardage and goal-line situations. James would be a nice fit during third-and-long, while Hunter spells Gore like he did last season.
Gore is not dramatically declining skill-wise, it's just his touches that are diminishing. He will still be the leader in the backfield and, given his talents, he will get at least 800 yards and six touchdowns in 2012.
Those are pretty good stats considering he won't be the main weapon at running back anymore. Although, as a starter on a fantasy team, those numbers won't keep owners happy.