Cleveland Browns Will Shock NFL in 2012
June 18, 2012

Jason Miller/Getty Images
Many experts believe the Cleveland Browns and their fans are in for another season of lackluster football.
Matt Miller of Bleacher Report has already projected the Browns to finish last in the AFC North with a 3-13 record.    
With that said, hope still rings eternal in Cleveland for the Browns.  A majority of the fan base believes the Browns could surprise and shock the NFL in 2012.
I hope and pray as much as any Browns fan this theory proves to be true.  The Cleveland fan base deserves a winner.  But for that to happen, the Browns will need to come together as a team and show they can compete in the toughest division in the NFL. 
This will start with the examples set by the Browns' current top three quarterbacks.  With the addition of Brandon Weeden via the 22nd overall choice in the NFL draft, the Browns' top three quarterbacks are realistically competing for two roster spots.  How Weeden, Colt McCoy and Seneca Wallace continue to handle the competition will set the tone for the Browns locker room for the 2012 football season. 
The media relations and the locker room tone have not started off the way the Browns or Pat Shurmur could have wished.  Seneca Wallace has already made public comments about the quarterback competition in Berea and felt the ire of Browns nation.  Not wanting to be left out of the headlines, Colt McCoy's brother, Case McCoy, also shot off a tweet with reference toward the Cleveland Browns organization and its handling of his older brother.  The younger McCoy stated, "Good luck Brandon!  Fan of you, but my brother's pulling the lucky straw on this one!  Cleveland is only going downhill!"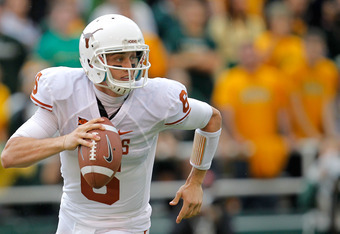 Sarah Glenn/Getty Images
His tweet was in response to a fake ESPN Twitter account that broke news that the elder McCoy had been traded to the Philadelphia Eagles.  Once seeing this news was false, Case McCoy tweeted, "Fake ESPN accounts are nuts…  Got me fired up over nothing!  Still kinda meant what I said."
The younger McCoy went on to apologize for his comments, explaining blood runs thicker than sport and his comments were out of line and uncharacteristic for the current Texas Longhorn quarterback. 
Not a great way to start the offseason for the Browns locker room and coaching staff.  But what does not kill you will only make you stronger.  Both Seneca Wallace and Colt McCoy can show their NFL experience and leadership and speak with the media and in the Browns locker room in a professional manner.  They can show they want to be with this team and are willing to do whatever it takes to make the Browns better.  With the comments surrounding Colt McCoy coming from his father and his younger brother, Colt can easily address the situation and come out of it looking like a winner. 
In either circumstance, the Browns coaching staff needs to make sure this Browns team and this locker room is going to stay cohesive.
Speaking of the Cleveland Browns coaching staff, Pat Shurmur and company need to show what they are made of this season.  Pat Shurmur made many coaching mistake during the 2011 season. 
The light at the end of the tunnel continues to shine through for Shurmur, though.  The hiring of Brad Childress as the new offensive coordinator should only help out the Cleveland offense.  Childress will not only take some of the offensive pressure off of Shurmur but will also bring his 33 years of experience to the Browns coaching staff.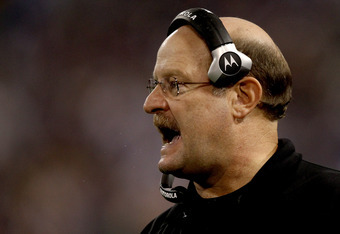 Matthew Stockman/Getty Images
Shurmur should also feel much more at ease this offseason, since he actually has an offseason.  Browns fans tend to forget that Pat Shurmur, as a first-time head coach, was trying to install a completely new offensive philosophy in a strike-shortened football offseason. 
As a head coach, Shurmur should continue to make strides just based on the fact that he now has one year of experience as an NFL head coach.  In addition, Shurmur and the Browns coaching staff now have the time to teach and install the entire offensive playbook.
Shurmur and company also have new offensive weapons to play with.  The four big changes that stand out for the 2012 Cleveland Browns offense are Brandon Weeden, Trent Richardson, Travis Benjamin and Mitchell Schwartz. 
All four of these rookies should immediately impact the Browns offense.  Most already believe Weeden will be tabbed the Browns' starting quarterback by Week 1.  Hall of Fame quarterback Roger Staubach also gave Weeden a ringing endorsement. "Age is a factor.  But if you can play at 21, you can play at 27.  It's not like he's a running back [in terms of punishment].  He can have a 12-year career."
There are no question marks surrounding the Browns' newest running back.  Trent Richardson, by all reports, has done nothing but impress.  "I think everybody is amazed," running backs coach Gary Brown said of Richardson.  Pat Shurmur also chimed in about his newest running back.  Shurmur said: "Wow! He's a very powerful man. He's powerfully built."
Travis Benjamin has to be the Browns' biggest X-factor heading into the 2012 season.  I believe Shurmur and Childress view Benjamin as their version of Percy Harvin.  Benjamin should add an extra dimension to the Browns offense.  Benjamin will bring elements to the Browns' offensive playbook that it lacked during the 2011 season.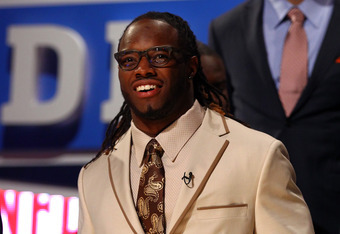 Al Bello/Getty Images
Injuries are always a concern, but Cleveland's offensive line was decimated last season.  In addition to coming back healthy, the Browns added Mitchell Schwartz to the offensive line equation.  The Browns' right tackle position was dreadful last season.  In Schwartz, the Browns add a young and intelligent Week 1 right tackle starter to their offense.  If the Browns' stay healthy, they could have a dominant running combination.  For the first time under Tom Heckert and Mike Holmgren, the Browns have the potential to formulate one of the deadliest offensive line and running back combinations in all of the NFL. 
Hope and change for the 2012 Cleveland Browns does not end on the offensive side of the ball.  Many experts forget, veteran defensive coordinator Dick Jauron was also trying to install his new defense in Cleveland last offseason.  Even with the defensive turnover, Jauron was able to lead the Cleveland Brown' defense to a second-place finish in passing yards per game.  The Browns' defense allowed only 184.9 passing yards per game last season.  Being more comfortable in Dick Jauron's defense in 2012, should only help the Browns' defense to continue to grow and improve.
Even though the additions of veteran defensive ends Frostee Rucker and Juqua Parker did not make national headlines, both of these signings were excellent for the Cleveland Browns.  Jayme Mitchell was abysmal last season and could not even hold onto the starting defensive end job opposite Jabaal Sheard.  Rucker and Parker were brought to Cleveland to replace the easily forgettable Mitchell.  As long as Rucker and Parker produce 26 tackles and 1.5 sacks, then they are already out producing the numbers Mitchell had from last season.  This added production will not only make the Browns defense more lethal on paper, but it will also allow Jabaal Sheard to play his position and face fewer double-teams. 
By definition, shocking the NFL in 2012 may only mean five or six wins for the Cleveland Browns.  But I feel hope should ring even stronger than that for the Cleveland faithful.  In the Browns' 12 losses last season, they fell short by a combined 113 points, breaking down to about nine points a loss.  Half of the Browns losses were even by less than that.  In six of the Browns' 12 losses, the Browns lost by less than a single touchdown. 
The Browns' final three games of last season might contain the most telling of statistics.  Yes, all three of those games were losses.  But within those three losses, the Browns were able to hold two division rivals to fewer than 21 points.  The Browns lost those three games by a combined 13 points.
Why should it not be feasible for the 2012 Cleveland Browns to score one more touchdown a game, while the defense continues to build and improve off what it did last season?  If accomplished, the 2012 Cleveland Browns can statistically win five or six more games.  This would place the 2012 Cleveland Browns at the nine- or 10-win threshold, and that would really shock the NFL.