New York Giants: Why Victor Cruz Will Reach Superstar Status in 2012
June 18, 2012

Jamie Squire/Getty Images
It's a nippy February night in Evanston, Illinois when my phone erupts into polyphonics.
I've never been one for award shows, and when the 54th annual Grammy's came around, I shied away from watching in my Northwestern University dorm room. But after a third friend called about what he had just seen, I grudgingly decided to tune in and check out what the fuss was about.
The biggest night in music was stolen by a football player.
To present an award for Best Rock Performance, New York Giants wide receiver Victor Cruz hopped on stage with actress Pauley Perrette and then-teammate Mario Manningham, only to flash his effervescent salsa dance before a single nominee was revealed.
Just a year removed from life on a practice squad, and later, the injured reserve, Cruz set the Twittersphere ablaze and continued to crawl into the crevices of popular culture. After jumping from cover to cover of the professional football stat books and propelling his Giants to their second Super Bowl championship in four years, here he was again, cracking a wide-eyed smile on a completely different type of stage.
But Victor Cruz' celebrity status hasn't peaked. Far from it.
A day after the Grammys, an insouciant Cruz was interviewed by popular New Jersey rapper Joe Budden through hip-hop magazine XXL. Detailing nightlife escapades and large club tabs, Victor Cruz flashed signs of Jay-Z-esque fame.
"You gotta let people know you in the building sometimes," he laughed.
Cruz is no Jeremy Lin or Tim Tebow–two contemporaries that were also catapulted to national prominence in zero-to-hero fashion—Cruz' production was unquestionable. While critics can point fingers at Lin's turnover rate and Tebow's throwing mechanics, Cruz' numbers speak for themselves. 80+ receptions. 1,500+ yards. A touchdown of 99 yards; a touchdown in the Super Bowl.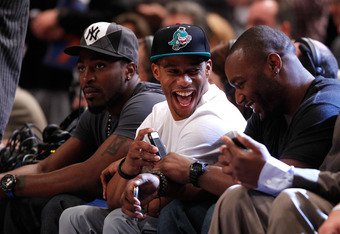 Jeff Zelevansky/Getty Images
Cruz' credentials immediately put him in the cadre of fantasy football stars and endorsement personalities. All he needs is one more defining season to shatter notions of 2011 as a fluke.
Don't look now, but Cruz could easily top his 2011 output.
A Stronger Running Game
With the addition of explosive 'back David Wilson and the improved health of Ahmad Bradshaw, the Giants' once-dominant rushing attack looks to get back on track in 2012. After reappraisal, the loss of Brandon Jacobs doesn't sting all that much—he averaged less than four yards per attempt in two of his final three seasons in New York. Trading Jacobs for Wilson develops a sleeker outside running game that makes way for play action and increased openings for Cruz' adjacent slot position.
A Fresh Offensive Line
A healthier David Baas and the removal of Kareem MacKenzie for James Brewer at right tackle will yield promising results for the Giants' line in 2012. In this year's installment of the NFC Championship Game, Cruz netted 142 yards on 10 catches despite Eli Manning taking a whopping 12 quarterback hits. With an improved line, Cruz will see even better passes thrown his way.
A New-Look Defense
After ranking a paltry 27th in overall defense last year, the Giants turned things around come crunch time, allowing an opposing completion percentage of under 58 percent and yielding just 14 points per game to the league's premier offenses. The re-signing of defensive end Osi Umenyiora, the return of cornerback Terrell Thomas and the addition of linebacker Keith Rivers spell good things for Big Blue's D in 2012, and an improved unit will keep Manning's offense on the field for longer periods of time.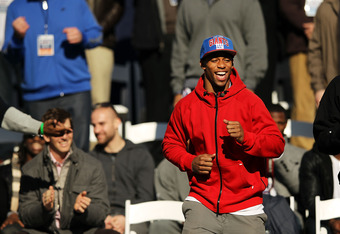 Spencer Platt/Getty Images
A Tougher Schedule
The G-Men play seven playoff teams from 2011, not to mention two games each with upstarts Dallas and Philadelphia. More competitive games will see the Giants reluctantly playing from behind throughout the year, which means more passing opportunities for Manning and more involvement for Cruz late in games.
Further Integration
With a full offseason, Manning and Cruz can continue to improve their potent chemistry, and New York's coaching staff can continue to find ways to get Cruz fully immersed in the offensive game plan. A lockout-free summer will allow the Giants' coordinators to develop plays tailored to Cruz' slot prowess.
Cruz has already cracked his way into the top of the merchandise world, ranking sixth in 2011 jersey sales. With a promising season ahead on the gridiron and fruitful opportunity beyond it, 2012 is the time for Victor Cruz to step into the realm of the NFL superstar.