Euro 2012: Dutch Embarrassed as Losers in Group of Death Finale to Portugal
June 17, 2012

Ian Walton/Getty Images
The pre-tournament favorite Dutch squad had their UEFA Euro 2012 hopes dashed as they were embarrassingly bounced from the tournament after losing 2-1 to Portugal Sunday. The result itself is nothing to be ashamed of.
In a matchup between two star-studded sides like these, you would expect a relatively even affair. The Portuguese had less pressure on them, as the Dutch had to press forward knowing that winning by anything less than two goals would not see them through to the next round.
But the Netherlands' lack of fight and character, in a team that many thought would be the only one to usurp Germany and Spain as perennial favorites, should have the Dutch fanbase calling for immediate change.
In every major tournament, there are four top teams that are unfortunately paired together with only two spots available to progress. This "group of death" generally becomes the one that we set our schedules around, knowing that it will be some of the best and most intense football of the early part of the tournament.
For the most part, that was the case this year, as Group B earned the distinction of being the Euro 2012 Group of Death. Germany, Netherlands, Denmark and Portugal were ranked No. 3, No. 4, No. 9 and No. 10, respectively, by current FIFA world rankings.
Three of the teams held up to this standard, performing at that extra level that brings out the best in players when wearing their country's colors. But the Dutch looked like a fledgling pretender, who was even less deserving of a place in Euro 2012 than the two host countries with automatic bids.
Their play was stale, banal and completely unenthused, further indicating that the run they made in South Africa was a string of things going right versus actual top-quality football. It was an All-Star team in terms of talent, with some of the very best players in the game today in Wesley Sneijder, Arjen Robben, Robin van Persie and Rafael van der Vaart (just to name a few), .
But much like any All-Star team in this sport, the chemistry was lacking. It was a mix of playmakers of different minds, always operating in accordance with their own games. Each was so used to being the focal point of his club team's attack that they could never gel with one another in figuring who will lead the Oranje.
Do not mistake this for selfishness, as that is hardly the case at all. For a team full of immense talent, the egos are rather limited. You rarely ever saw this group harping on one another for not submitting to the preferred path of the ball-carrier. It is more, if I may indulge you with a cliché for a moment, an instance of too many cooks in the kitchen.
With that said, there was also no other option for Dutch coach (soon to be ex-coach) Bert van Marwijk to go with. Criticism would have rained down on his head had he decided to leave any of the aforementioned names home, despite it being perhaps in the best interest of the team.
There is also no reasonable precedent that would suggest that this would not work out. Logic and reason weigh much heavier in a team's selection than boldness and chance.
You have to figure that a team with better talent would have a better chance of winning than one with lesser talent. At the very least, it keeps the media and fans from taking the easy position of attacking a manager who dared to make unconventional decisions.
When LeBron James made his move to South Beach, everyone assumed that a basketball team with three of the world's 15 best players should be able to win it all. Similarly, a football team with five or six of Europe's top 50 should be able to perform much better than the Dutch showed in this European Championship.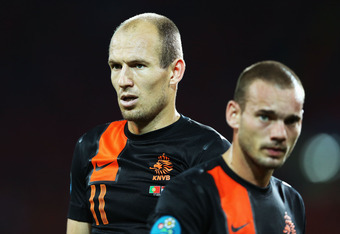 Julian Finney/Getty Images
But that is what we love about sports—not only the triumph of the underdog, but the fall of the champion. The defiance of logic and the discounting of reason. That unique ability games have to overturn the foundations and principles that govern our daily lives. We get to witness the unexpected and satisfy our deep desire for chaos without disrupting our lives.
Dutch fans should hang their heads low tonight and raise their fists tomorrow in protest. But for the rest of the footballing world, we were all treated to one of those moments that reminds us why sports are great.
For all my articles, follow me on Twitter: @thecriterionman