Seattle Seahawks: Why Bruce Irvin Is the Steal of the NFL Draft
June 19, 2012

Andy Lyons/Getty Images
So I'm at school on the Monday after the 2012 NFL draft when my close friend and avid football fan Sam comes over for a little draft talk.
"Bruce Irvin, huh?" he snickers.
While I can see the faults in the Seattle Seahawks selecting Irvin at 15th overall—when most scouts agreed that he could have been gotten a tad later—I can also see the benefits of the pick. I'm not gonna lie; I started to get a little annoyed at Sam.
However, not wanting to get into an argument with my buddy, I smile politely and give a dry chuckle. Inside, I vow to give the issue some serious thought and construct an argument that proves Sam wrong about Irvin.
Here you go, Sam.
The Seattle Seahawks were a decent team in the 2011-2012 season. A 7-9 record put them among the mediocre NFL teams, but the personnel moves of the previous seasons put Seattle's potential at much higher than 7-9.
The third-youngest team in the NFL, the Seahawks have fortified young talent at every position with no glaring holes in their roster. The additions of quarterbacks Matt Flynn and Russell Wilson this offseason quell the questions at the quarterback position. Pro Bowler and 1,000-yard rusher Marshawn Lynch solidifies a strong rushing attack, while young building blocks Russell Okung, James Carpenter and John Moffitt fortify the offensive line.
Former Pro Bowlers Sidney Rice and Zach Miller are there to make any young quarterback's job easier. Pro Bowlers Earl Thomas, Kam Chancellor and Brandon Browner make up one of the NFL's better secondaries. Double-digit sack specialist Chris Clemons and Big Red Bryant shore up the D-line, and second-year surprise K.J. Wright and veteran Leroy Hill compose the linebacking corps.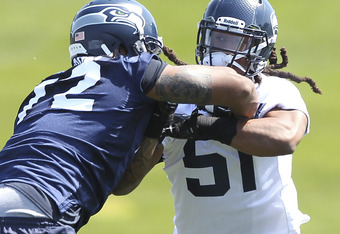 Otto Greule Jr/Getty Images
This is all evidence of Seattle's proficient roster building thus far.
This young, solid roster enables Seattle more flexibility with future roster moves, such as what was exhibited in the 2012 NFL draft when it selected Bruce Irvin. With no glaring holes, Seattle could afford to take a project with potential, such as the New York Giants did with Jason Pierre-Paul in 2010 after their Super Bowl run.
And when you compare the Super Bowl-winning Giants' roster to that of the current Seattle Seahawks, with the exception of quarterback, the potential is remarkably similar. That, however, is a discussion for another article.
Even though Irvin's raw talent makes him something of a project, there is no reason why he can't still get on the field and contribute right away. Bruce Irvin's pure speed can make him a solid pass-rush option on third downs opposite Chris Clemons; in fact, Irvin might see a role similar to that of 14-sack Aldon Smith last season in San Francisco.
That way, Irvin can simply be turned loose without having to worry about stopping the run, thereby making his transition to the NFL easier. Irvin's speed and quickness also means that he could be able to stand up and contribute at strong-side linebacker—which Seattle might need him to do as a result of David Hawthorne's departure to New Orleans and K.J. Wright's subsequent move to middle linebacker.
Irvin's versatile speed and size—6'3" 250 lbs means that he can either stand up or put his hand in the dirt—enable him to contribute right away in multiple ways on the Seahawks defense.
Bruce Irvin fits the Seahawks defense perfectly both short- and long-term.
In the short-term, Seattle gets a player who can, as I mentioned before, come on the field in the nickel package and rush the passer opposite Chris Clemons. Seattle has been searching for such a player the past few seasons and tried plugging in the likes of Raheem Brock. But only three sacks from him last year—combined with the fact that Brock is 34 years old—means that Seattle is still looking for that extra pass-rush.
As far as the long-term, Irvin fits perfectly with Seattle's defensive scheme. While Seattle could have drafted a more complete and NFL-ready player such as Melvin Ingram or Quinton Coples, neither of those players has the combination of size and burst that Irvin provides off the edge.
With these attributes, Irvin projects ideally into the "Leo" pass-rushing position on Carroll's defense that Chris Clemons currently occupies. And with Clemons passing the 30 years old mark and hinting at wanting to test free agency, Seattle might need his replacement sooner than expected. Irvin, virtually a physical clone of Chris Clemons, will be able to do just that.
Furthermore, Irvin's ability to bull rush his opponent makes him potentially even better than Clemons, who does not have a consistent bull rush to his game. And while many people deride Irvin because his game revolves almost solely around rushing the passer without much consideration for stopping the run, this is another area where Irvin suits Seattle's defense.
With the likes of Brandon Mebane, Alan Branch and Big Red Bryant (all of whom are over 300 pounds) starting for the Seattle Seahawks, Irvin won't have to focus on stopping the run as much because of the interior presence of those three clogging up the middle. Bruce Irvin's skill set undoubtedly corresponds exceptionally well to the Seahawks defense.
Pete Carroll, John Schneider and Co. have shown the tremendous ability over the past few years of finding impact players in places nobody would expect them.
Whether it was trading for Chris Clemons and Marshawn Lynch for pennies on the dollar or finding K.J. Wright, Kam Chancellor, Red Bryant and Richard Sherman in the mid-to-late rounds of the NFL draft or giving ex-CFL player Brandon Browner a chance to shine at the NFL level, the Seahawks' upper management has had a very high success rate.
There is no denying that the Seahawks know what they want, and they go get it. So why should the Bruce Irvin story be any different? Irvin was clearly a player that Seattle coveted highly. Even I would admit that they reached to get him.
But the Seahawks don't care because they have been there before and have gotten potential out of players when others had given up on them, such as the aforementioned Clemons, Lynch, and Browner.
I have faith in my Seahawks. Let's just hope that my friend Sam sees the potential as well.