Lakers Rumors: Best Trade Partners for L.A. to Move Pau Gasol
June 17, 2012

Harry How/Getty Images
Pau Gasol has been no stranger to the rumor mill, but this latest possibility may be the most intriguing of all. According to the New York Daily News' Mitch Lawrence, there's at least some chance Gasol's NBA career could come full circle this summer:
The Lakers are committed to moving Pau Gasol — the fall guy for their second-round ouster against the Thunder and previous playoff failures — even if they have to take back less talent. As long as Heisley retains the Grizzlies, Memphis will always have interest. Heisley has always wanted to bring Gasol back, pairing him with his brother, Marc.
There's a lot to like about such a scenario, especially if you're Pau Gasol. In addition to the opportunity to play with his younger brother, he'd also be going to a promising young team that has a decent chance at contending in the not-too-distant future.
Meanwhile, the Grizzlies might be wise to exchange Zach Randolph for a more deferential big man. With capable scorers like Rudy Gay, O.J. Mayo, Mike Conley and Marc Gasol, Memphis might be better off with Pau's passing instincts than Randolph's shoot-first disposition.
From the Lakers' standpoint, there's also a shred of wisdom to such a deal. Given Kobe Bryant's postseason concerns that Gasol wasn't shooting enough, someone like Randolph could be exactly what Los Angeles' superstar ordered.
If nothing with Memphis materializes, there shouldn't be any shortage of suitors for Pau's services. Here are some other destinations that make sense: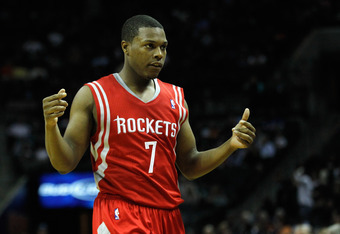 Streeter Lecka/Getty Images
We know Houston has had its eyes on Gasol since at least last December, and it's hard to imagine those sentiments changing. With the Rockets on the cusp of playoff contention, the prospect of making just about any upgrade has to be intriguing. 
Houston currently owns the 14th and 16th picks in June 28's draft, and you can rest assured the Lakers would love to pry at least one of those away in an attempt to get younger. The question remains whether Los Angeles can pry away one of Houston's two talented point guards: Kyle Lowry and Goran Dragic. Dragic is a free agent, but his emergence toward the end of this season could make Lowry a more expendable trade trip.
Alternatively, it could mean Dragic would be signed and then traded to L.A. as part of the deal.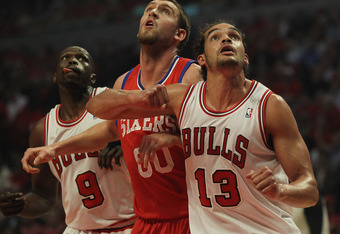 Jonathan Daniel/Getty Images
Gasol has been linked to Chicago for some time now, but the open question is whether Chicago is willing to part with what it would take to acquire him. Carlos Boozer isn't the most attractive asset thanks to his massive contract, and that leaves the Bulls building a package around the likes of Joakim Noah and/or Luol Deng.
There's certainly a chance that both sides will strike a deal to everyone's liking, even if it's not the most probable scenario.
With Derrick Rose set to miss plenty of time next season (if not the entirety of the campaign), this might be the perfect opportunity for the Bulls to reshuffle the roster and make some adjustments.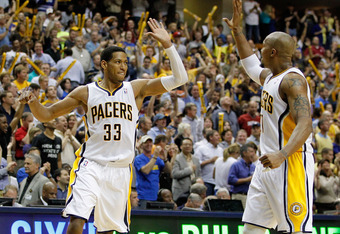 Gregory Shamus/Getty Images
The Pacers haven't been mentioned as one of Gasol's more aggressive suitors, but maybe they should be. The Lakers need quality depth and that's something Indiana could certainly provide.
Meanwhile, the Pacers could use Gasol's playoff experience and all-around excellent in the paint.
A deal would probably start with a sign-and-trade involving George Hill along with either David West (to replace Gasol at the 4) or Danny Granger (to give L.A. a legitimate starter at the small forward position).