NASCAR: Eury Misses Mark with "Beat by a Girl" Comments About Danica Patrick
June 17, 2012

Jeff Zelevansky/Getty Images
In a series of comments that seem poised to set back Danica Patrick's progress in NASCAR this year, JR Motorsports crew chief Tony Eury Jr. insists that Nationwide Series rivals especially hate losing to Patrick because she is female.
According to ESPN.com, Eury Jr's comments originated when Austin Dillon took the air off of Patrick's spoiler in yesterday's Alliance Truck Parts 200 at Michigan International Speedway. The move spun Patrick out and drew Eury's ire, leading to a series of inflamed post-race comments.
"We all have egos," Eury Jr. insisted. "We don't want the girl to outrun us. It's a fact of she's getting put in some situations where she doesn't need put into because they're taking advantage. If she's loose, they'll get up under her right rear or whatever."
The great irony in what Eury Jr. said lies in the technique of wrecking another driver that he's describing. Eury Jr. is a relative of Dale Earnhardt, who scored many victories after poking the nose of his car under the fender of another driver's car in order to spin him out. For most of his career, Earnhardt drove for Richard Childress, Dillon's team owner and grandfather.
Either we have a family feud of sorts on our hands, or the pot is calling the kettle black.
More importantly, Eury Jr's comments have done exactly what Patrick, and NASCAR itself, is trying to shy away from: emphasizing differences not in a driver's skill but in who is sitting in the seat. NASCAR's Drive for Diversity program has had plenty of ups and downs, but Patrick's success represents the sort of gender diversity that NASCAR has been searching for since the days of Janet Guthrie.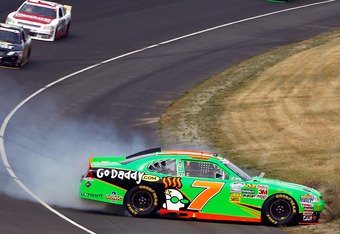 Jeff Zelevansky/Getty Images
Eury Jr. is toeing a fine line by saying that drivers hate to be beat by a girl and may even be misjudging the source of any animosity in the paddock. Remember, Patrick has had plenty of opportunities to develop in a stock car over the past three years, despite having no experience in the car and struggling to communicate with her crew because of major differences in stock car and open-wheel terminology.
Are drivers really jealous of being beat by Patrick, or are they jealous of how long her team has been patient with her because of the marketing opportunities that she presents? Or are they just fed up with her attitude—a convenient angle for everyone based on her history, but one that seems less and less relevant as she settles in and becomes more comfortable with the sport?
It's an easy excuse for Eury Jr. to insinuate sexism on the track, but in the end, he's just made himself look bad with his comments. It was his ego that came out fragile, as he suggested that he doesn't have the fortitude to withstand drivers racing Patrick like she's any other driver on the track.
Dale Earnhardt Jr. fans disliked Eury Jr. for struggling as his crew chief; they may have even more reason to dislike him now.