Green Bay Packers: Aaron Rodgers Is Rewriting the Green Bay Record Book
June 17, 2012

Jamie Squire/Getty Images
When NFL experts try to name the 10 best quarterbacks of all time in the NFL, most lists will have two names: Bart Starr and Brett Favre. Where they are listed varies, but almost every top 10 I have seen has both of the former Green Bay Packer QBs listed.
That's why it is so amazing what Aaron Rodgers has done in just four years as the starting QB of the Packers. Rodgers has led the Packers to a Super Bowl victory in which he was named MVP of the game (Super Bowl XLV) and was also the NFL MVP in 2011.
Add to that, Rodgers threw 45 TD passes to just six interceptions for 4,643 yards and also had a QB rating of 122.5 of 2011. The 122.5 QB rating was the best in the NFL and also broke the all-time record set by Peyton Manning in 2004, when Manning had a 121.1 QB rating. 
Rodgers was also named first team All-Pro and was named the starting QB for the NFC in the Pro Bowl in 2011, as he led the Packers to a 15-1 regular season record.
That all led to Rodgers being named the NFL's Most Valuable Player in 2011.
A well-deserved honor.  But there is much more.
Rodgers not only had the best-ever QB rating in a single season in 2011, but Rodgers is the all-time leader in QB rating in both the regular season and the postseason.
Rodgers has thrown 132 TD passes vs. just 38 interceptions for 17,366 yards and has a 104.1 QB rating in his career during the regular season.  Rodgers is the only QB in NFL history to have a QB rating of over 100 based on 1,500 passing attempts.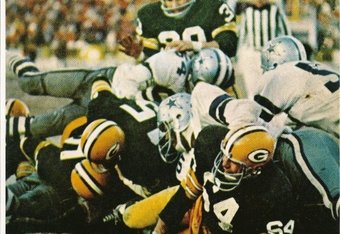 Rodgers has a 41-22 record in the regular season in four years and has won one NFC North title.
In the postseason, Rodgers has thrown 15 TD passes vs. only four picks for 1,781 yards and has a QB rating of 105.5 in his career.  Again, that is the best in NFL history.
Rodgers has a 4-2 record in the postseason, including a Super Bowl victory.
Rodgers just turned 28 years old in December.
Now let's look at what Starr and Favre did in their respective tenures in Green Bay.
First Starr. In the regular season as a starting QB, Starr was 93-43-5. That is exceptional. But in the postseason, nobody was ever better.
Starr took the Packers to six NFL championship games, winning five NFL titles, plus the first two Super Bowls, when he was named MVP in both games. Overall, Starr was 9-1 in the postseason.
In those 10 games, Starr threw 15 TD passes to just three interceptions for 1,753 yards.
Overall in the regular season in 16 years, Starr threw 152 TD passes compared to 138 interceptions for 24,718 yards and had a QB rating of 80.5.
Now Favre. In the regular season, Favre won seven NFC Central/North titles, plus had a 160-93 record as a starting QB over 16 seasons.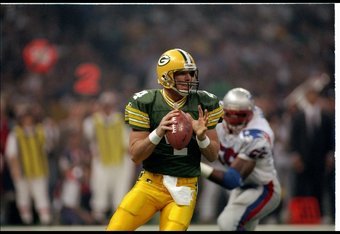 Rick Stewart/Getty Images
Favre also broke most of the all-time passing records while he was in Green Bay as well, not to mention the consecutive game starting streak record that ended up at 297 games when his career was over.
In the postseason, Favre was 12-10 in the playoffs, including two NFC championships and one Super Bowl win.
In those 22 games, Favre threw 39 TD passes, compared to 28 interceptions for 5,311 yards.
Overall in the regular season in 16 years, Favre threw 442 TD passes compared to 286 interceptions for 61,655 yards and a QB rating of 85.8.
Here is the bottom line. In just four years as a starter, Rodgers already has three of the top five best QB rating seasons in Green Bay history. And his other season is also in the top 10 in history of the Packers.
He also has many more years in his career to add even more accomplishments to his already sparkling resume.
Are you ready for an amazing stat? If Rodgers played 16 years with the Packers, like Starr and Favre did, based on his stats as a starter so far, Rodgers would throw 524 TD passes in those 16 years. 
Time will tell how many more Super Bowls or MVP awards he might win.
I don't believe I would be out of line by predicting that when the career of Rodgers is over, that he will be joining Starr and Favre in the top 10 of all-time QBs in the NFL.
In fact, he might be ranked higher than both of them by many experts.