NBA Rumors: Utah Jazz Must Flip Frontcourt Talent for First Round Pick
June 17, 2012

Kevin C. Cox/Getty Images
The Utah Jazz are very close to making noise in the Western Conference, but they must add an impact player to their backcourt before they're ready. 
Utah doesn't hold a draft selection until the second round (No. 46) in this year's NBA Draft. By that time, most, if not all, impact players will be off the board, and the Jazz will be left fighting for their next role player. 
According to ESPN's Andy Katz, the Jazz may not be happy with their current position.
Utah would like to get into the first round if possible, according to a source.
This is exactly what Kevin O'Connor and the Jazz brass must be thinking. They may not have a competent stable of guards at their disposal, but they do have one of the best young frontcourts in the NBA. 
Paul Millsap is the most expendable forward on the Jazz roster. Shedding his $8.6 million cap hit would help their finances, and Derrick Favors is ready to step in without any questions asked.
It's a can't-lose situation, despite Millsap's rebounding prowess and underrated offensive ability (16.6 PPG and 8.8 RPG this season).
After next season, Millsap will be an unrestricted free agent. Instead of re-signing Al Jefferson and letting Millsap walk for free, the Jazz should be advised to flip Millsap, and their second-round selection, for a first-round pick in June 28th's NBA sweepstakes. 
Let's take a look at why Utah should be speaking with the Dallas Mavericks from now until David Stern takes the podium. 
Dallas Mavericks
According to Katz, the Mavericks are not set on keeping their No. 17 pick. 
At 17th, Dallas could check out of the first round for the right price, said a source.
Adding Millsap would provide Dallas the necessary flexibility and youth in their lineup. 
Currently, Dirk Nowitzki and Brandan Wright receive most of Dallas' minutes at power forward. Nowitzki is 33, and Wright is definitely not starter material. 
If Dallas acquired Millsap, it could go to a small lineup. Moving Nowitzki to center would allow him to terrorize big men by pulling them out to the perimeter, and Millsap could handle the dirty work underneath. 
Utah would then have a chance to add Terrence Ross, Quincy Miller, Moe Harkless or Terrence Jones (if he falls out of the lottery). All of these players would be an immediate upgrade for Utah in terms of athleticism and offensive ability.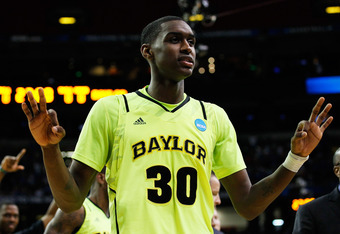 Kevin C. Cox/Getty Images
Dallas has the cap space to take on Millsap. Utah has enough ammunition to move up 29 selections and snag the playmaker they desperately need. 
This deal makes sense for both sides. Losing Millsap's contract would give Utah more flexbility, and give Dallas a building block for the future. 
Without Millsap's $8.6 million, the Jazz could sign Goran Dragic, O.J. Mayo or possibly make a run at Steve Nash. 
Utah's frontcourt would easily withstand the blow, and Favors would finally receive the minutes he deserves.
Rather than one team strength, why not improve across the board? 
Utah has a chance to snag an offensive threat in the draft and add more through free agency. Moving Millsap enables all of those pieces to fall into place.