The Second Pick Dilemma: Should Charlotte Bobcats Trade or Pick?
June 17, 2012

Ronald Martinez/Getty Images
I'm going to make this as simple as I can: The Bobcats are going to be better, regardless of what happens with the second pick in this year's draft.
Possible trade targets such as Memphis Grizzlies' SF Rudy Gay, or Oklahoma City Thunder's guard James Harden floating are both better than any other player on the current roster.
Harden has more upside, while Gay has all but reached his full potential as a player in the NBA. He's good for about 20 PPG, a capable rebounder and defender as well as a solid leader.
Sixth Man of the Year, Harden, has improved every year and is capable of becoming one of the best shooting guards in the league with the right pieces around him.
Gay is a better player than Harden right now but Harden has the potential to be a superstar. Either way, the Bobcats would be getting good players to help a team that struggled on both sides of the ball last season.
Trading the second pick for multiple picks isn't as ludicrous as it might sound, especially with the need the Bobcats have on all spots on the floor.
The draft is deep this year, but unless the Bobcats could manage to trade the pick for an established player as well as a later first round pick, trading could be a poor decision.
The Bobcats can't get any worse. As a fan frustrated by management, it's encouraging to see Michael Jordan shop the pick. If the Bobcats could somehow pry James Harden out of OKC's hands, they will be a much better team.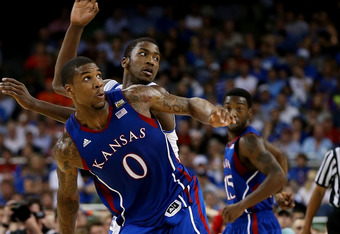 Jeff Gross/Getty Images
I'm also a big Rudy Gay fan, but his contract issues are a bit terrifying. He would eat essentially every bit of the Bobcats' cap room.
While Gay is a consistently good player, he may not be worth the money being thrown at him.
The main options in this year's draft are all solid.
Michael Kidd-Gilchrist is the option most Bobcats fan seem to want and it's easy to see why. He has freakish athletic abilities on both sides of the ball, is an excellent defender and is a selfless player, capable of creating opportunities for other players on the floor.
He's very similar to Gerald Wallace as a versatile, capable scorer. He can also assist, rebound and guard with the best of them. He is, arguably, the most well-rounded player in this entire draft, even more so than Anthony Davis.
The problem with Kidd-Gilchrist is that he is not a go-to scorer. He has virtually no jump shop in his arsenal either. He is strictly a drive to the rim type of scorer and an opportunity-maker for others on the court. With little other talent on the Bobcats, his talents may go to waste in his first year.
Thomas Robinson is my personal favorite option. He could outdo Rudy Gay's production within one or two years at the professional level, particularly in rebounding.
He averaged over 17 points and 11 rebounds per game while at Kansas in a very competitive conference. Robinson was the leader of a team that many believe over-achieved. He was a dominant post presence, solid defender and has a solid short jump shot.
Though a bit undersized for a true power forward, he has the natural ability to get to the ball and rebound.
Robinson's problem is that his ceiling is likely going to be short. He may be the most ready-to-play-now prospect in this year's draft. Pairing him opposite a defensive monster like Bismack Biyombo will give the Bobcats a young, impressive group of forwards with massive rebounding abilities.
Biyombo is evolving into a defensive monster, similar to OKC's Serge Ibaka—not great offensively, but a massive defensive wall against which few will be able to drive. Robinson will not play at that level immediately, but with the proper development he could become a double-double machine.
Bradley Beal is arguably the best shooter this early in the draft. He has unparalleled outside shooting capabilities that have many favorably comparing him to Eric Gordon. Beal is an excellent player, likely to average well over 20 PPG in the seasons to come.
The Bobcats must pass on Beal, however, if they do indeed keep the second pick. Point guard of the future, Kemba Walker, is coming off an often times awe-inspiring, but predominantly disappointing season. Things are going to get better for him, though.
Players like Harrison Barnes, and bust-to-superstar candidate Andre Drummond could also be on the radar but neither of these picks make much sense. Barnes will be a fantastic scorer in the league one day, but the aforementioned players are simply better choices for the Bobcats right now.
Drummond could become either the biggest steal or the biggest bust of the draft. The Bobcats can't afford to gamble on a player that could turn into another physical freak with no desire to improve.
The Bobcats also have the first pick in the second round. This draft is packed with talent and there are many players that could be available late who could immediately contribute to a thin team. The ideal scenario would be to hope that John Jenkins, who many believe is the best natural shooter in the game, manages to fall to the second round. If he does, the Bobcats should scoop him up immediately. He would be a capable six-man immediately, and his outside shooting abilities are better than, or rival anyone else in this draft.
There are other solid picks who likely will make it to the second round too, and with the 31st pick, the Bobcats will be getting solid talent regardless of who is left in such a deep draft.
Kemba Walker had troubles in hist first year, but with a full off-season and the drive and determination to get better, we could be looking at one of the most talented point guards in basketball. He must become a more adept passer, and must take fewer shots. Many shots Kemba took last season were desperation, incredibly difficult shots, and his FG% of only 36 percent proved that. He needs to do a better job of driving and passing back out to open players. In short, he needs to be Rajon Rondo instead of Russell Westbrook, though I'd be happy if he became either.
Henderson became and offensive weapon on the court this season, capable of driving to the hoop and possessing a better than average jumper from mid-range. Corey Maggette said he's a future all-star... I think so too. No one is saying he's going to become a future Dwyane Wade, but the play style is similar... solid mid-range shooter with a very good ability to drive to the hoop. Pairing Kemba and Henderson as guards is the smart move in Charlotte, which is why I think it's imperative to pass on Beal in the draft.
Bismack Biyombo is going to become an unstoppable defensive force in the middle of the court, with shot block abilities and good instincts on the boards when it comes to rebounding. He will likely always be marginally productive offensively, but invaluable when it comes to defense in the middle and rebounding.
I hope Thomas Robinson is drafted to pair with Biyombo for rebounding and scoring. The Bobcats wouldn't win more than 25 games in 2012-'13, but they would be vastly improved from last year. Young talent is a fantastic thing to have and the Bobcats have a plethora of it.
It will be tough to lure free agents to Charlotte after their 7-59 season, but a veteran looking to help develop rookies may be available. Look for the Bobcats to make a run at a big man like Chris Kaman in free-agency this summer. More than anything, this line-up needs size, and Desagana Diop isn't a starting center.
Antawn Jamison is another interesting option at power forward. Jamison has stated interest in coming to Charlotte (as an NC native, he wants to play for his hometeam) to end his career, and having the veteran presence, and the still solid play of Jamison to teach forwards Bismack Biyombo and Thomas Robinson some tricks of the trade.
Things are looking up for the Bobcats. They probably won't be great next season, but they WILL be better, and there are many moves going on in management that have many onlookers impressed and excited to see what happens.